3 day mammoth RSS convention Hindu Shakti Sangama -2012 inaugurated at Hubli, Karnataka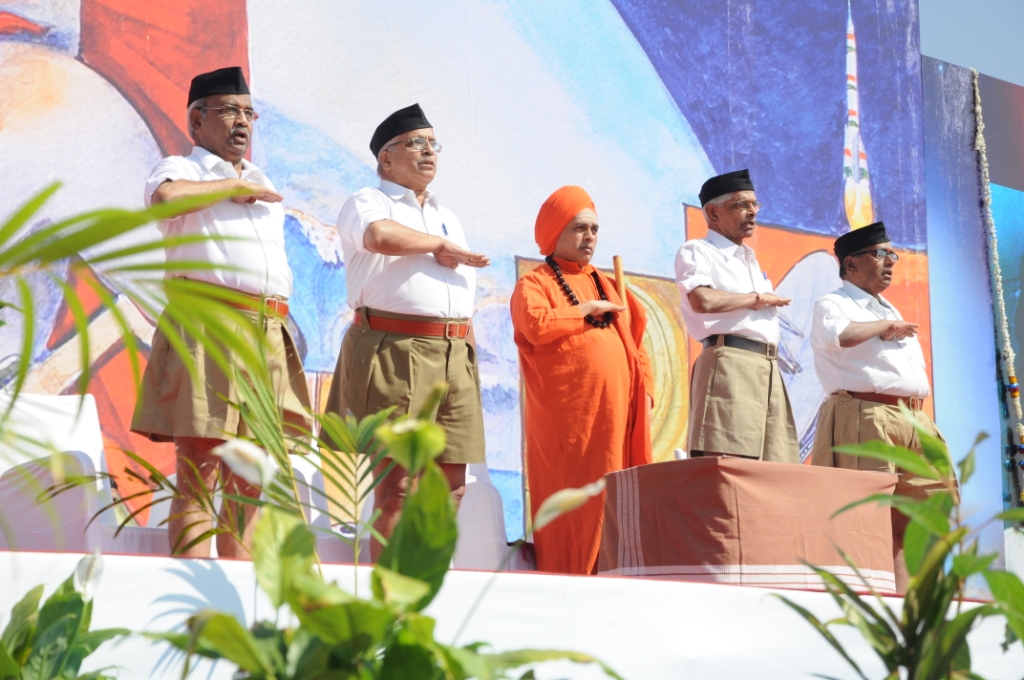 Hindu Shakti Sangam-2012 jointly inaugurated by RSS General Secretary Bhaiyyaji Joshi and Sri Rajayogeendra Swamiji 
Hubli: North Karnataka Januray 27: The 3 day mammoth convention of RSS Swayamsevaks, Hindu Shakti Sangama-2012 was jointly inaugurated by RSS General Secretary Suresh Bhaiyyaji Joshi and Sri Rajayogeendra Swamiji of 3-thousand Mutt -Hubli, this morning.
Delivering his inaugural address RSS General Secretary Suresh Bhaiyyaji Joshi said 'Whenever our society witnessed attacks from foreign invaders and imbroglio within the country, the Hindu society has shown its potentiality to digest such challenges. The Hindu Shakti Sangama reminds us the potentiality of Hindu Society.'
'The sangh has grown facing all challenges, now has reached across the country from Kashmir to Kanyakumari and deserts of  Rajasthan to the hills Manipur. The society has accepted Sangh work and supported us whenever the situation demanded. The swayamsevaks are building a strong nation through the basic Sangh ideology' said Bhaiyyaji Joshi.
Dressed in full RSS uniform, around 25,000 swayamsevaks from 13 districts of North Karnataka are participating in this mega convention.
The 3 day convention will be concluded on Sunday with the valedictory of RSS Sarasanghachalak Mohan Bhagwat.
During the ceremony D V Sadananda Gowda, Chief Minister of Karnataka, Sri Rajayogeendra Swamiji of 3-thousand Mutt -Hubli, RSS Joint General Secretary Dattatreya Hosabale, Dr Satish Jagajinni, Justice Parvat Rao, Sri Khageshan Pattanashetti, Akhila Bharatiya Boudhik Pramukh Bhagayyaiah, Akhil Bharatiya Karyakarini members Mai Cha Jayadev, Senior RSS Pracharaks N Krishnappa, S Ramanna, Mangesh Bhende, DM Raveendra, RSS Ideologue V Nagaraj, Dr Prabhakar Bhat, Kajampady Subramanya Bhat, Tippeswamy, Aravinda Deshapande,  Dr Khagesshan Pattana Shetty and several other socio-religious leaders were present.
The convention of this kind is organised for the first time in Karnataka North Pranth. Over 2000 swayamsevaks are working dan and night for the success of the mega event.
A exhibition "Yugadrushti", is arranged for the public which symbolises achievements of India, Culture and growth of Sangh in Karnataka, India.
The 3 day RSS convention is being held at Hubli outskirts in an articficailly built area, near Tarihar bypass off Gokul Road named 'Vijayanagar', remembering the glorious legacy of Vijayanagar Dynasty Kingdom of Hampi.