ABVP Press Release:
A SAFFRON STORM SUBSIDES: ABP
NewDelhi Nov 17, 2012: The Akhil Bharatiya Vidyarthi Parishad (ABVP) mourns the sad demise of Balasaheb Thackeray. His absence marks a moment in the politics of Maharashtra where even time will stand still and pay homage to this great son of the soil, a true patriot and a champion of Hindutva.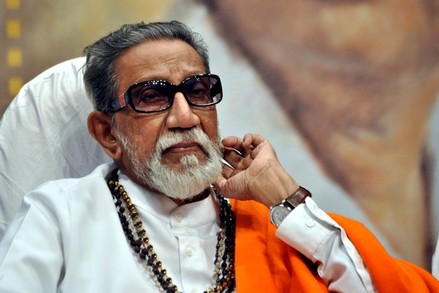 In a field of politics where ambiguity, sweet-talk, procrastination and  fence-sitting was the order of the day, Balasaheb dared to speak what he thought correct, he had the courage to stand by the issues which were close to his heart and always stood by common people . Despite his tough exterior, at heart Balasaheb was a straightforward man, magnanimous by nature, quick to forgive and a sensitive artist at heart. That is the reason why he has endeared himself to people from all walks of life, cutting across the lines of parties and ideologies.
Instead of paying merely lip-service to the ideals of social justice and emancipation, Balasaheb, through his actions turned the status quo politics of Maharashtra upside down and demonstrated that caste, creed and colour played no role in his political culture.
Balasaheb espoused and advocated his vision of 80 % "samaj-karan" (social causes) and 20% "raj-karan" (politics), again a revolutionary concept in the socio-political culture of Maharashtra. The elaborate network of Shakhas, the lowest common denominator in the Sena hierarchy ensured a grievance redressal mechanism at the door-step of the common man.
The Hindutva ideology was the driving force of the political philosophy of Shiv Senanow. Balasaheb emerged as a champion of the cause of Hindutva.
Balasaheb, a saffron storm which raged for half a century, a fearless fighter and the thunderbolt of the people of Maharashtra has gone to sleep eternally today. The ABVP expresses its grief and extends condolences to the members of his family at this moment of sorrow and joins the nation in paying respects to this great son of the soil. Condolence by ABVP National President Milind Marathe,  National Org. Secretary Sunil Ambekar, Maharashtra State Sec. Raju chauhan etc.