After rolling across 22 states, 5 union territories, 38days of Jan Chetana Yatra concludes at Delhi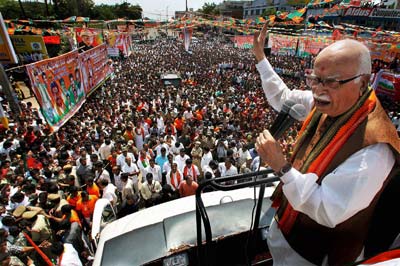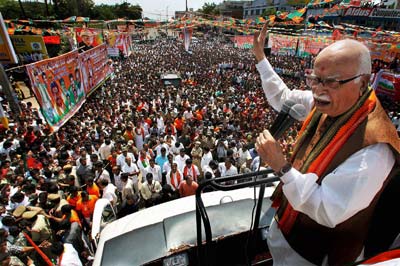 NEW DELHI Senior Bharatiya Janata Party (BJP) leader LK Advani on Sunday concluded his 38-day Jan Chetna Yatra — to draw public attention to the issues of black money andcorruption — with a public rally at the Ramlila Maidan in the capital.
While addressing a rally at Ramlila Maidan Advani said his yatra was a success but he missed ailing Atal Bihari Vajpayee on the nationwide tour. He said he has conducted six nationwide journeys in the 60 years of his joining politics. "I received overwhelming welcome in various states. But this was the first yatra when Vajpayeeji was not with me," he said.
"This yatra has been unique in many ways," Advani said.
He also said that the yatra is over but our fight against corruption h as not ended.
Advani further said that National Democratic Alliance (NDA) MPs will submit a declaration in parliament stating that they have no hidden foreign bank accounts. He said the declaration would read, "I solemnly declare that I don't have directly or indirectly any bank account or asset illegally held outside India."
Advani said the declaration would be given to Lok Sabha Speaker Meira Kumar and Rajya Sabha chairman Hamid Ansari within a week after the start of the winter session on Tuesday.
The rally was attended by top BJP leaders including Nitin Gadkari and Ananth Kumar and leaders of opposition in the Lok Sabha and Rajya Sabha Sushma Swaraj and Arun Jaitley, respectively.
Janata Dal-United (JD-U) chief Sharad Yadav also addressed the rally and charged the Congress with being soft on its leaders accused of corruption, including in the 2G and cash-for-votes scams.
"The government lodges us in jail when we raise our voices against corruption," Yadav thundered at Advani's rally here.
Yadav, who is also convenor of the BJP-led National Democratic Alliance (NDA), said the government was soft on Congress leaders who are allegedly involved in corruption scams.
"There is only one Congress member in jail and that is Suresh Kalmadi. Look at the cash-for-votes scam. Not even one Congress member was arrested. And opposition leaders who blew the lid were jailed," he said.
"You (the Congress) have committed the sin and remember you will be punished for your sins. That is the intention of Advani's yatra," Yadav said, putting a united face of the NDA ahead of the winter session of parliament that begins Tuesday.
Sushma Swaraj blamed the "wrong policies" of the UpA for rising prices and accused Prime Minister Manmohan Singh of leading the "most corrupt" government.
In her speech at the rally Swaraj said the prime minister puts the onus of scams on his colleagues.
She said women were badly hit due to the price rise.
"Women suffer the first blow of price rise. Fuel cost is rising. (The government) cannot hear cries of women. Prices are increasing due to corruption and wrong policies of government," Swaraj said.
The leader of opposition in the Lok Sabha said people had given their verdict to Manmohan Singh to lead but he had become leader of the "most corrupt government". She said Advani had embarked on his country-wide yatra to highlight the failures of the government. "(The) Yatra has ended but not the struggle," Sushma Swaraj said. Advani's yatra, which started Oct 11, reached Delhi on Sunday after rolling across 22 states and five union territories.
SOURCE: http://timesofindia.indiatimes.com/india/NDA-MPs-will-give-declaration-on-black-money-Advani/articleshow/10803284.cms