Attended by RSS Chief Bhagwat, the 3day State level Conference concludes at Jamakhandi, Karnataka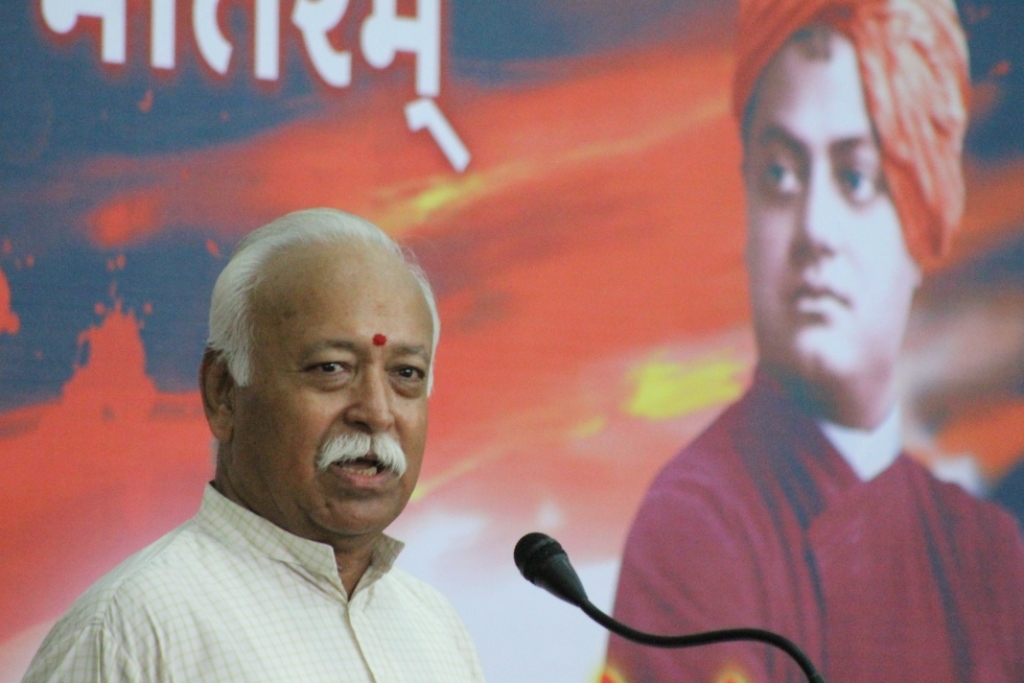 Jamakhandi, Bagalakot District Karnataka November 20, 2012: Attended by RSS Sarasanghachalak Mohan Bhagwat, the 3-day conference of State level office bearers, 'Pranth Karyakarta Samavesha-2012′ concluded today eveni
ng at Jamakhandi, a semi urban Taluk in North Karnataka. RSS Sarasanghachalak Mohan Bhagwat delivered the valedictory address to the gathering of Swayamsevaks at the conference at Jamakhandi.
Began on Sundayat Polo grounds of Jamakhandi, the conference was held for 3 days, ie November 18, 19 and 20, 2012. Selected office bearers of an RSS units, who holds responsibility as Secretary of Taluk and above, (Taluk Karyavah and above), District, Zonal and state level office bearers were participating in the 3-day Baitak.
RSS Sarasanghachalak Mohan Bhagwat, Kshetreeya Sanghachalak TV Deshmukh, Pranth Sanghachalak Dr Khageshan Pattanashetty, Kshthreeya Pracharak Mangesh Bhende, kshethreeya Pracharak Pramulk Da Ma Ravindra, Kshethreeya Boudhik Pramukh V Nagaraj, Kshethreeya seva Pramukh Gopal Chettiyar, Kshethreeya Sampark Pramukh Dr Kalladka Prabhakar Bhat, Pranth Pracharak Gopal, Sah Pranth Pracharak Shankaranand, Pranth Karyavah Aravinda Rao Deshpande and several other senior RSS functionaries were attending this important conclave.
A report of the RSS activities in North Karnataka and their progress, State-wise activities of the RSS will was reviewed. The delegates discussed important national issues and pass resolutions during these three days of conclave. RSS Kshethreeya Boudhik Pramukh V Nagaraj delivered a lecture on activities of Sangh since inception, which favored for for a silent social transformation.
Today, a special session Athithi Bhojan was arranged in which Ministers of Karnataka govt Govinda Karajola and Murugesh Nirani participated.
'Face the Problem':
Addressing the inaugural session on Sunday, RSS Sarasanghachalak Mohan Bhagwat said "Nation is facing different socio-cultural, socio-political challenges. The issues like national security, economic crisis, border infiltration are a serious challenge before the nation. One need to face all these challenges, to ensure national security and integrity"
"RSS is involved in several activities which creates social awareness amongst countrymen. Nearly 1.50lakhs of Seva activities are underway throughout India, where lakhs of swayamsevaks are involved in silent social transformation", said Mohan Bhagwat.
"RSS to celebrate Swamy Vivekananda's 150th birth anniversary throughout the nation via hundreds of activities. RSS will try to carry forward the message of Swamy Vivekananda to every citizen." said Bhagwat.