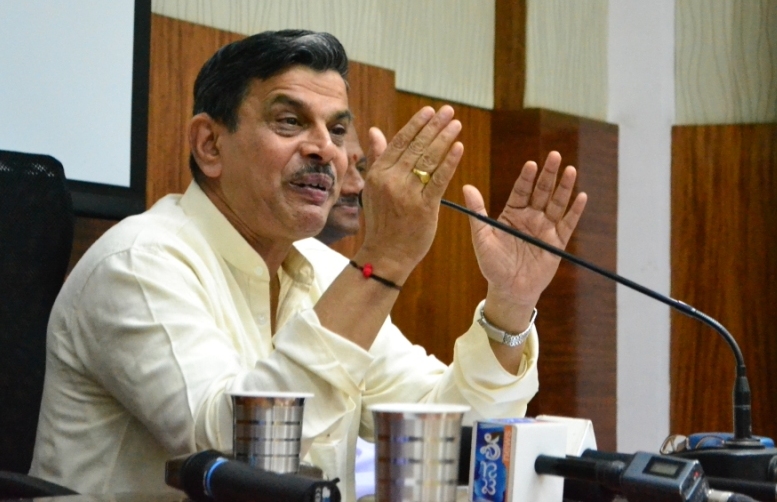 RSS National General Secretary Dattatreya Hosabale at Press Meet Bangalore.
Bangalore, October 22: Answering to the questions from Journalists on few BJP politicians who were part of the government and were known Swayamsevaks, now behind bars for corruption charges,Dattatreya Hosabale told, "Indeed these incidents made us embarrassed. We advise our swayamsevaks when they need. Whenever BSY visited Sangh Headquarters, Keshavakupa, RSS Senior Functionaries advised him as he was a Swayamsevak.If he has not taken those advises seriously, it is wrong to blame RSS. If in a class of the 2 students one scores 90 marks and one scores 35 marks, we can't blame the teacher for poor performance"
Responding to a question on RSS control over BJP, Dattaji Said, "RSS will never advise any political party. It just advises the Swayamsevaks in it. RSS will not involve in any party mechanisms and will never take decision on formation of Cabinet or on naming any person for ministerial post. RSS has no membership, anyone can become Sangh Swayamsevak, and hence there is no question of suspending anyone from Sangh. RSS is involved in character building and creating awareness among countrymen".
Dattaji added, "RSS will never support any corrupt leader. In March 2011, in a supreme meeting of RSS held at Puttur, Sangh has passed a resolution to fight against corruption. In that we have clearly pointed that we will support all forms of campaigns by anyone against corruption. Our Swayamsevaks were the part of Anna Hazare campaign also, across the nation. Today, corruption is a major social issue, needs a great reform in social life as far as corruption is concerned."
Sri M Venkataram, Karnataka Dakshin Pranth Sanghachalak, Sri Chandrashekara Bhandary, senior RSS Functionary, Sri Vadiraj, RSS Pranth Prachar Pramukh were present during this press meet.