Bikarnakatte Mangalore October 22: Coastal town Mangalore offered a warm welcome for RSS Pracharak Sitaram Kedilaya lead Bharat Parikrama Yatra on its 75th day at Bikarnakatte, Mangalore.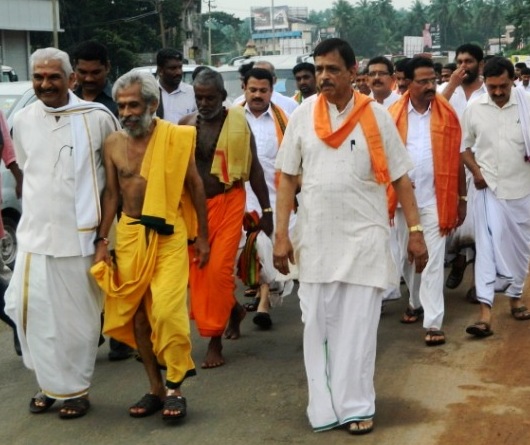 After performing Gopooja at dawn, Kedilaya headed his journey to the coastal town Mangalore from Kuttarupadau Village's Balasamrakshana Kendra premises where he stayed last night. He received welcome for his Bharat Parikrama Yatra at NH-17 at Thokkottu junction.
As Yatra entered City outskirts at Bhgawan Mhavir Jain Circle, earlier called Pumpwell, RSS top functionaries, Sangh Parivar leaders, well wishers gathered in massive number to receive the Yatra.
Dr Kalladka Prabhakar Bhat, Kshethreeya Sampark Pramukh, Gopal Chetttiyar Kshethreeya Seva Pramukh, Dr P Vaman Shenoy, Vibhag Sanghachalak, Prof MB Puranik, VHP Chief, PS Prakash, Vibhag Karyavah of RSS, Janardhan Uppala , Mangalore Rural Karyavah, Bhaojaraj Mangalore City Karyavah and several other localffice bearers of  Sangh and Parivar including Rashtra Sevika Samiti were present during Bharat Parikrama Yatra.
Later, Kedilaya reached Bikarnakatte, an semi-urban village, visited 2 local temples and offered prayer. He also planted a Jack-fruit tree as his routine during Bharat Parikrama Yatra. The Yatra was received by traditional folk style with floral offerings.
Launched on August 9 at Kanyakumari, Bharath Parikrama Yatrais aimed to uplift the rural Indian Life. The Yatra has a scheduled duration of 5 years, covering 15000km, reaching almost all districts of India. Sitaram Kedilaya, held the position of Akhil Bharatiya Seva Pramukh last year. Hailing from Salmara village of Puttur of Karnataka, Sitaram Kedilaya has rendered his service as an RSS Pracharak since 1970.
Sitaram Kedilaya addressed at Press Conference, shared his experiences on Bharat Parikrama Yatra. He briefed the intentions and aim of the Yatra and called Stop politicisation of any issues, to stop commercialization  stop materialization and to start Spiritualism.  He stressed the need of preserving Rural values to conserve the integrity of the society of a population in an given area.
On Tuesday the Yatra will reach Baikampady, a coastal village in Mangalore.
BHARAT PARIKRAMA YATRA: Date and Villages
October 21: Kuttar Padavu
October 22: Bikarnakatte Mangalore City
October 23: Baikampady
October 24: Tadambail near Surathkal
October 25: Sasihitlu
October 26: Haleyangadi
October 27:  Hejamaadi
October 28: Ucchila
October 29: Paangala
October 30: Madhva Nagara
October 31: Uppooru
November 1: Matapady
November 2: Kodikanyana
November 3: Thekkatte
November 4: Vadera Hobli
November 5: Hemmaady
November 6: Gangolly
November 7: Naavunda
November 8: Uppunda
November 9: Shirooru
November 10: North Karnataka