If you take a bird's eye view of the history of major countries in the world, you will realize there are very few women who had a considerable impact on the history of those countries. But this is different with India. You will find plenty of women who have worked in different fields and have contributed to society in their way.
Among such warriors,  Ahilyadevi Holkar is a women warrior from Maharashtra who often gets neglected in mainstream history books. It won't be an exaggeration to say that we haven't given the honor and appreciation she deserves.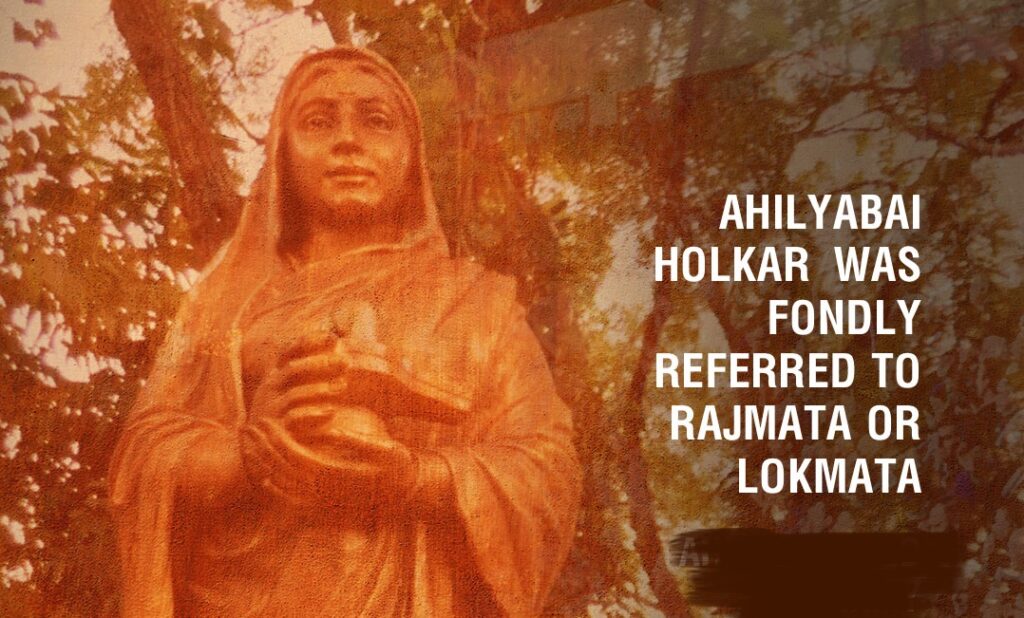 Childhood:
Ahilyadevi Holkar was born on May 31st 1725  in the Chaundi village of Ahmednagar district of Maharashtra. She belonged to the Dhangar caste. Her father's name was Manakoji Shinde, who held the rank of Patil.  Ahilyadevi was married to Khanderao Holkar in the year 1733. Khanderao Holkar was the son of Malharrao Holkar, one of the greatest warriors from the Holkar clan. There is a very popular legend about how Malharrao chose Ahilyadevi as his daughter-in-law. Once, Malharrao and Peshwa Bajirao were returning from a military expedition. On their way to Pune, they decided to rest in Chaundi village in today's Ahmednagar district, situated on the Seena river's banks. Ahilyadevi was playing with her friends on the very same river bank. It was astonishing that she was playing with the Shivalinga made up of sand at a very tender time. Meanwhile, one of the horses from Bajirao's army went out of control and started running exactly toward Ahilyadevi.  Ahilyadevi refused to move and stayed there to protect the Shivalinga. Malharrao was delighted to see such courage from a little girl. Malharrao immediately met her parent and chose her for his son Khanderao Holkar.   
Education:
Women were not allowed to pursue education during that time, But Malharrao was a visionary leader. He and his wife, Gautamabai, her mother-in-law, groomed Ahilyadevi and turned her into a most brilliant and successful warrior. She also accompanied her husband, Khanderao Holkar, in military campaigns. The couple had a son who was named Malerao.     
Lost her Husband:
In 1754 she lost her husband, Khanderao Holkar, in the battle of Kumbher Fort. This fort was under the territory of Maharaj Surajamal Jat of Haryana. Khanderao was patrolling with his army when he got struck by a cannonball fired from Surajmal's army. It was just the beginning of the problems and struggles in her life. She was in deep sorrow as she was very well- aware of the widow's life at that time. She wanted to commit sati after Khanderao's death. But it was Malharrao Holkar who stopped her from doing this, as he was very well aware of her caliber and ability to handle state affairs.
Destiny was not at all In favor of Ahilyadevi. After Khanderao's death, Malharrao also died. He died in Alampur village in Maharashtra. According to contemporary sources, Mahadaji Shinde informed Ahilyadevi about his death. Bad health is said to be the reason behind  Malharrao's death. But it wasn't an end to her grief. After the death of Malharrao, Her son Malerao took over the changes of the state. However, Her son Malerao was very incompetent. He was not at all interested in matters of state and administration. Until he was alive,  he spent most of his time in merry-making and emptying the royal treasury. After Khanderao and Malharrao, she lost her only son Malerao too.
Strategic Victory over Raghunath Rao
Ahilyadevi was enduring the pain of losing her father-in-law, her husband, and her one and only son and heir of the Holkar clan, Malerao Holkar. Believe it or not, internal conflict has always given a push to the downfall of most empires and dynasties across the world. The Holkar clan was no exception to that. Gangoba Tatya decided to take benefit of the falling morals of Holkar after three successive deaths. He summoned Raghunath Rao, the uncle of Peshwa Madhav Rao, to attack Ahilyadevi and help him usurp the throne of Maheshwar. But Gangoba and Raghunath were unaware of the consequences of their acts. As soon as Ahilyadevi knew about this plot of Gangoba against her kingdom, she wrote letters to the loyal and influential supporters of the Holkar clan, like Mahadaji Shinde and Tukoji Holkar. Without wasting a moment, Mahadji Shinde and Tukoji Holkar immediately turned their army towards Maheshwar kingdom. Raghunath Rao and Gangoba Tatya were unaware of this tremendous strategic move of Ahilyadevi. According to contemporary sources, Ahilyadevi also wrote a letter to Raghunath Rao where Ahilyadevi can be seen telling him that she will prepare an army of women warriors from her kingdom who are ready to fight till their last breath and getting defeated by this army, women will be the most humiliating thing for him ( Raghunath Rao). Raghunatha Rao arrived at the Kshipra River to attack the Maheshwar kingdom. As soon as he reached there,  he received a letter from Tukoji Holkar warning him about the consequences of his move against Ahilyadevi. It turned out to be the biggest embarrassment for Raghunath Rao as he decided not to attack Maheshwar. Ahilyadevi's diplomacy, strategic actions, and love towards Maheshwar proved triumphant over the evil intentions of her enemies.
Work for the people:
Despite having so many challenges in her life, she didn't fail to give her subject a life of dignity. She ensured the prosperity of every strata of her subjects. Every strata of society, including all castes, gender, and religions, felt safe and secure during her 30 years of reign. She was performing her duty assigned to her by Malharrao Holkar. She built wells and rest houses for travellers across India. It is fascinating to see that she was concerned not only about her subject but also about the other kingdoms. Some wells and rest houses built by her are still in function. We are aware of how she rebuilt the temple of Kashi Vishewshwar.
Along with this, she also created and rebuilt temples across countries. She built rest houses for pilgrims at Trayambakeshwar, one of the 12 Jyotirlingas. She built lord Rama's temple at Ayodhya and Nasik, built Chinatamani Ganapati temple at Ujjayini, rebuilt the temple of Somnath, which was destroyed by Mahamud of Ghajani in 1024, gave donations to the temple at Jagannathapuri. She also rejuvenated Jyotirlingas of Shree Shailam in Andhra Pradesh and Parali Vaijnatah in Maharashtra. In addition to rejuvenating temples, she built inns at the pilgrim sites like Handiya, Paithan, and many more. Contemporary sources also didn't fail to mention the prosperity of her kingdom during her reign. John Bailie, a Scottish poet, couldn't stop himself from praising Ahilyadevi's reign. This is how john bailie praised Ahilyadevi in one of his poems –
"For thirty years her reign of peace,
The land in blessing did increase;
And she was blessed by every tongue,
By stern and gentle, old and young.
Yea, even the children at their mother's feet,
Are taught such homely rhyming to repeat.
In latter days from Brahma came,
To rule our land, a noble Dame,
Kind was her heart and bright her fame,
And Ahilya was her honored name."
Annie Beseant while praising Ahilyadevi writes –
"This great ruler in Indore encouraged all within her realm to do their best, Merchants produced their finest clothes, trade flourished, the farmers were at peace and oppression ceased, for each case that came to the queen's notice was dealt with severely. She loved to see her people prosper, and to watch the fine cities grow, and to watch that her subjects were not afraid to display their wealth, lest the ruler should snatch it from them. Far and wide the roads were planted with shady trees, and wells were made, and rest-houses for travelers. The poor, the homeless, the orphaned were all helped according to their needs. The Bhils who had long been the torment of all caravans were routed from their mountain fastnesses and persuaded to settle down as honest farmers. Hindu and Musalman alike revered the famous Queen and prayed for her long life. Her last great sorrow was when her daughter became a Sati upon the death of Yashwantrao Phanse .  Ahalya Bai was seventy years old when her long and splendid life closed. Indore long mourned its noble Queen, happy had been her reign, and her memory is cherished with deep reverence unto this day."
Devi Ahilyadevi took her last breath on August 13th , 1795. Though she left us many years ago, she has made herself immortal through her deeds. The ways she went through all the hardships will continue to inspire the coming generations.