Assam should stand together as ONE against Bangla Deshi Muslim Infiltration, No Bangla Deshi Muslim should be allowed in National Citizen Registry.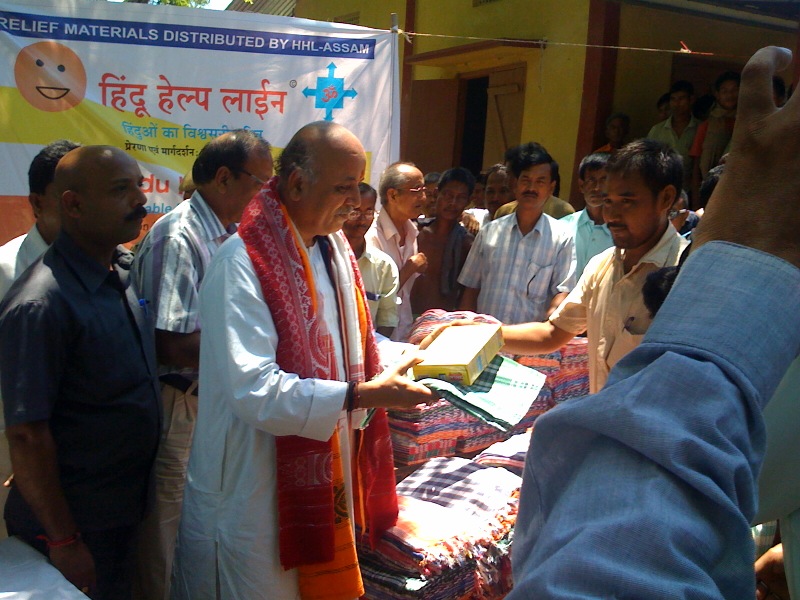 August 4, 2012: In a week from the Assam Ethnic Cleansing against original Tribals, other Hindus & Non-Muslims triggered by Bangla Deshi Muslims in Western Assam districts, VHP International Working President Dr Pravin Togadia visited the relief camps in Kokrazar & surrounding areas & viewed the excessive damage caused to the Tribal houses by the terror attacks by the Bangla Deshi Muslims. Dr Togadia also distributed children's clothes, Ladies & men's clothes, essential food items & medicines in the relief camps.
Dr Togadia said, "Only for votes, Union & the state Govts have purposely allowed Bangla Deshi Muslim Infiltration in Assam, other North-Eastern stats & other areas in Bharat. There were constant alert about these infiltrators' terror links with ISI, HUJI, IM & others. Yet, endangering nation's security, they were brought in, given voter IDs, all facilities not even usually available to the local Tribes, other Hindus & Non-Muslims in Assam. Since past 15 years Bangla Deshi Muslims have been systematically doing Ethnic Cleansing & Territory encroachments. Karbi Anglong, Khasi, Jaintiya, Bodo, Dimasa & other 50 such tribes have been facing loss of lives, lands, livelihood & attacks at these invaders' hands, but Govts protected the invaders & left the original citizens of Bharat to die. It is a national shame that the original tribes & Bharat's Hindu citizens have to live in relief camps while Bangla Deshi Muslims are grabbing even relief materials & money while their supporters are lobbying for them all over Bharat."
Dr Togadia urged all in Assam to stand up together as ONE keeping any differences aside to protect Assam. He said, "Assamese, Bangla Hindus, all Tribes & all Non-Muslims in Assam should come together & stand together as ONE to fight the modern day invasion by Bangla Deshi Muslims. They also should vote together only for the candidates who protect them from Bangla Deshi Muslims all the time."
Dr Togadia puts up VHP demands:
Assam & North East has seen massive infiltration of Bangla Deshi Muslims. The Citizenship Registry should be available ONLY to those who have been in Assam before 1951 & NO Bangla Deshi Muslim should be in it
Bangla Desh was ruled by Muslims even as East Pakistan in 1971. There is no right to Muslims coming from there to claim any status – refugee or Bharat's citizen. All Bangla Deshi Muslims from Assam, other North East & rest of Bharat should be therefore immediately deported from Bharat.
On the other hand, Hindus in Bangla Desh have been facing Ethnic Cleansing not only since 1971, but also since many years before 1947 when it was not even Bangla Desh separate. Therefore all Hindus who came in from Bangla Desh should immediately get refugee status as has already been ordered by the Hon Supreme Court.
Right now the Bangla Deshi Muslims, supported by Muslim politicians in Assam & other states of Bharat, have filed an application in the Hon Supreme Court for refugee status. As aid earlier, Bangla Desh has been their country, where Hindus faced Ethnic Cleansing; not Muslims. Hence, Bangla Deshi Muslims should never get refugee status.
Using the volatile situation in North East & the porous border there which has been purposely kept so by Govts for Muslims despite all intelligence agencies warning to seal it, yet many Bangla Deshi Muslims have been entering Bharat. Now they have been joined by the internationally banned Jehadi group of Rohingya Muslims who have already entered Bharat & parked themselves in various states demanding refugee status. After the UN refused it to them due to their Jehadi contacts, now they are being helped by a few politicians in Bharat. Along with Bangla Deshi Muslims, even Rohingya Muslims too should be deported immediately.
In recent Ethnic Cleansing, lakhs of people of original Tribes, other Hindus & non-Muslims have lost their near & dear ones. Their families must get Ru 7,00,00. The injured should get Ru 4,00,000 with all medical expenses paid. The families who lost their bread earner should be helped with the job to the kin / cash help for local trade. All houses of original Tribes / other Hindus / Non-Muslims should be built by the Govt with household things given to them free.
The above & other aid as well as facilities should not be extended to any Bangla Deshi or local Muslims there as they are responsible for the Ethnic Cleansing of Bharat's citizens in Bharat! They should be immediately deported.
Bangla Desh, as a systematic plan, has been sending its people to Bharat to invade Bharat's territory using such Ethnic Cleansing & by manipulating Bharat's democratic values. Bharat should sever all ties with Bangla Desh & stop supplies to Bangla Desh of all essential things like water, salt etc.
Muslim MPs, MLAs & other politicians / Govt officials have been actively helping Bangla Deshi Muslims in Bharat. All these should be banned from further contesting elections / be suspended from Govt positions. Recently all party Muslim MPs delegation met the PM lobbying for Bangla Deshi Muslims. Those who do not care for the citizens of Bharat & protect invaders should have no right to be in Bharat.
 Human Rights organizations & pseudo secular media are siding Bangla Deshi Muslims. They should be banned from entering Assam unless & until they agree to stop their continued illegal religious discrimination against Assam's Tribes & Hindus.
 Assam & most North East are fast becoming Kashmir which has already changed its demography making Bharat's citizens Hindus, Sikhs etc a gullible minority there after 1990 Ethnic Cleansing there. Govts ignored it then & protected the invaders. The same way Assam is going now & those responsible in the govts for directly or indirectly helping Bangla Deshi Muslim invasion in Assam should be prosecuted for treason & for waging war against Bharat.