'Good governance and Corruption cant co-exist' says Advani in Jan Chetna Yatra rally at Bangalore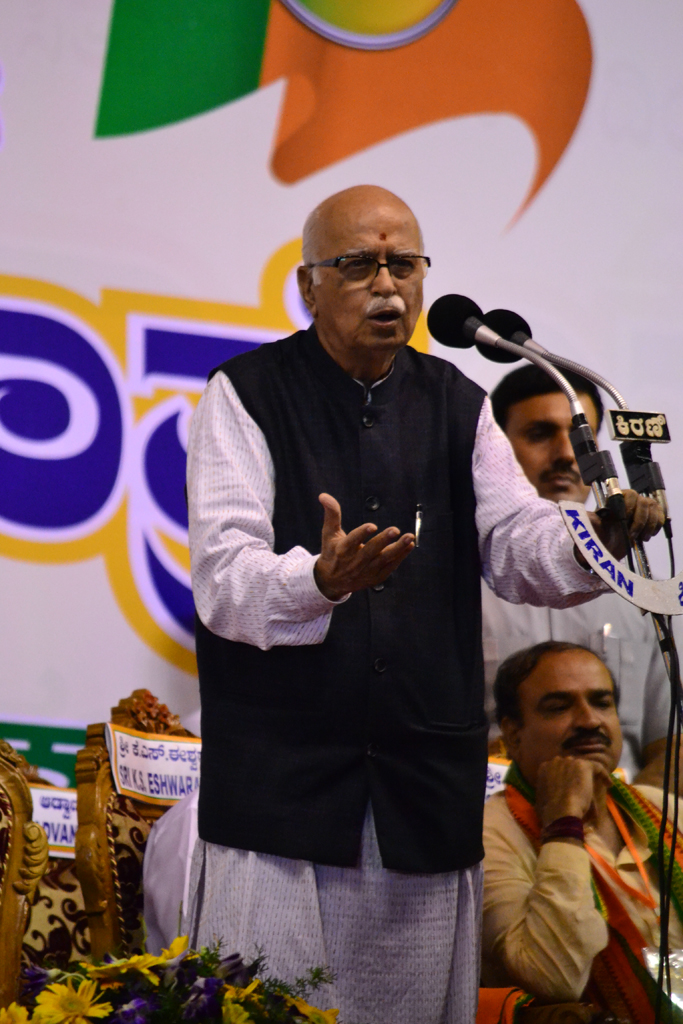 Bangalore; October 30: "Good governance and Corruption cant co-exist. This statement i am not only saying for Congress but also for my own party, BJP" says Senior BJP leader LK Advani in his Jan Chetna Yatra rally at Bangalore.
Creating awareness against corruption, Jan Chetna Yatra led by LK Advani reached Bangalore today. In a massive public rally organised at National High School grounds, Basavanagudi LK Advani criticised the Central govt and accused it of being most corrupt since independence.
"I have seen all governments since the time of Nehru. Sadly the present Central Govt led by Dr Manmohan Sing is the most corrupt one. The Cash-for-Vote scam is a black mark on democracy. Instead of Protecting the whistle blowers, the govt has sent them to Tihar Jail, which shows their arrogance too. During The Vote of Confidence, several congressmen were openly saying that we will do anything for the sake our survival of govt. But the manner by which democracy has been ruined by Congress was painful" said Advani
Veteran leader of the BJP and former Deputy Prime Minister, Shri L.K.Advani has once again embarked on a nationwide Yatra which started on 11th October (Tuesday). The purpose of "Jan Chetna Yatra" is to mobilise public opinion against prevailing corruption and put BJP's agenda of good governance and clean politicsbefore the people.
BJP leader Shri L.K.Advani is going on a nationwide Yatra in order to restore the credibility of the political system.
Reforms for a Resurgent India
The Yatra will also address wider issues of reforming the entire system. An important role of the Yatra will be to initiate a debate in the society on reforms in four significant sectors:
Administrative reforms;
Electoral reforms;
Judicial reforms; and
Political reforms
The Karnataka leg of the Yatra will commence from 30th October and conclude on 1st November by entering Goa State.
BJP Jan Chetna Yatra led by Advanji for a corruption free India, now in Karnataka.
The schedule:
Bangalore National College Grounds, 30 Oct at 5pm.
Mangalore Kendra Maidan, Hampanakatte on 31 Oct at 11 am
Udupi near Rajangana on 31 Oct at 2pm
Kumta Maniki Grounds on 1 Nov at 10 am