'Grow to Macrocosm & Gave a Wide Spectrum of Universalism': Samiti Chief Shanthakka in Bangalore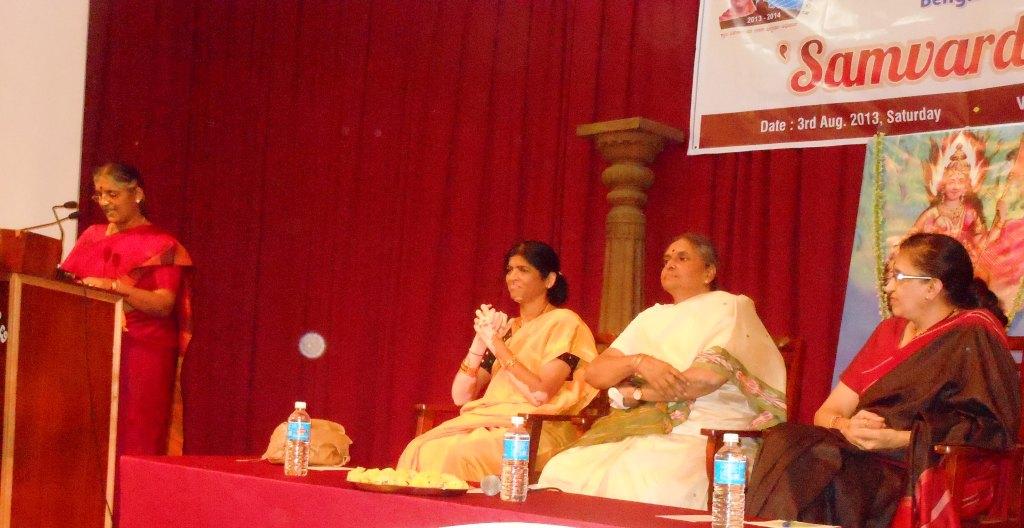 Bangalore August 03: "A stimulating afternoon with very vigorous ideas shared.  Enjoyed the gathering and the wise words of the speakers" Said Mrs Anitha a journalist from Chikkallasandra, Bengaluru.
She was addressing a special Panel discussion organised by Samvardhini, an Women's forum for intellectual dialogue in Daly Memorial Hall of Mythic Society, Bangalore on Saturday evening.
Shantha Kumari – Pramukh Sanchaalikaa (or Chief )of Rashtra Sevika Samiti presided over the Panel Discussion and said that Social Leaders are the Change Agents in the society.  She emphasised on pro-activism in the society, Need to dream big, have a grand vision and lead a purposeful life.
Dr TKS Lakshmi, Retd prof & Dean,BanasthaliVidyapeet, Rajasthan  said that we all need to own our culture and heritage as per Swami Vivekananda's conviction.   She shared one of the quotes popularly used in Banasthali University- "Whatever a man can do… woman can do it better".  A woman proves better with respect to everyday struggle in life.  She emphasised on everyone having their family pride.  She urged everyone to be Pro-active, and be ready to respond to the happenings in the society.
Dr Jayshree – Director, AyurvedicCollee, Bijapur, presented and emphasised on Doctors role in uplifting the ethics in the medicinal field.   She further said that it is the woman who can educate others.
ShanthaKumari concluded the program by saying that "a teacher should be a role model.  There is value degeneration and children are not getting good samskars (moral values) be it at home or at schools.  She urged everyone to practically start visiting schools and volunteer to give the moral education to children".
She wished success for the forum and guided the forum to work for the Entire Society and Nation.
She emphasised on Swami Vivekananda's view and vision of Indian women seeing their ideals in Motherhood and not just Womanhood.  She gave a call to the youth to be courageous and have sanctity while working for the society.
She said that we need to expand and grow from microcosm to macrocosm and gave a wide spectrum of Universalism.
Anupama Hoskere – Director, Dhaatu, said that "We need to consider the progress in the social structure.  She emphasised on working at the micro level to begin with."
Dr.LathaVenkatram member of the Resource team of the forum shared her thoughts on the value of values.  She further suggested a plan of taking up pilot project on an annual basis and work on.
VasanthaSwamy-Program Coordinator welcomed the gathering and introduced the Guests.
Parimala Murthy gave a power point presentation on 'Prabuddha Mahila Vedike/-Elite Women's Network Forum, Bengaluru highlighting the need of such a forum to have a voice for women through Networking in Bengaluru.
The proramme was attended by select women intellectuals of the city, organised by In association with Swami Vivekananda 150th Birth Anniversary celebration committee, Bangalore Unit.