Hindu girl forced to convert in Pakistan
Why are you silent on the plight  of Hindus in Pakistan,  Mr Prime Minister?
— writes  Prof  Vijay Kumar Malhotra, in Organiser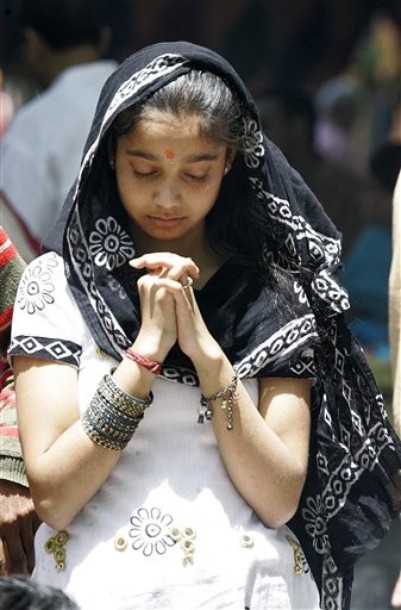 Leader of Opposition in Delhi Assembly Prof Vijay Kumar Malhotra expressed strong  anguish over the increasing incidents of rape of Hindu girls and their forcible conversion to Islam in Pakisatan.
He was commenting on the recent incident of a Hindu girl, Bharati, who was abducted, converted and forcibly married off in Lyari area of Karachi on December 12. A police constable is said to be involved in this incident.
Prof Malhotra said this was the 18th incident of kidnapping and forced conversion of Hindu girls. He said there were thousands of reports filed in Police Stations and Courts about kidnapping and forcible conversion of Hindu boys and girls, but no action has been taken.  Instead, the complainants are being harassed. There are several incidents of murder of Hindu doctors and traders in Pakistan and heavy ransom is demanded from their families and they are harassed if ransom is not paid.
Prof. Malhotra condemned the silence of Government of India on these issues and said the Prime Minister and the Foreign Minister must take up the matter very strongly with the Pakistan authorities to stop these incidents and punish the culprits. He also questioned the silence and non-action by the Human Rights Commission in India and abroad and asked why they are not reacting to these inhumane acts. "Not a single Muslim in India has been converted instead they are getting better amenities than Hindus in India. But those who are appeasing Muslims for vote bank politics and advocating more and more reservations in jobs are keeping silence on the atrocities being committed on Hindus in Pakistan," Prof Malhotra said.
According to Human Rights Commission of Pakistan (HRCP), the girl Bharati was threatened not to revert to her original religion or else she would be liable to a death penalty. "As a result, she is confused and is scared to go back home." According to her father, Narayan Das, Bharati went missing on December 12, after she accompanied her friend to a nearby store in the Baghdadi area of Lyari. "She used to learn stitching at a training centre in the area. As soon as she came back home around noon, one of her friends came and asked her mother to let her accompany her. After that we didn't see her for two days," Narayan Das said.
In whatever little time he got to speak to her, Das says his daughter is scared and confused. "She fears that we'll be killed as well if she reverts (to her religion) and she cried copiously when I tried to console her." Das alleged that a "notorious" police constable, Abid, son of Anwar, was behind her abduction and conversion. He filed an application with the Baghdadi police station on December 15 and it was not until December 18 that the police registered an FIR.