Shinde regrets on Hindu Terror remarks; RSS slams Shinde on 'mere' regret, demands Unconditional Apology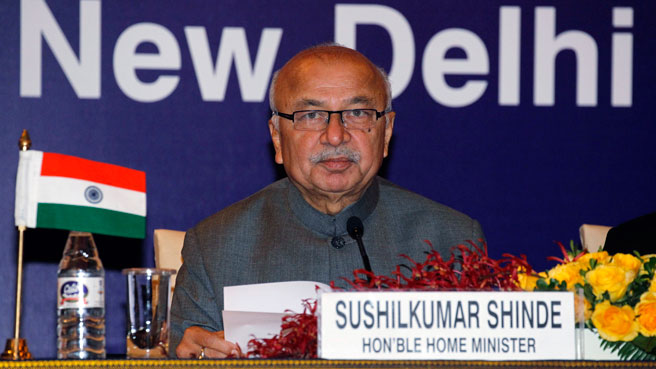 New Delhi February 21, 2013:  Union home minister Sushilkumar Shinde expressed regret over his "Hindu terror" remarks he made at the Congress meeting in Jaipur in January this year.

In a statement issued on Wednesday, Shinde said, "My statement given in Jaipur last month has created a misunderstanding. It has been understood to mean that I was linking terrorism to a particular religion and was accusing certain political organizations of being involved in organizing terror camps. I had no intention to link terror to any religion. There is no basis for suggesting that terror can be linked to organizations mentioned in my brief speech in Jaipur. Since controversy has been created on account of my statement, I am issuing this clarification and expressing regret to those who felt hurt by my statement"
However, RSS  quickly reacted on Shinde's regret. Ram Madhav, top RSS functionary said on twitter. 'Shinde admitted his comments about RSS-BJP terror camps baseless. He shouldn't have taken a month for apology as his statement damaged nations reputation'.

"Shinde's Jaipur comments were derogatory and defamatory. He merely regretted. He should have apologised. Also should have condemned Pakistan terrorists  poured venom on India using his utterances. Also now, what will d Congress leaders like Digvijay Sing and Mani Aiyer say? Will they also regret?" asked Ram Madhav.

"Can we expect d hon' Home Secretary  to again defend his boss (Shinde) as he did after Jaipur and state that his statement was also not based on facts?" questioned Ram Madhav.
BJP spokesperson Ravi Shankar Prasad said "We accept this regret from the home minister but this ought to have come much earlier. Shinde's comment against the RSS and the BJP was totally unwarranted, baseless and malicious. If Mr Shinde knew that what has spoken was incorrect he ought to have accepted his mistake earlier graciously. We hope and trust that Shinde will be cautious in his comments about nationalistic organisation like the BJP and RSS in future and not repeat this again"
"I will continue to perform my duties to the best of my ability to ensure that harmony is maintained in the social fabric of India," Shinde added.
Earlier in January, Shinde had accused the BJP and the RSS of fanning Hindu terrorism. He said, "Reports have come during investigation that BJP and RSS conduct terror training camps to spread terrorism. Bombs were planted in Samjhauta express, Mecca Masjid and also a blast was carried out in Malegaon. We will have to think about it seriously and will have to remain alert."
This created a furore with RSS and BJP terming the remarks as "dangerous" and accused Congress of indulging in "destructive politics". The BJP called for the resignation of the home minister.
The BJP also threatened to launch an agitation against Shinde and boycott him in Parliament, which is convening on Thursday for the Budget session.
According to sources, Shinde had conveyed to BJP's Sushma Swaraj, the leader of the opposition in the Lok Sabha, that he will talk to her to find a way out on the saffron terror issue to ensure smooth functioning of Parliament.
Shinde's regret for his remarks is seen as a deal between the BJP and Congress to allow smooth functioning of the Parliament during the Budget session.
(Inputs from TOI and HT)