Mumbai: Aamir Khan's debut TV show 'Satyamev Jayate' indeed looks like a magic wand! After the noble show talked about female foeticide in its first episode, Aamir asked Indians to request Rajasthan Chief Minister Ashok Gehlot to set up a fast track court to settle impending cases of illegal abortion in the state. And the CM was prompt in responding to the janta's appeal.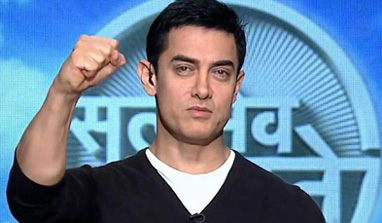 And now, the Lok Sabha has passed the child Protection Bill which was pending for long following the telecast of the second episode of 'Satyamev Jayate' that divulged depressing truth about child sex abuse.
Aamir Khan took to his blogging site to share this news and wrote, "Great news! The Lok Sabha has passed the `Protection of Children against Sexual Offences Bill` today. Unbelievable! Super News!".
Kudos to Aamir and the team of 'Satyamev Jayate.
Source: http://zeenews.india.com/entertainment/and-more/satyamev-jayate-lok-sabha-passes-child-protection-bill_111895.htm