'Nation faces threats equally from China, Pak and Bangladesh': RSS Sarasanghachalak Mohan Bhagwat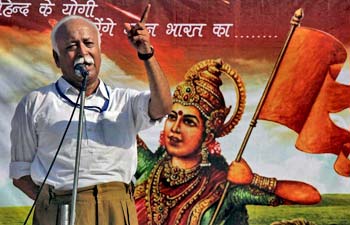 Meerut December 25, 2012:  India is increasingly facing a "threat" from China as it is expanding its influence on all four sides of the country, said Rashtriya Swayamsevak Sangh's (RSS)  Sarasanghachalak Mohan Rao Bhagwat.
"India not only faces a threat from China but also from Pakistan and Bangladesh as well," Bhagwat said at the concluding session of three-day camp in Shatabdi Nagar in Madhavganj last evening.
Cautioning India from the threats arising from its neighbours, Mohan Bhagwat said Dr Keshava Baliram Hedgewar (founder and first Sarsanghachalak of RSS) had referred to China as a threat from the beginning but he was labelled as a "war monger".
Regarding the gang-rape of the 23-year old para-medic student in Delhi, Bhagwat said, "It is a matter of great concern that in the capital city, girls are not safe though there is no need to be disheartened, we just need to think of solutions."
(Inputs from PTI and Indian Express)