Needs Emergency Help: 13 People of a Family from Karnataka Missing in Uttarakhand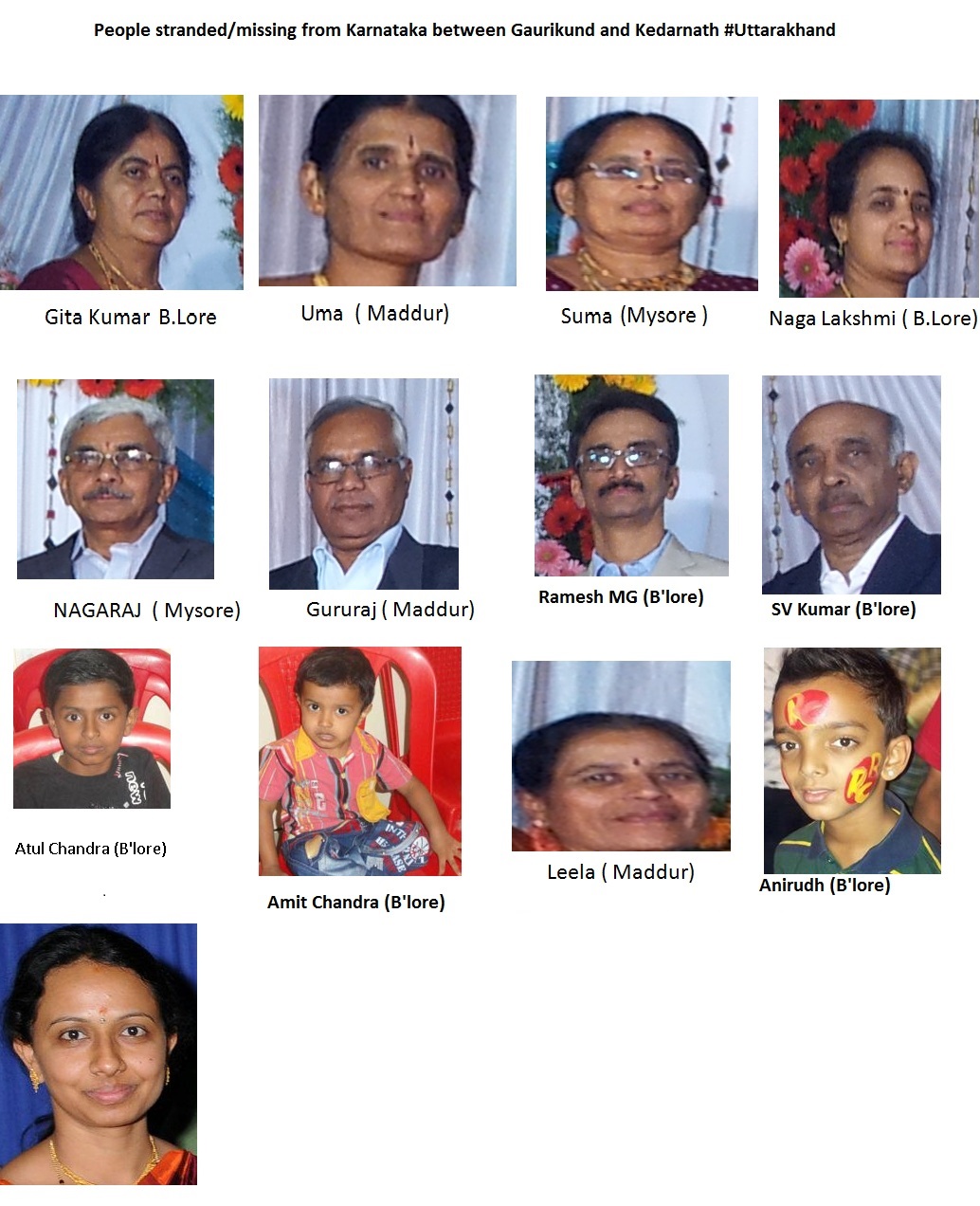 Bangalore July-02: 13 members of a family hails from Karnataka went missing in recent flood at Kedarnath.
Already, RSS and Art of Living organisations are jointly involved in tracing these members. If anyone has any information about the details given below please call 09880621824 or email to rajeshpadmar@gmail.com
*************
WE DONT HAVE ANY INFORMATION OF THESE MEMBERS FROM 16th JULY TO TILL DATE.
WE WILL BE GRATEFUL TO YOU FOR PROVIDING VALUABLE INFORMATION REGARDING WHEREABOUT OF THESE MEMBERS.
M G Nagaraj – 66 yrs maleSuma Nagaraj – 55 yrs Female
M N Nagashree – 33 yrs Female
Atul Chandra – 10 yrs Male
Amit Chandra – 5 yrs Male
Leela Seetharamu – 52 yrs Female
M G Gururaja – 58 Yrs Male
Uma gururaj – 51 yrs Female
Vasant Kuma S.V. – 59 yrs Male
Geetha( Mani) – 53 yrs Female
M G Ramesh – 49 yrs Male
Lakshmi – 40 yrs Female
Aniruddh R – 11 yrs Male

Some Information from tour GUIDE,
As per the Tour guide, he has said that he saw 6 out of the above beyond Rambada that day evening ie..16.6.2013.
The Tourist guide had come to Gaurikund and again started back to the shrine to take care of a foreign tourist. That is when he has met the people before and after Rambada.
The tour guide has said (on 20.6.2013) that while he came back from Gaurikund towards the shrine, he saw the above near Rambada.  By the time he must have seen them and reached 2 kms short of the shrine
*************