Noor Ahmed Khan Memorial Lecture: RSS functionary Dr Bajaranga Lal Gupta's speech on Guruji at Bangalore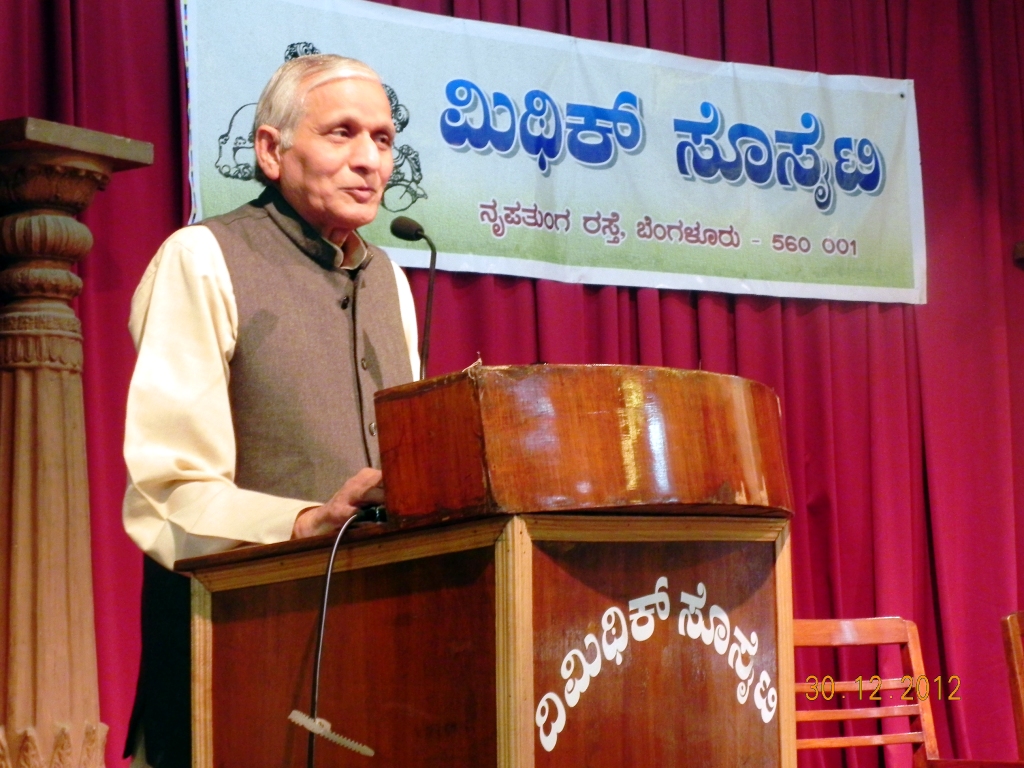 Bangalore Jan 1, 2013: Senior RSS Functionary Dr. Bajranglal Gupta delivered this years lecture on Guruji Golwalkar, as a part of Noor Ahmed Ali memorial annual lecture programme in Bangalore on last Sunday  30 December 2012 at Mythic Society, Bangalore.
The lecture series had its focus on the economic values specified by Second Sarasanghachalak of RSS MS Golwalkar, who popularly was known as Guruji. The highlight of the gathering was an enlightening session by Dr. Bajranglal Gupta, who spoke of the necessity of having an indigenous concept of economics, reiterated by Guruji himself.
Dr. Bajranglal Gupta spoke on the high price paid by humanity at large for the model of development the world chose to adopt soon after the Industrial Revolution. Enumerating his views expressed 'New Paradigm of Development', which he stated has been in line with Guruji Golwalkar's thoughts on economics, Dr. Gupta stated that a whole lot of ills like environmental contamination, global warming, toxicity in food products etc have resulted from unbridled exploitation of natural resources, equation of material prosperity with happiness etc, which are the result of Western notions of linear progress.
"When you analyze the present day growth model, the Western model, we realize it is flawed. Guruji himself stated that it is never suited for the Indian society. This model has contributed nothing but fuel dissatisfaction, creating turbulence in the normal biological cycle, and encroaching the sanctity of family bonds. This has in turn adversely affected the social structure of Bharat. So the earlier we abandon this flawed concept of development and replace it with a healthier notion, the better for us. Guruji was once confronted with a question on the model of development he preferred: the communist or capitalist, to which he replied that the Bharatiya values of life and society has the capacity to mould its own model," said Dr. Gupta, citing the collapse of the USSR as an example of how flawed the Western concept is.
According to him, Bharat, as a nation, should adopt a specific path for economic growth and development. This, he has termed as 'Sumangalam' based on the very principles of a strong model of development specified by Guruji Golwalkar.
"Sumangalam means a sustainable, well cultured concept related to standard of life catering to multitude of dimensions: economic, cultural, political, social, environmental etc. This stands starkly contradictory to the Western concept which is one-dimensional- based on material richness. Guruji stressed on a development model that would cater to expansion of shareer, buddhi, mann and aatma, which would create the paripoorna maanav or complete man. This is a holistic view, where each concept and its development are well connected. This remains diametrically opposite to the view of man propounded from an economists' point of view, that he is solely guided by the principles of wealth."
"The concept of Sumangalam is akin to the concept of Dharma,or ethics. It flows on the same lines propagated by Gandhi that there lies no distinction between economics and ethics:  Economics that hurts the moral well-being of an individual or a nation is immoral, and therefore sinful," said Dr. Gupta, quoting Dr VKRV Rao about an ideal economist blending economics into ethics.
Dr. Gupta spoke on the long term goals of 'Sumangalam':
On the same lines stated by Guruji about the goal of life being 'Purushartha', the core theme of Sumangalam is gross social happiness. The first important factor it will cater to would be provision of food for all. Food according to Dr. Gupta is symbolic and meant that which caters to all basic necessities of all human beings.
Health for all: This includes physical, mental and emotional health. Here the Bharatiya values score over the Western concept where stress is laid solely on physical and mental well being, with the emotional factor never in the forefront. However, the Bharatiya concept has recognized the relation between the three aspects, where the well being of each facet is vital for the healthy function of the other.
Education for all: The right education which will be imparted for all will include inculcation of sanskaar.
Employment for all: Contrary to the Western approach of increasing growth rate for increasing employment rate, Sumangalam emphasizes on generating employment for youth in order to generate growth rate.
The implementation of the concept of Sumangalam is an easy task. On the lines prescribed by Guruji, "Technology has to be made environment friendly. There should be no centralized economic structures. The ideal way to go ahead would be to have decentralized self reliant units consisting of 10-12 villages. Another vital factor is a cooperative life style, where there is no competition. Competition is unhealthy and benefits only a certain section of society, a certain strata, which will not yield substantial development- all this, under a moral leadership."
The vote of thanks was delivered by Professor Shastri. The welcome note was delivered by Dr. Mumtaz Ali Khan, Minister for Haj, Wakf and Minority Welfare. In his address of greeting, Dr Khan said that it was a privilege and pleasure to read and know about Guruji Golwalkar. "The opposition to the various contributions made by him is therefore, unbiased. If we understand his thoughts and ideas on economics and compare them with the dealings of present day political system, we are left disheartened. Our country and the world may have produced a number of economists, who have won laurels with the Nobel Prize. But their contributions have hardly been of worth for the common man."
The lecture was dedicated to the memory of Noor Ahmed Ali Khan, son of Prof Mumtaz Ali Khan, who died in an accident few years ago.