Puttige Villagers welcome Bharat Parikrama Yatra, Kedilaya met village heads during Gram Sampark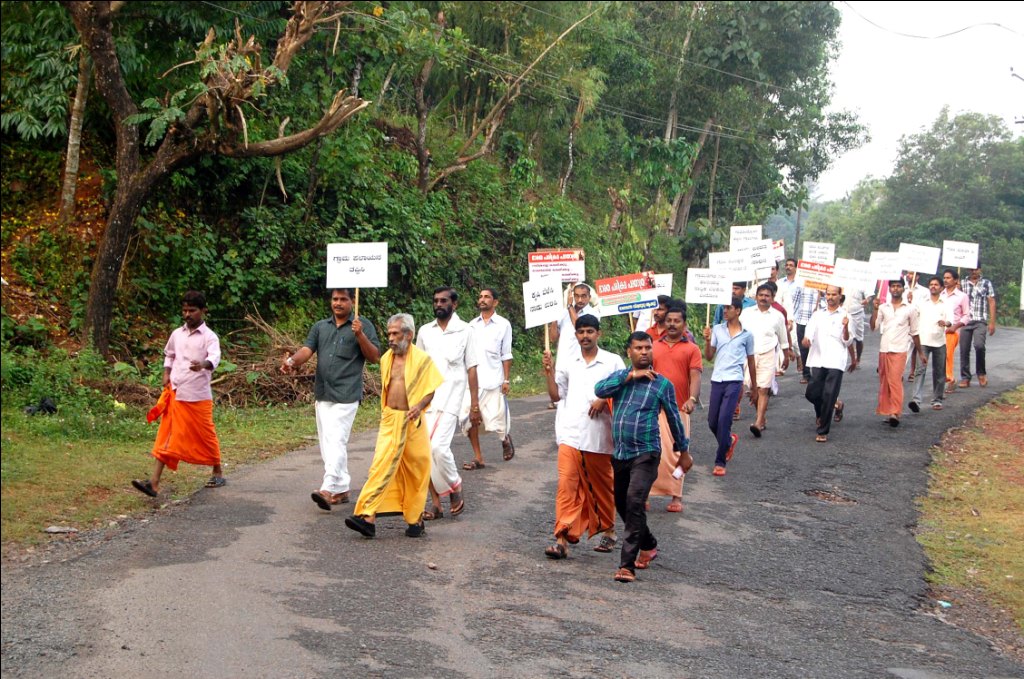 Puttige Village, Kasaragod district October 15: It was a special moment for Villagers Puttige, when RSS Pracharak Sitaram Kedilaya's Bharat Parikrama Yatra entered this small village near Kumble. Aimed to uplift rural Indian life, Sitaram Kedilaya is visiting Indian Villages through Bharat Parikrama Yatra, today it was the 68th day of the Yatra lead by Sitaram Kedilaya.
After Gram Sampark, Kedilaya addressed Villagers, discussed different issues of social importance. Kedilaya felicitated few senior villagers namely Vishnu Acharya (Sculptor) and Vittala (Nati Vaidya- expert in rural medicine). Earlier Kedilaya received a warm welcome at Seethangoli, a semi-urban village. Sitaram Kedilaya  met Muhammed, retired Head Master of Putthige School.
Began on August 9, 2012 from Kanyakumari of Tamilnadu, RSS Pracharak Sitaram Kedilaya lead Bharat Parikrama Yatra has been aimed at the upliftment of rural life in the villages of India. The Yatra which was launched in Kanyakumari on August 9, has now covered an approximate distance of 900km.
BHARAT PARIKRAMA YATRA: Date and Villages
October 15: Puttige
October 16: Dharmatthadka
October 17: Bayaru
October 18: Bedagudda
October 19: Bakrebailu (Karnataka Border Village)
October 20: Konaje
October 21: Kuttar Padavu
October 22: Bikarnakatte Mangalore City
October 23: Baikampady
October 24: Tadambail near Surathkal
October 25: Sasihitlu
October 26: Haleyangadi
October 27:  Hejamaadi
October 28: Ucchila
October 29: Paangala
October 30: Madhva Nagara
October 31: Uppooru
November 1: Matapady
November 2: Kodikanyana
November 3: Thekkatte
November 4: Vadera Hobli
November 5: Hemmaady
November 6: Gangolly
November 7: Naavunda
November 8: Uppunda
November 9: Shirooru
November 10: North Karnataka