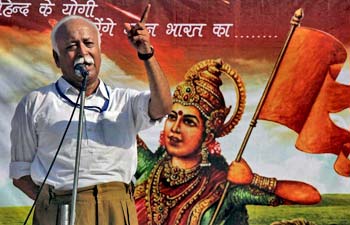 Sept 25: The central government "lacks the will to fight external and internal threats" and has not been able to end the "tampering" with the border by India's neighbours, Rashtriya Swayamsewak Sangh chief Mohan Bhagwat said on Sunday.
Addressing RSS workers in Jammu, he said it was "unfortunate that the government has neither shown the will nor determination to fight the internal threats, terrorism, nor put an end to the tampering with our borders by the neighbouring countries, be it Pakistan, China or Bangladesh."
He said that there are "intrusions from across the borders, infiltration is taking place and the boundaries have not been demarcated which is bad for the nation."
"We are direct victims of infiltration from across the borders," he said.
He, in particular, referred to the emerging "threat from China".
China is "threatening us. It is tampering with our borders", Bhagwat said in the backdrop of reports that Chinese troops had intruded into Indian territory in their choppers and dismantled Indian bunkers in Churmur area of Ladakh in August without being challenged at any stage.
His reference to China also came in the backdrop of reports of China warning India against oil exploration in the South China Sea. "What is more disturbing is the way China-Pakistan friendship has consolidated and flourished to the extent that Pakistan is now daring the US to part ways if wanted that way."
"This is the level of audacity of Pakistan," he said.
Bhagwat is on a five-day visit of Jammu region. His visit began on September 22, during which he met various leaders of his organization, but the deliberations were kept secret. It was only on Sunday that his speech to the RSS workers was opened to media.
Brig (retd) Suchet Singh, head of the state unit of RSS, said: "It was a routine visit of the RSS chief, which he undertakes of all the states after every two years to study organizational matters. There is nothing extraordinary about the visit."
Source: http://m.indiatoday.in/itwapsite/story?sid=152613&secid=175