Karnataka: State Committee of Swamy Vivekananda-150th Birth Anniversary Celebration Inaugurated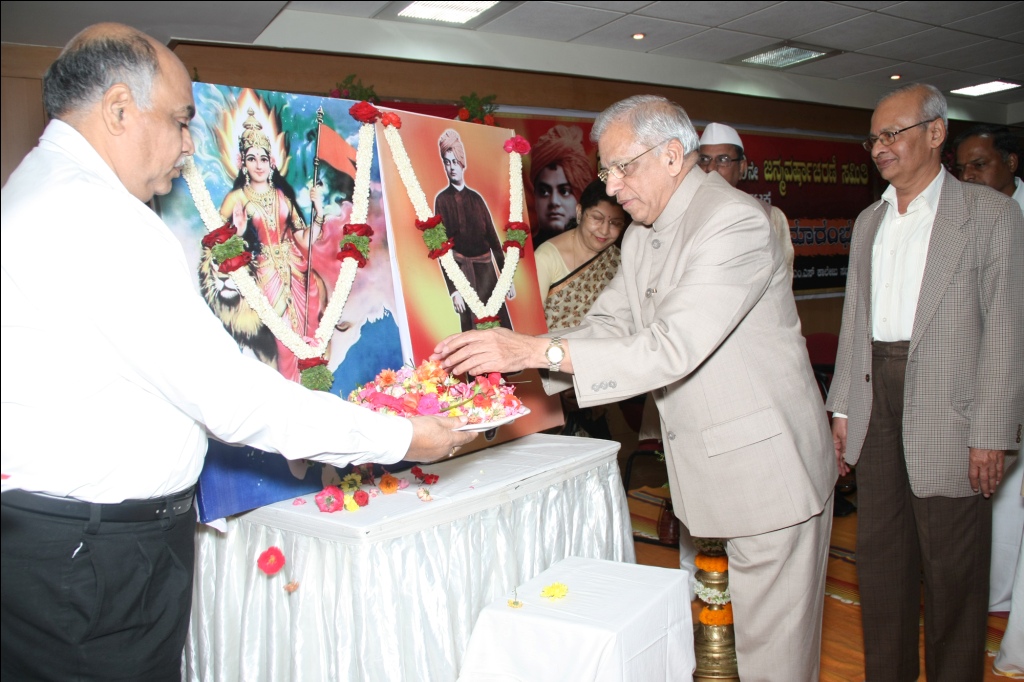 Bangalore November 25, 2012: Initiated by Rashtreeya Swayamsevak Sangh Karnataka, a state level committee was inaugurated to celebrate the 150th birth anniversary of Swamy Vivekananda, state-wide. The inaugural ceremony was held at B
MS Engineering college Auditorium at Basavanagudi, Bangalore.
Justice (Rtd) Shivaraj Patil, former Supreme Court Judge, will be the Hon. President of Swamy Vivekananda-150th Birth Celebration committee of Karnataka. Launching a 53 membered team, Justice (Rtd) Shivaraj Patil said " Swamy Vivekananda's life and message to be carried forward, the committee will engage several activities throughout the year, with a socio-academic perspective" .
Prominent social workers, Academicians, Professionals, noted personalities were included in the State Committee. As President Dr. M. Mohan Alva, Chairman, Alvas Education Foundation (R) Moodbidri, as Vice Presidents Dr. Chidananda Gowda, Former Vice-Chancellor, Kuvempu University, Dr. Balasubrahmanyam, Founder, Vivekananda Youth Movement, H.D. Kote, Dr. Meena Chandavarkar, Vice-Chancellor, Karnataka State Women University, Bijapur, Dr. G.S. Patil, Vice-Chancellor, Karnataka Law University, Dharwad, will be part of the committee.
RSS Karnataka Pranth Karyavah N Tippeswamy will the General Secretary for the State Committee.
Senior RSS Functionaries Mai Cha Jayadev, Kru Narahari, N Tippeswamy, CR Mukunda and several other RSS functionaries were present during the occasion.
A website, vivek150.org to mobilize the activities of the committee and also imbuing the various messages of Vivekananda was launched during the occasion.
Swami Vivekananda 150th Birth Celebration Committee – Karnataka
The Committee:
Honorary President
Dr. Shivaraj V. Patil, Rtd. Justice, Supreme Court of India
President
Dr. M. Mohan Alva, Chairman, Alvas Education Foundation (R) Moodbidri
Vice-Presidents
Dr. Chidananda Gowda, Former Vice-Chancellor, Kuvempu University
Dr. Balasubrahmanyam, Founder, Vivekananda Youth Movement, H.D. Kote
Dr. Meena Chandavarkar, Vice-Chancellor, Karnataka State Women University, Bijapur
Dr. G.S. Patil, Vice-Chancellor, Karnataka Law University, Dharwad
Secretary
Sri Na. Thippeswamy, Executive Committee Member, Mythic Society, Bangalore
Joint Secretary
Dr. Raghu Akmunchi, Professor, Hubli
Treasurer: Sri Shankara Nayak, Industrialist, Bangalore
Joint Treasurer : Sri Naresh Chirania, Industrialist, Bellary
Honorary Members
Dr. H. Sudarshan, Founder, Vivekananda Girijana Kalyana Kendra, B.R. Hills
Sri Shankara Bidari, I.A.S. Rtd. Bangalore
Dr. Siddalingaiah, Chairman, Kannada Pustaka Pradhikara, Bangalore
Dr. Gururaja Karajagi, Educationalist, Bangalore
Sri K. Jairaj I.A.S. Rtd. Bangalore
Dr. Vivek Javali, Cardiologist, Bangalore
Sri Arjun Devaiah, International Athlete, Bangalore
Sri T.S. Nagabharana, Cine Director, Bangalore
Sri Nagananda, Advocate, Bangalore
Sri Balaveeras Reddy, Former Vice-Chancellor, VTU Belgaum
Smt. Susheelamma, Sumangali Sevashrama, Bangalore
Smt. Tejaswini Ananth Kumar, Chariman, Adamya Chetana Bangalore
Dr. Vijayalakshmi Balekundri, Cardiologist, Bangalore
Sri Raghuram Y.N. Yoga Bharati, U.S.A.
Dr. Philip Louis, Industrialist, Bangalore
Prof. Chandrashekhar, Chairman, Silicon City College, Bangalore
Sri Suhas Gopinath, Industrialist, Bangalore
Sri Ma. Nagaraj, Former Member, K.P.S.C. Bangalore
Dr. K.R, Venugopal, Principal, U.V,C.E. Bangalore
Sri M. Narayana Reddy, Advocate, Bangalore
Sri Sidyu Nayak, Social Worker, Bangalore
Sri Balandur Kempaiah, Chairman, Janapada Academy, Bangalore
Sri K.B, Ganapati, Editor, Star of Mysore
Dr. K. Anantharam, Rtd. Professor, Mysore
Sri Jagannatha Shenoy, Industrialist, Mysore
Sri A. Vishwanath, Chartered Accountant, Mysore
Sri P.L. Suresh Raju, Civil Engineer, Chitradurga
Sri T.S, Jayarudresh, Industrialist, Davanagere
Dr. S. Vinayak, Secretary, Vinayaka Group of Institutions, Javagal
Sri Bheemeshwara Joshy, Dharmadashi, Srikshetra Horanadu
Dr. P.L. Dharma, H.O.D. Dept. of Political Science, Mangalore University
Sri Mattar Rathnakara Hegde, Advocate, Udupi
Dr. B. Yashovarma, Secretary, Sri Dharmasthala Manjunatheshwara Education Society, Dharmasthala
Sri Keshava Prasad Muliya, Industrialist, Puttur
Dr. Jadaye Gowda, Professor, College of Forestry, Ponnampet
Dr. G.B. Nandan, H.O.D. Dept. of Political Science, Karnataka University, Dharwad
Sri Vijaya Sankeshwara, Chairman, VRL Group of Companies
Sri Suresh Handre, Industrialist, Belgaum
Sri Allam Gurubasavaraj, Chairman, Veerashaiva Vidyavardhaka Sangha, Bellary
Sri Rahul Baldota, Executive Director, MSPL Ltd. Hospet
Dr. B.F. Dandina, Founder President, Kanakadasa Education Society, Gadag
Prof. Basavaraja Moolimani, Vice-Chancellor, B.L.D.E. University, Bijapur
Sri VEnkatraddi Davraddi Kamraddi, President, Bar Association, Dharwad
Sri G.V. Srinivas, Chairman, Maruthi International School, Tumkur
Sri C.S. Hanumantharaju, Director, Milk Producers Co-operative Federation, Tumkur
Sri Mallappa, President, Arunachaleshwara Temple, Harohalli
Co-ordinators (Karnataka South)
Sri M. Neelaiah, Rtd. District Education Officer, Bangalore
Sri Sadashiva, Social Worker, Bangalore
Co-ordinators (Karnataka North)
Sri Krishna Joshi, Socail Worker, Gulbarga
Programmes Ahead:
2012 December 25: Sankalpa Diwas

2012 January 12: "Yuva Din" and Beginning of Celebrations

2013 February 17 : Mass Surya Namaskara
2013 March-April: Seminars
2013 September 11: Bharat Jago –

2013 : Youth Conference

2013 November: Rural Campaign

2014 January 12: Valedictory Programme