RSS Media Chief Dr Vaidya speaks on 'Political Parties, Media and Social Bodies' at Adhivakta Meet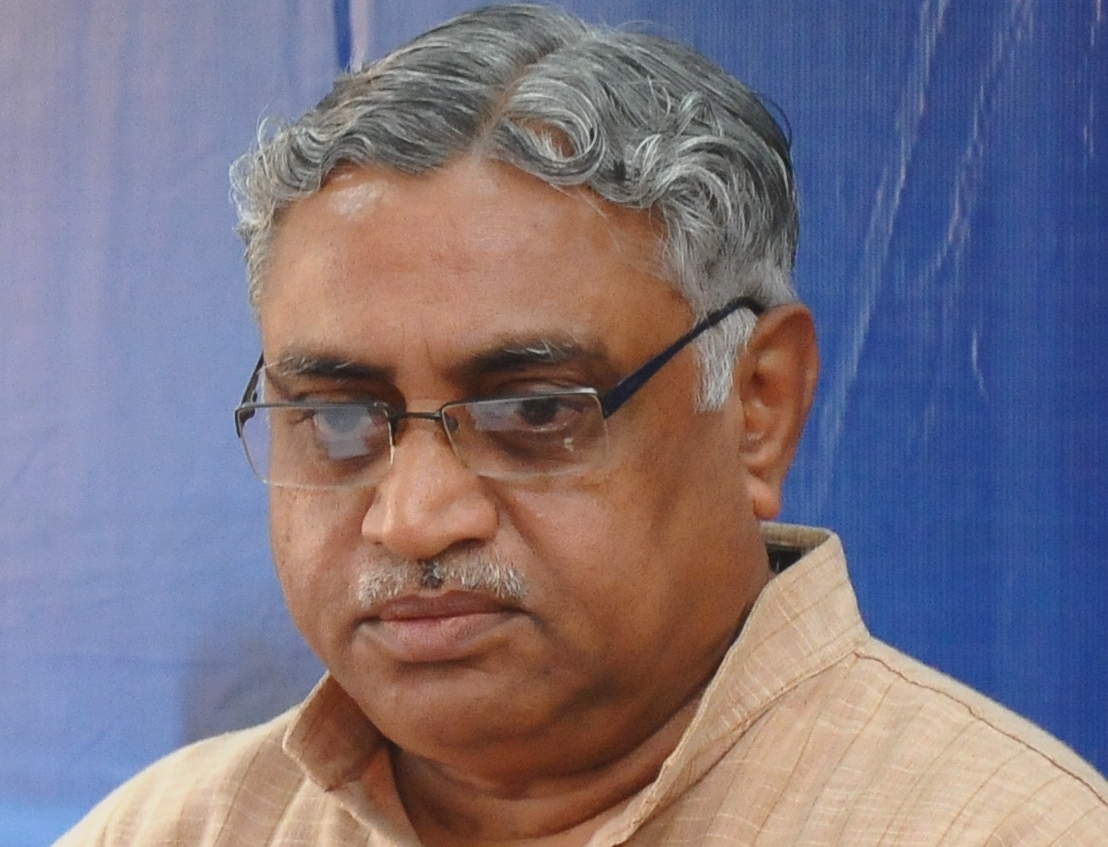 Bhubaneshwar Dec 28 : Internal democracy within political parties, start up of small publications with quality content and increased use of social media sites to put forth one's views will be key to revitalize our democratic institutions and help counter the lop-sided and prejudiced propaganda of large media conglomerates.
A four-member panel gave forth these views in an interesting discussion at the ongoing three-day national conference of Akhil Bharitiya Adhivakta Parishad.
The topic was "Political Parties, Media and Social Bodies" and speakers included Shri Manmohan Vaidya Prachar Pramukh Rashtriya Swayamsevak Sangh (RSS), Shri Jagdeep Dhankar, Senior Advocate Supreme Court of India, Dr Rakesh Sinha, Professor, Delhi University and Shri Kylas Nath Pillai, Senior Advocate Supreme Court of India.
Speaking at the conference Shri Vaidya said that social media is set to play an important role during the forthcoming 2014 general elections.  "Social media acts as a level playing field where everybody gets an equal chance to express their views." He added that intense activity on social media would influence functioning of conventional media as well. "A case in point is the infamous Radia tapes. When the tapes were leaked, conventional media chose to remain mum about them. But, they were forced to sit up and take note after intense discussion started on social media," Shri Vaidya said at the conference.  He added that though, at present, younger people are relatively more active on social media in the coming days professionals and older people would also express themselves on this new medium.
Shri Vaidya further added that despite the conventional media indulging into badmouthing and giving a negative publicity about RSS, the acceptance of Sangh is only increasing by the day among people of Bharat.
Shri Jagdeep Dhankad, in his speech, castigated the widely spreading dynastic tendency among political parties. He said that barring a couple of parties such as the Bhartiya Janta Party (BJP) that has a definite ideology other parties are being run as family- corporate- fiefdoms. "There exists a family rule in parties and even elected representatives need to follow the diktat of high command."
Coming down heavily on ruling duets of mother-son, father-daughter or father-son in political parties, Shri Dhankad said that internal election in a political party has become a mere sham. "Internal elections in a political party are a very vital issue. We should raise the issue with election commission if internal elections in a political party appear to be mere eyewash. Doing this will lift the veil from political parties and educate the populace.
"What ails our political parties is that the parties have not been able to be democratic in their functioning. We have democracy in nation but strong despotism in political parties where a high command calls the shots and does not let an elected representative occupy the required political space for their constituency," Shri Dhankad explained.
Shri Dhankad also criticized the whip culture among political parties and said it remains unclear who issues a whip in a political party and what legal sanction does it possess.
Speaking about the dual character of mainline media organizations Dr Rakesh Sinha said the Radia tapes uncovered the gory face of Indian media organizations and unmasked dubious credentials of their editors.
"Instead of mourning the hypocrisy of large media conglomerates where they continue to present a heavily prejudiced picture of events across the country it is better to start our own smaller media publications," said Dr Sinha. He added that instead of worrying about huge circulations it would be better to have smaller circulations and motivate smaller coterie of individuals who could be better and rightly informed and lead the society towards betterment.
Dr Sinha also came down heavily on large Indian media houses that devotes disproportionate space to frivolous events such as fashion shows at the cost of real and genuine events that need to be brought in public domain. "A case in point is when in the year 2006, around 250 farmers committed suicide in Vidarbha district of Maharashtra. Instead of covering the episode the entire issue was sidelined and received inadequate coverage. The mainstream media chose to devote its resources in terms of space and journalists for a fashion show," Dr Sinha explained.
He added that mainstream media rakes up issues related to identity politics and in this way is playing up into the hands of those who want to balkanize Indian minds.
Shri KP Kylas Nath Pillai, Senior Advocate Supreme Court of India said political parties have substantially failed the constitutional and democratic institutions of India. "Congress is ruled by a foreign-born and Communist parties are being ruled by foreign ideology," he said