Bangalore July 13:
"We strongly condemn these cowardly terrorist attacks, killings and injuring innocent people. We heartily sympathise with the families of dead and injured. This is an attempt by anti-national forces to create instability in India. . The central  government  rising above power politics should deal with the issue of terrorism seriously and strongly." says Dr ManMohan Vaidya, RSS Akhil Bharataiya Prachar Pramukh in Bangalore.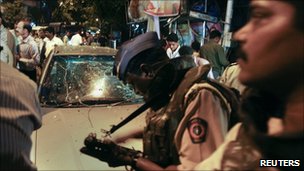 here below given a media report on Mumbai blast occured today.
3 blasts in Mumbai, 13 killed, 100 injured
(DHNS-PTI)
Maharashtra CM Prithviraj Chavan said at least 13 people were killed and 81 injured in the back-to-back blasts that struck Zaveri Bazar, Opera House and Dadar in the space of a few minutes from 6.45 PM. The blast at Opera House was "very powerful," Chavan said.
In New Delhi, Union Home Minister P Chidambaram said 10 deaths have been confirmed and 54 persons admitted to hospitals with injuries. The death toll could increase, he said, adding there was no report of any other blast or threat. Union Home Secretary R K Singh said about 100 injured have been admitted to various hospitals.
Chidambaram said the explosions occured within minutes of each other from 6.45 pm and from this it can be inferred it is a "coordinated attack" by terrorists." Improvised Explosive Devices(IED) were used to trigger the blasts which coincided with the birthday of Ajmal Kasab, the lone Pakistani gunman in the 2008 Mumbai attack, sentenced to death.  Mumbai police said an IED was recovered from the blast site at Zaveri bazar.
Singh said one explosion took place in a Maruti Esteem car and another in a motorcycle. According to police, the blast in Zaveri Bazaar occurred in a meter box of the electric cabinet of a BEST bus stop.
The first explosion took place at Shakeel Memon street in south Mumbai's Zaveri Bazaar, near famous Mumbadevi temple, in which at least 25 persons were injured, said Mumbai Police spokesman Nisar Tamboli. The bustling market also has a number of jewellery shops.
Around 25 people sustained injuries in another blast at Diamond Market near Opera House, also in south Mumbai, while three persons were wounded in yet another explosion at Kabutarkhana in Dadar west in central Mumbai. Chavan said the injured people have been admitted to St George, Nair and KEM Hospitals.
A high alert has been sounded across the city following the blasts.
Zaveri Bazaar has been targetted few times before with 54 persons being killed in 2003. Chavan, who is monitoring the situation from the Mantralaya control room, said ATS personnel were at the scene of the blasts.
He appealed to people of Mumbai to maintain calm and asked them not to be swayed by rumours. Prime Minister Manmohan Singh spoke to Chief Minister Chavan shortly after the serial blasts shook Mumbai.
NSG perssonnel and forensic experts were rushed to the western metropolis in a BSF plane from Delhi. Today's explosions came two days after the fifth anniversary of the Mumbai serial train blasts in which 186 persons were killed. High alert has been sounded in the national capital and other parts of the country.
The explosions revived memories of the terror attack in November 2008 in which 166 persons were killed by 10 gunmen of Pakistan-based terror outfit Lashkar-e-Toiba(LeT).