'RSS will oppose reservation based on religion' says RSS Gen Sec Bhaiyaaji Joshi in Press Meet .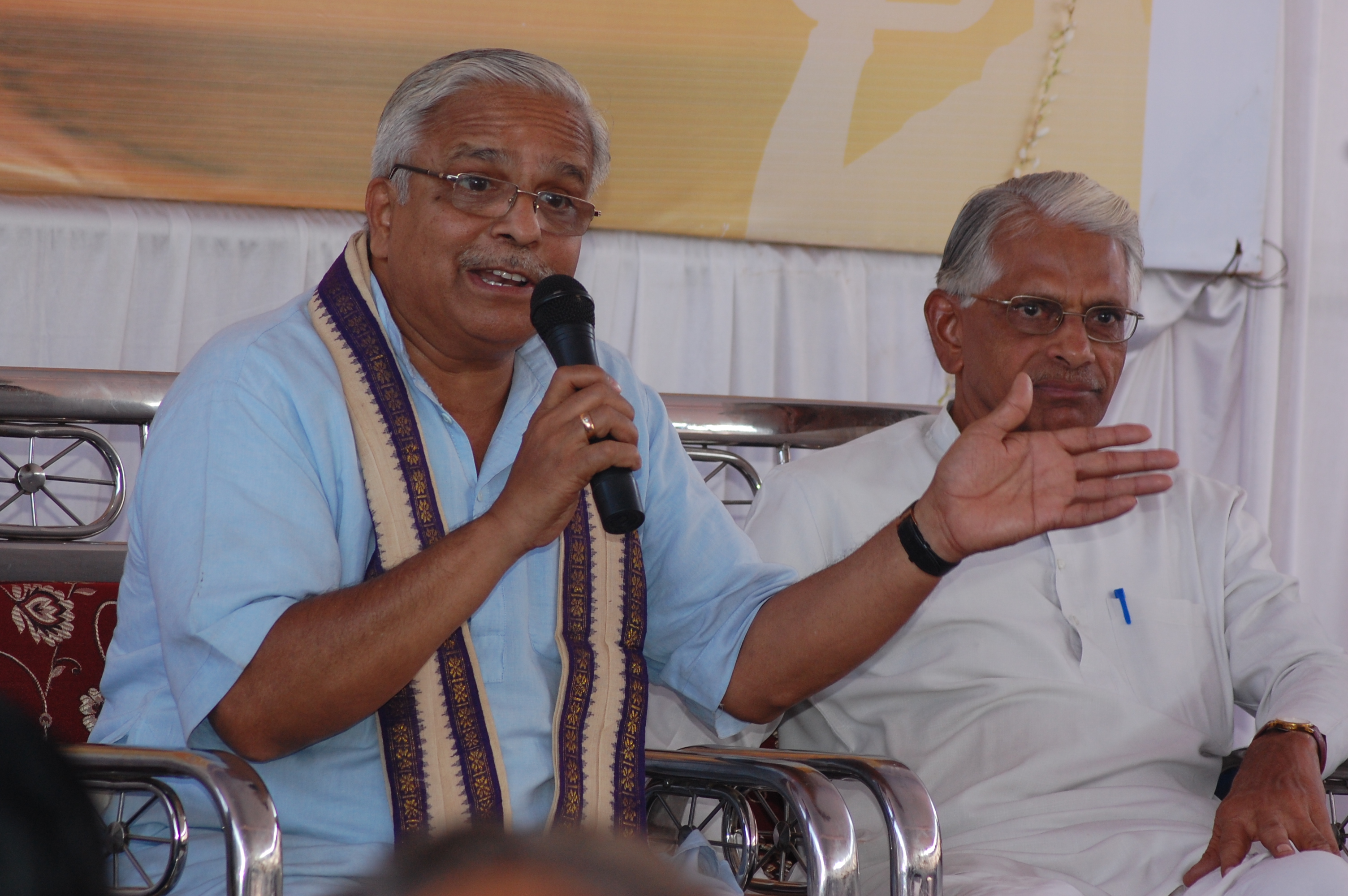 Bhaiyaaji Joshi in Press Meet .
Hubli January 27: 'RSS will fight against all forms of corruption, at national and state level. We are not targeting any individual and the fight is on a cause. We demand good governance from any government in this country' said RSS General Secretary Bhaiyyaji Suresh Joshi.
Addressing a Press Meet on the occasion of 3 day Hindu Shakti Sangama, the RSS leader said  "There are several challenges before the country. Terrorism being the most affecting challenge, entire North-East, valleys of Jammu and Kashmir is suffering since decades. Common man so threatened by these activities leading for a difficult livelihood"
"Separatist movements in Kashmir, Infiltration on border areas of India, Caste based discrimination, poverty, illiteracy are some of the other challenges the country is facing. Christian Missionaries are taking an advantage of few factors and utilising these opportunities for religious conversions. Sangh already began its activities in several slums, tribal areas in the country. These efforts are not to compete with Missionaries, but to strengthen the life of backward communities" said Bhaiyyaji Joshi.
Answering a question from a media person on RSS's role on upliftment of SC, tribal and backward communities, Bhaiiyyaji said "RSS began its works on the tribal upliftment in 1952 when Vanavasi Kalyan Ahram started in Jaspur of Chattisgarh. Now, across India we have works going on Tribal, SC, ST, other backward class upliftment through the activities of Samarasata Manch and other like-minded Sangh initiatives"
On a question on reservation, Joshi said, "RSS support the reservation for SC/ST and other backward communities. But RSS will oppose all reservations given based on religion. Even Dr Ambedkar demanded reservations based on caste, not based on religion. There are attempts of politicising reservation for mere political gain, the society should be aware of such attempts of creating such vote bank politics"
"RSS always will give sanskar (or Value based education through Shakha) to a swayamsevak in organisational activities. But if a person fails to learn good values throughout life, it is wrong to blame RSS. If a student fails in a class, it's wrong to blame a teacher. There may be good and bad students, the performance depends on individuals", said Bhaiyyaji.
"RSS will never advice the government for its performance. When the swayamsevaks in BJP seeks advice from RSS, we will give advices, nothing wrong in it. But in govt policies, we have no role. Government may be influenced by many factors like bureaucrats etc, but not by Sangh" clarified Bhaiyyaji.
RSS will oppose all forms of corruption and meanwhile RSS will support all anti-corruption raliies. RSS also oppose Communal and Targeted Violence Bill proposed by National Advisory Council (NCA) headed by UPA Chairperson Soniya Gandhi. ThIS bill divides the nation based on religion also a threat to national integrity, said Suresh Bhaiyyaji Joshi.
RSS Kshthreeya Sanghachalak Justice Parvat Rao,  Pranth Karvavah Aravinda Deshpande, Pranth Sanghachalak Khageshan Pattanashetti , V Nagaraj were present during the Press meet.