Sanghparivar leaders speaks on Advani Issue, VHP's Singhal says 'Nation Needs Youth Leadership'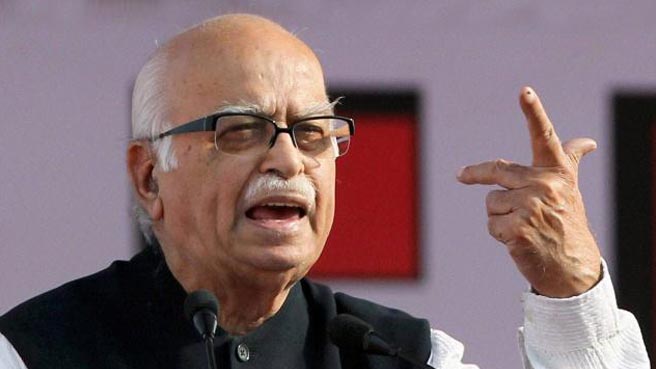 NewDelhi June 10, 2013: Senior Sanghparivar functionaries came out open on BJP veteran LK Advani issue, said 'Nation needs Youth Leadership', which almost made it clear or indirectly backed BJP's Goa National Council Meet's decision on 2014 election campaign committee, held yesterday.
Earlier, 85-year-old LKAdvani, a founder member of the BJP and the tallest leader after Atal Bihari Vajpayee, resigned from all main forums of the party — parliamentary board, national executive and election committee, a day after Modi was anointed BJP's campaign chief for the 2014 Lok Sabha polls.
In a strongly-worded resignation letter to party president Rajnath Singh, who announced the appointment of Modi as chairman of the election campaign committee on Sunday in the BJP national executive, Advani rued that the BJP was no longer the "same idealistic party" created by Shyama Prasad Mookerjee, Deendayal Upadhyaya, Nanaji Deshmukh and Vajpayee.
Sanghparivar leaders commented as follows:
"The new generation has to move forward with determination, how long will the old leadership last?" VHP veteran Ashok Singhal told reporters today.
Meanwhile "Hindus are NOT dependent on individuals of either side. Hindu Dharma is eternal irrespective of this or that.", told VHP international working president Dr Pravin Togadia in a tweet. "Appointment of Modi as chairman of party's campaign committee is BJP's internal matter and I would not like to make any comment on it. However, it is the party which is always more important than any individual," he said.
RSS ideologue MG Vaidya said that 'It is BJP's internal matter', however, MG Vaidya said he was "shocked at the way Advani handled the episode of Modi's elevation. I can't say what prompted him to take such a drastic step."  Mr Vaidya made a veiled reference to that today when he said, "Even in RSS once a swayamsewak office bearer is 75 years of age, he steps aside."
RSS Akhil Bharatiya Sah Sampark Pramukh Ram Madhav said on twitter 'Advaniji's decision to resign from Party posts is unfortunate. Hope the Party leaders would persuade him to take it back.'
In a simple and quick response Dr. Manmohan Vaidya, RSS Akhil Bharatiya Prachar Pramukh said, "It is unfortunate.  Party people should bring him back".
Text of LK Advani's letter to Rajnath SING:
Dear Rajnath Singhji,
All my life I have found working for the Jana Sangh and the Bharatiya Janata Party a matter of great pride and endless satisfaction for myself.
For some time I have been finding it difficult to reconcile either with the current functioning of the party, or the direction in which it is going. I no longer have the feeling that this is the same idealistic party created by Dr Mookerji, Deen Dayalji, Nanaji and Vajpayeeji whose sole concern was the country, and its people. Most leaders of ours are now concerned just with their personal agendas.
I have decided, therefore, to resign from the three main fora of the party, namely, the nationalexecutive, the parliamentary board, and the election committee. This may be regarded as my resignation letter.
Yours Sincerely,
L K Advani