Recently expired theatre personality Satyadev Dubey spent his childhood evenings at RSS Shakahas, here is an article in Business Standard: (http://business-standard.com/india/news/whenlights-dim/460254/)
When the lights dim by Veenu Sandhu, BS New Delhi :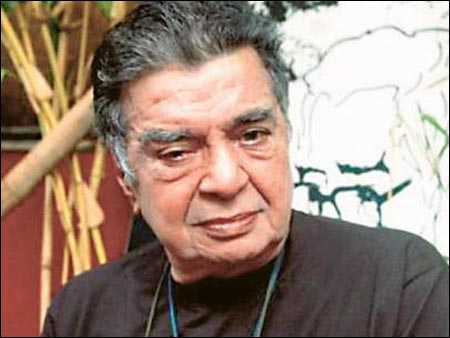 Back in the 60s, when Hindi theatre was losing its steam, Satyadev Dubey gave it a fresh lease of life. Veenu Sandhufinds out about the man behind the legend. The rehearsal for Antigone, a Greek tragedy written by Sophocles around 442 BC, is on. Naseeruddin Shah, who is playing King Creon, is engrossed in his role. Rehearsing with him is Ratna Pathak Shah who is playing Antigone. Suddenly, a voice cuts through Naseeruddin's raspy baritone. "You are not husband and wife on stage. You are playing uncle and niece. Avoid too much physical contact," points out Satyadev Dubey who is directing the classical tragedy. Veterans on the stage, the Shahs hadn't realised that while rehearsing they were touching each other with the familiarity of a couple. But the two who'd been shaped by Dubey as actors also immediately understood what he was talking about. "This is the kind of terrific insights he had," says playwright Girish Karnad, of long-time friend Dubey while narrating the incident It has been six days since theatre director, actor, screenplay writer and playwright Satyadev Dubey died in a Mumbai hospital after lying in coma for three months. In these six days, the extraordinary silence that surrounded the man who was always a livewire has been shattered by a rush of memories and a flood of stories from those who knew him and worked with him. The pens haven't stopped working since.
Anybody who has been reading about him these last few days will, by now, know it by heart that he was the one behind the powerful dialogues of films like Shyam Benegal's Ankur (1974), which was also Shabana Azmi's first release and won her the National Film Award for Best Actress,Nishant (1975), Bhumika (1977), Junoon (1978), Kalyug (1980) and Mandi(1983) for which he did the screenplay, and Govind Nihalani's Aakrosh (1980) and Vijeta (1982). Plays that defined and shaped contemporary Indian theatre — Mohan Rakesh's Aadhe Adhure, Badal Sarkar's Pagla Ghoda, Vijay Tendulkar'sKhamosh! Adalat Jaari Hai — all bear Dubey's stamp. And who knows what would have become of Dharamvir Bharati's historical 1954 play Andha Yug, which was written for radio and is today celebrated as the first important play of 20th century India, had Dubey not spotted its stage potential.  
* * *
Back in the early 1960s, when contemporary Hindi theatre had lost steam, here came a man who turned its story around. Not just theatre, he also turned several plays, including those by legends, on their heads. He would strip them of characters he didn't think were important; he would change the lines; he would remove the frills and fancies; he would take the play to a level where it could hold out on the power of the dialogue and the strength of the acting; and, it didn't matter to him what the playwright thought about all the liberties he took with his or her work. "He took my last play, Wedding Album, and completely rewrote it without telling me," says Karnad, half laughing, half exasperated. "I kept asking him about it and he kept saying, 'I am working on it'." Karnad got to see the play only when it was staged at the Homi Bhabha fellowship conclave in Mumbai in November 2009. "I was hopping mad. Wedding Album is about a family. Dubey hadn't a clue about family life," says Karnad. (Dubey was married, but only briefly. Apart from his grandnephew, actor Satyajeet Dubey, he considered theatre his family). "It was harrowing for me to see what was being passed off as my play," says Karnad. Dubey, he adds, "knew I was upset but I never spoke to him about it. And, it never came in the way of our relationship." Karnad remembers his first meeting with Dubey. It was in 1963. Karnad was 25 and Dubey 27. "He was snarling at me. I had just returned from Oxford. He hadn't read any of my plays. And I couldn't understand why he was being so surly and unfriendly." Suddenly, he turned to Karnad and said, "What's the point of writing plays in English? Who's going to read them?" Karnad says when told him that he wrote in Kannada, Dubey's face changed. "He asked me to read out my play,Yayati, and immediately said he would produce it." Dubey was determined to bring contemporary Indian theatre alive, says Benegal. "After taking over Theatre Unit from Ebrahim Alkazi, who was more into English plays, he introduced many contemporary Indian playwrights," adds Benegal who remembers how he'd have to argue his way through if he wanted Dubey to change even one dialogue for his film. "He would take some position where you would say, 'How absurd, how ridiculous you can be!'" With Dubey, the relationship could never be calm, he recalls. "It was always alive and spirited. But, he also had the discipline to eventually let the director have the final say."
* * *
Short-tempered and often foul-mouthed, Dubey had the power to make the actor transcend his mental and cultural barriers like no one else. "Back in the '60s when sex was so hush-hush, he got Sulabha Deshpande, who comes from a middle-class Maharashtrian family, to play a lesbian in his version of Sartre's No Exit," laughs Karnad. "After some 13 shows, when someone complimented her on playing a great lesbian, she asked surprised, 'What's that?'. And then, horrified she ran to Dubey who told her, 'Why do you need to know what it means? Just keep playing the part as wonderfully'." "He always managed to provoke," recalls theatre historian and Dubey's friend Shanta Gokhale who has edited Satyadev Dubey: A Fifty-year Journey Through Theatre. "Theatre for him was for personal pleasure and motivation, and not for any service to theatre," she says. It was that joy of theatre which gave the country greats like Amrish Puri, Amol Palekar, and Naseeruddin Shah to name a few. But recognition came late. "He didn't think much of government awards," says Karnad who was in the committee which awarded Dubey the Padma Bhushan in 2011. "So, I took him to a corner and said, 'I am not going to try for you if you are going to reject the award'." But when he got the Padma Bhushan, he was ecstatic. "He SMSed everyone thanking them, even those who had no clue why he was messaging them," says Karnad quoting from Walt Whitman's "Song of Myself" to describe Dubey, "Do I contradict myself? Very well then I contradict myself."
There were other contradictions too. Gokhale writes how Dubey was inducted into the Rashtriya Swayamsevak Sangh (RSS) when he attended a shakha in Bilaspur where he was born. His mother had died when he was 5 and father when he was 12; the shakha, she writes, probably gave him an emotional anchor. "He was staunchly RSS, but he had very dear Muslim friends too," says Karnad. Also, "the man who had, for years, shunned English plays because he thought they smacked of Colonial legacy also promptly changed his opinion when he read Vikram Seth's A Suitable Boy because of the wonderful description it had of Bilaspur."
Benegal recalls how for all his brilliance Dubey was also guileless. "People would play all kinds of pranks on him. They would tell him so and so has fallen in love with you and he would work himself into a state where he would start thinking of ways to court that person," says Benegal who worked in advertising when he first met Dubey. "He was planning to do a short film and he wanted my future wife, Nira, whom I was courting at that time to star in it. He told me very clearly, 'I knew Nira before you did, so I have every right to ask her to be in my film'," says Benegal. He's not too sure if that film eventually took shape. "He was marvelous with everybody's wives, mine, Benegal's," says Karnad. "He would take them out to dinners without the husbands." Dubey's last years would find him sitting at Prithvi Theatre's open air café every evening surrounded by students. "He was an extraordinary teacher," says Benegal. "He would abuse them and tell them how awful their work was and they would still flock around him," adds Karnad. "He would say, 'Come tomorrow morning and I'll show you what acting is'. During the last three months that he was in coma, these students who hungered for his knowledge were the ones who took care of him. "They knew they had nothing more to gain from him. But they still tended to this great man who would shout at them and tell them how pathetic they were," says Karnad. It wasn't without reason that three years ago, at Prithvi Theatres' 30th annual festival, the theme was Dubey and the banners celebrated him as the most "hated and most loved man of modern Hindi theatre".