'Secularism of India alone can establish true peace in the world': Dalai Lama in Mundagod, Karnataka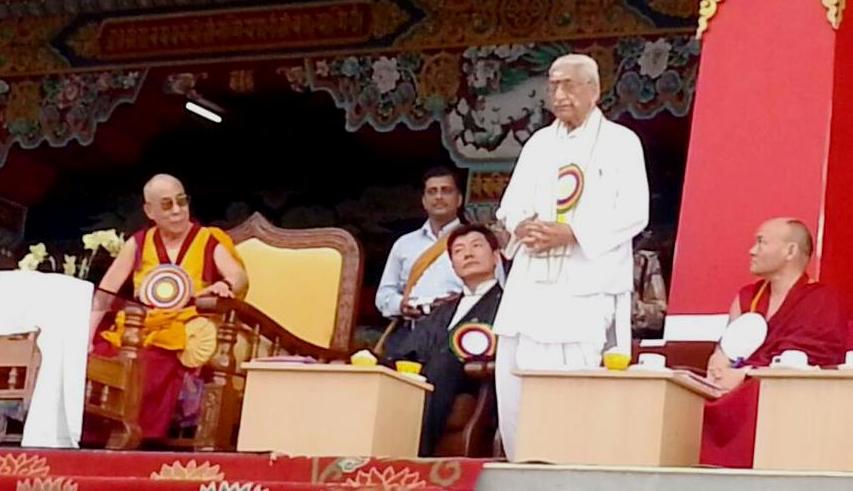 Mundagodu village, Karwar Taluk, Karnataka December 11, 2012:
VHP former president Ashok Singhal, Tibet Prime Minister Sikyong Dr Lobsang Sangay, MLA V. S. Patil and thousands of local Tibetans and monks attended the 23rd anniv
ersary of the conferment of the Nobel Peace Prize to His Holiness the Dalai Lama, at Drepung monastery in Mundgod, Karnataka state, Today morning.
The function started with a minute's silence in memory of all those Tibetans who have sacrificed their lives for Tibet
.
Addressing the ceremony, His Holiness Dalai Lama thanked all the guests for coming to the celebration especially Ashok Singhal whom he referred to as a close friend and a long time supporter of the Tibet cause. Earlier, VHP leader Ashok Singhal felicitated Dalai Lama with silk shawl.
VHP leader Ashok Singhal invited Tibetan spiritual leader Dalai Lama and other Bauddha lamas to 2013 Kumbh Mela to be held at Prayag in February 2013. He said participation of Buddhist leaders in the Kumbh Mela would make the biggest religious festival of the world to be held once in 12 years more glamorous. Shri. Ashok Singhal thanked Dalai Lama for confirming his participation in the Kumbh Mela.
HH Dalai Lama in his speech felt that external attractions are destroying the tranquility. In spite of progress in science, due to lack of values there is no peace in the world. Healthy mind is essential for good health. Modern science has established this through research. Values, inner modifications, and good thoughts direct mind to positive approach. In the same way, emotional aberrations lead to faulty thought process. There is an urgent need for an education system which train the mind to think in a positive way. Unfortunately, present education system has not given priority to this aspect.
"Secularism is not considering religion in state affairs. In true sense should mean state ensuring reciprocity of respect and non interference by adherents different regions and state providing freedom to practice any religion without fear. True secularism exists only in India where hundreds of religions exist harmoniously for thousands of years. Secularism of India alone can establish true peace in the world" HH Dalai lama said in his speech.
'My decision to retire from politics was not because I felt hopeless or discouraged about the Tibetan situation', His Holiness stressed.
Sikyong Dr Sangay also expressed the CTA's undying gratitude to the people and government of India for their generosity, hospitality and assistance to the Tibetan refugees for these many years.
At the same time, he reiterated that we must focus our attention and concern on the current crisis engulfing Tibet. He said that the responsibility as well as the solution for the current crisis in Tibet lies with the Chinese government.
A written message from the president of Kalmyk Republic to His Holiness was read out by Telo Rinpoche on the occasion. A silver globe topped with a conch shell was also presented to His Holiness by His Eminence Gaden Tripa Rinpoche.
The chief guests at the ceremony were state MLA V S Patil and Ashok Singhal, former president of VHP. Other guests at the ceremony include Hollywood actor Richard Gere, Imkongla Jamir, DC of Karwar district, the local superintendent of Police, abbots of the various monasteries etc.
(VSK-KARNATAKA)