Shinde's remark has weakened country's ability to fight terror: Ram Madhav at IBNLive Interaction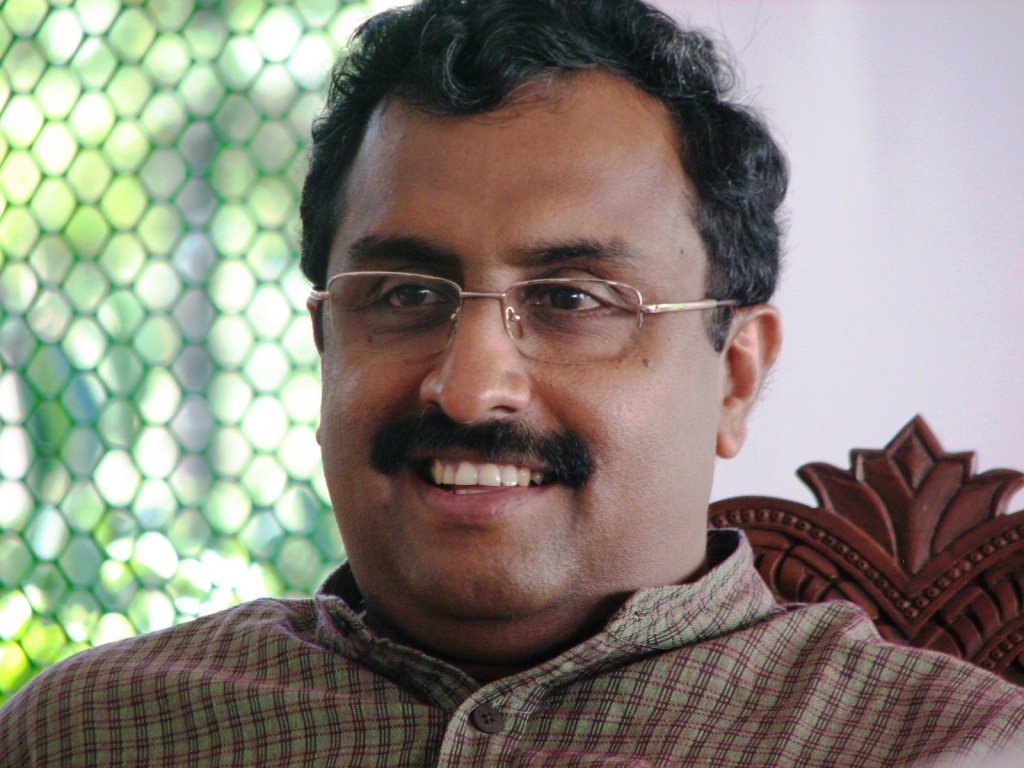 How does the RSS react to Union Home Minister Sushil kumar Shinde's 'Hindu terror' comment? RSS spokesperson Ram Madhav joined IBNLive readers for an interaction on the issue.
Q. Are Sangh not bothered with the hostile approach of main stream media towards Sangh and parivar orgnasiations? Asked by: Nair P
A. We don't want to blame the entire media for any hostility towards us although we are aware of some individuals here and there in sections of media who are biased.
Q. Yes, RSS has to strongly think on filing defamatory suit in court. cause this remark is a timely, well calculated political and keeping in view of future elections. Both RSS and BJP will come in difficult situation if they do not think on this. what you think on Asked by: Subodh Deshpande
A. Thanks for your advise. We are weighing various options.
Q. Why RSS is not so active in West Bengal? Asked by: Arjun Rathore
A. Last week the RSS unit of South Bengal, half of West Bengal state, had held its 3-day youth camp. Over 15,000 youths had attended the camp addressed by the Chief of RSS. It is growing well in the state.
Q. Why RSS dosent go to court and ask for a direction to NIA to file a final report on samjhauta blast case why its being lingered on and being misused by MHA and it is also damaging india's case against pakistan in international terms RSS should clarify on this in courts Asked by: Amit Shukla
A. In fact for almost 4 years the NIA is sitting on these cases that Mr. Shinde had referred to in his Jaipur speech. They are using various fair and foul methods to find out the truth. But the fact that they have still not been able to reach anywhere and the trial has not been allowed to begin in any of the cases even after almost 5 years clearly suggests malafide intentions of the government.
Q. Would it help the RSS in having a PRO so that the people of this country knows what the RSS does and how it benefits the society? Asked by: EMathew
A. Every RSS member – the Swayamsevak – is our PRO. Today, inspite of so much negative propaganda and venom spewed by many political and pseudo-intellectual groups if millions and millions are supporting and working with the RSS and its affiliates, it is simply because of our greatest PR asset, the ordinary RSS Swayamsevak on the street. We are proud of him.
Q. Isn't it high time that RSS take proactive steps in ensuring the kind of comments given by political parties are also answered? Asked by: EMathew
A. We have our Prachar Vibahg – the media wing – to counter public allegations. We will certainly strengthen it.
Q. How are you planning to take it to people to prove that Shinde comments was a mistake? And why is RSS always in fight with BJP in states like Rajastan? And what is the Plan for RSS to be stronger in UP? RSS and even BJP looks very weak in Uttar pradesh? Asked by: Karthik V
A. Mr. Shinde's comments have hurt the feelings of countless patriotic people of the country. We feel their rage and anger through various fora including media and social media. We want the entire nation to stand up and condemn the statement of Mr. Shinde that has weakened our country's ability to fight terror enormously. The RSS work is growing well in UP.
Q. Sir, what is membership growth rate of RSS as an organization Asked by: praveen
A. Not less than 10% annually I suppose.
Q. Will shinde's Hindu terror remark affect India's fight against terror? because next time when we will blame Pakistan they will counter it with Hindu terror. Asked by: Deepak kumar
A. It has already affected our capability enormously in the sense that his statement is now being touted as an endorsement of innocence of terror outfits like LeT and JuD. The whole world watched in dismay the dreaded terrorist Hafeez Saeed (Saheb of Digvijay Songh) demanding that India be declared a terrorist state.
Q. Sir, Digvijay Singh said RSS filed defamation suit against him but withdrew then? Is it true? Asked by: Yagyesh
A. Not to my knowledge.
Q. Ram Madhav Ji. I always felt even Swayamsevak's are best PRO for RSS, there still a need to manage media effectively. Any plans to promote RSS social and Seva initiatives in the mainstream media? Asked by: Atharva
A. Our Prachar Vibhag does that work. We will strengthen it.
Q. As we all know that there are more than 1,50,000 social service project being run by people who are inspired by RSS ideology of selfless work and patriotism. Why we do not put information before public via electronic media so that pseudo secular politicians and so called intellectuals cannot fool people any more? Asked by: Bhushan
A. We do want the world to know. Rest of your question should be to media as to why they don't highlight these aspects of the RSS work.
Q. Are you planning any legal recouse to extract apology and shame HM ? If you don't then its like offering another cheek and begging HM to atleast hit hard next time. Asked by: pad
A. All options are being assessed.
Q. What is your Choice of PM? Mr. Modi or Mrs. Swaraj? Asked by: Ameya Pawar
A. Whoever the country elects.
Q. Sir, I am a muslim. My father is swayamsewak of its muslim wing…. So, my muslim friends tease me saying that you are a kafir .. They even praise jamat-ud-dawa ..How can I make my friends understand that RSS wants cultural nationalism , but ppl don't understand its essence? Asked by: Md Arif
A. Firstly, we don't have any Muslim wing. RSS is open to every patriot and as a patriot you have joined it. Like you there are many more in different parts of the country. As for opposition and ridicule, even many so-called Hindus do that. Don't worry. If you believe in what you are doing try to to convince them. Truth shall prevail always.
Q. Why not RSS asks government to act against RSS if they have proof. Asked by: Satya
A. That they don't have any is the reason why they make statements only. But remember! These statements are intended for political gains. The RSS is a whipping boy.
Q. Sir, is the rapid demographic change in India a major threat? Asked by: harsha
A. Demography is destiny.
Q. Why is the RSS supporting Congress in Kerala? Asked by: Karan Gowda
A. RSS doesn't support any political party. Swayamsevaks are free to choose their affiliations. But I have no knowledge of what you are saying about Kerala.
Q. Personally, who do you support as PM? Asked by: Karan Gowda
A. Personal matters are not discussed in public chats..
Q. Sir, what steps has RSS taken to stop this blatant conversion of hindus through deceitful means Asked by: keerthi
A. Conversions through force, fraud or allurement must be banned in the country. At the moment only 5 states have laws to that effect. We demand a national law on banning conversions through force, fraud or allurement. This is for the government to do. We also want to the Christian leadership to come forward and put an end to institutionalised activity of conversions through missionaries. Let choosing of religion be an option left to people. Let religious leaders just preach their religion and stop there, don't engage in conversions. Let people themselves opt the faith they wish to. But India's basic ethos of respecting all other religions while following one's own religion must be upheld.
Q. Sir, why don't you invite public to witness your "training" camps so that they can see what kind of training you give. Asked by: Rajesh Gehani
A. We do invite. Many come and see. Many participate too. That is why there is so much outrage when Mr. Shinde said we give terror training in camps.
Q. Many people who do not about RSS get wrong info through biased media. Why is it that RSS has failed to connect through common people and put to an end to thsi miscampaign by psuedo seculars and so called intellectuals? Asked by: Yagyesh
A. The RSS has a direct reach through its Shakha network to about 30 million people in the country. If you add the organisations run by Swayamsevaks described as Sangh Pariwar by many, this number will be about 8-10% of our population. No other organisation in the world perhaps has this kind of reach and expanse. One of the reasons why the RSS is targeted is its growing reach and strength. But there are many who still don't connect with the RSS. Our effort continues to reach out to all of them.
Q. Considering current political situations what do think about INDIA after 5 years? Asked by: A R Kulkarni
A. India's future is going to be bright. The churning that we witness today is symptomatic of a great future, to be built by the youth of this country. As Swami Vivekananda said 115 years ago, all our hopes lie on the young men and women of this country.
Q. How do I become a member of RSS? I am a student in Delhi. Although I like the cause it supports but have no clue about how to get associated with it. It clearly signals that the effort of outreach of an organisation with a good cause is not enough. Don't you think that the organisation should be accessible to many more people. Asked by: sudhanshu
A. Visit RSS website www.rss.org
Q. Will India see a new PM in 2014? Is there any slightest hope of that considering Congress's strong vote bank politics? Asked by: Patriot
A. I think India wants a new government, a government that will be the torchbearer of a great India.
Q. Why do people associate religion with terrorism? Asked by: Rajinikanth
A. A bigger question. If those perpetrating terrorism use religion as an excuse, then one has to ask for religion to address that issue. But one can't blame a religion merely because the perpetrators belong to that particular religion.
Q. Is there any official list of members of RSS? Asked by: purushottam
A. No. RSS has no membership. It is open to all patriots who believe in our culture and Dharma which is essentially Hindu.
Q. Does RSS plan to spread in South India as well… Hardly there is any RSS in Tamil Nadu or Andhra Pradesh? even if they are? they are hardly present? Why is this, and what is RSS going to do to strengthen in South India. Asked by: Ashwin
A. RSS presence in AP is quite strong. I was in Vijayawada till yesterday in a 3-day camp of coastal Andhra 9 districts. About 25,000 people participated in full uniform. Another 50,000 turned up for valedictory addressed by the Chief. It is strong and growing in all Southern states.
Q. Women are still not allowed to join the RSS. Can you remove this backward legislation? Asked by: Karan Gowda
A. Women take active part in many RSS activities. They are frontrunners in our service projects and many other activities. As far as Shakhas are concerned, men and women have different timings. We are keen on encouraging larger participation of women in all nation-building activities of the RSS and its affiliates.
Q. Do you think these statements would have been made without the covert backing of senior Congress leadership like Sonia and Rahul Gandhi? Asked by: Varun
A. I do think that they have the endorsement of the top leadership, if not before they were made at least after. The way 10 Janpath-loyalists like Digvijay Singh and Aiyer etc plunged into defense is a clear indication.
Q. Why is it hard to see any Muslims/Christians in RSS? Asked by: Vijay
A. It is hard to see a brahmin, a kshatriya, a dalit, a kannada, a telugu, a Bengali… in RSS. It is very easy to find patriotic Hindus. try to find them and follow.
Q. Ram Madhav ji, I am an Indian staying in Los Angeles. Can you please tell me, why RSS needs to organize training camps with lathis? If it is for self defence, then don't you trust police and other state machineries? Also, do you have any RSS activity here in LA? Asked by: Ashutosh
A. Lathi is just a part of our exercise. In 21st century people laugh if you say lathi is for self-defense. Like people use dumbbells in gyms for exercise we use simple lathi only for some exercises. RSS doesn't have presence outside India. Some Swayamsevaks work actively through temples etc in LA. They can be reached through www.rss.org.
Source: http://ibnlive.in.com/news/shindes-remark-has-weakened-our-countrys-ability-to-fight-terror-enormously-ram-madhav/317155-37.html