Teachings of Vivekananda will inspire to decipher the universal consciousnes: Dattatreya Hosabale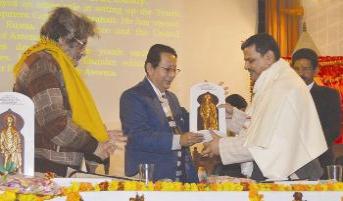 "Teachings of Swami Viveka-nanda will help us to decipher the universal consciousness," said RSS Sahsarkaryavah Shri Dattatreya Hosabale. He was speaking as Guest of Honour in an International Youth Conference in Pantnagar University. The conference was organised to commemorate the 150th birth anniversary of Swami Vivekananda.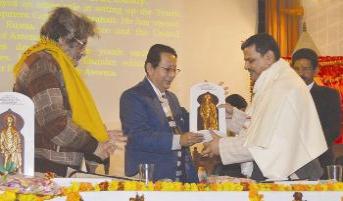 The conference was jointly organised by Vivekananda Swadhyay Mandal and GB Pant University of Agriculture & Technology to bring the learned scholars and youth at same platform and also to discuss the relevance of Swami Vivekananda and his thoughts in present context. The conference witnessed more than 300 participants along with few foreign delegates. The participant group was varied ranging from professionals across the country to students representing universities covering whole of India from Meghalaya in East to Rajasthan in West and Tamil Nadu in South to Punjab in North, to foreign delegates from neighbouring countries like Nepal, Bangladesh, Kenya and Uganda.
Shri Hosabale said Swami Vivekananda loudly proclaimed that India is a country which has given spirituality to the world and therefore, India has to lead the path of spiritual refinement. "Swamiji always said that according to the old religion, the one who does not believe in God is an atheist but the new religion says that one who does not believe in himself is an atheist! For a county like India, outward journey is necessary for us and there has to be a harmony between body, mind and soul. These thoughts of Swamiji emphasised to generate and utilise the spiritual energy to generate an equitable and just Indian society," he said.
Earlier, inaugurating the conference, Dr Pranav Pandya, the Chancellor of Dev Sanskriti Viswavidyalaya, Haridwar, expressed his thoughts by acknowledging the Vedas and the ancient culture of this vast country, where the greatest saint of all times have lived. "Vivekananda was a product of this vast land, whose words echo even till today. Strength lies in Swamiji's words—"Believe in yourself!" Through this, Swamiji discovered the soul of India. He further stressed that some day we have to begin with our inward journey. Humanity is the bedrock of universe. Swami Vivekananda said that real men have nerves of steel and heart of lion. That it is only through sheer perseverance and constant struggle that one achieves a mammoth willpower which moves the entire universe. Generosity and a compassionate spirit would be helpful in achieving this goal. We have to enlighten this candle and spread the light to all those who are cursing the darkness of ignorance and inactivity, Dr Pandya said.
Sushri Nivedita Bhide, vice president of Vivekananda Kendra, Kanyakumari said that human is an integral part of the universe just like a wave which is an attribute of the ocean. She focused on the oneness and immortality of human soul. She also emphasised the delegates to take the path of selfless service to enlighten ourselves and help us reach the ultimate goal of salvation.
Vice Chancellor of the University Dr BS Bisht said the Pantnagar University has been a torch-bearer in green revolution and is committed to lead the revolution of man making and youth development as well. "Economic development becomes unilateral and paralysed in long run without the generation of true human beings with a spirit of universal surveillance and collective growth," he added. He put his gratitude for the dignitaries for their Pantnagar visit and declared it a rare moment for academia to churn on such a relevant issue of youth development and Swami Vivekananda.
Dr Ashok N Bhaskarwar, Head of the Chemical Engineering, IIT Delhi, Shri Jagdish Upasane, former Executive Editor of India Today (Hindi), Shri Rajendra Chaddha, national joint convener of Prajna Pravah, Shri Ravi Iyer, global convener of Sewa International; Prof Shashi Dhiman, Vice Chancellor of Himanchal Pradesh Technical University, Dr Nandita Pathak from Deendayal Research Institute, Chitrakoot, Shri Manoj Joshi, Managing Director of Shikhar Group, Shri Ajay Rastogi, Shri Raghav Garg, Dr MM Verma, Acharya Agyatdarshan and other eminent scholars presented their well-conceived thoughts and papers in the conference alongwith the youth delegates from all over country.
Various literatures published by Vivekananda Swadhyay Mandal, based on Swamiji's thoughts titled Saving Humanity: Swami Vivekananda Perspective and Motivational Leadership: The Vivekananda Way and a collection of poems named Anubhuti published by Vivekananda Swadhyay Mandal were released on the occasion.
Discussing the impact of the conference Dr AK Karnatak said the influence of thoughts of Swami Vivekananda on youth mentality is immense and Vivekananda Swadhyay Mandal at Pantnagar University has taken an exemplary lead to serve humanity by bringing the thoughts of Swamiji in action through generating a band of dedicated youth committed to do good for human values. "This event is commendable and other universities should also move ahead for such conferences and other intellectual activities to commemorate the 150th birth anniversary of Swami Vivekananda in befitting manner," he added.
Source: Organiser