This is 'Vishwaroopa Darshanam' of Organisational Strength: Pejavara Seer on Hindu Shakti Sangama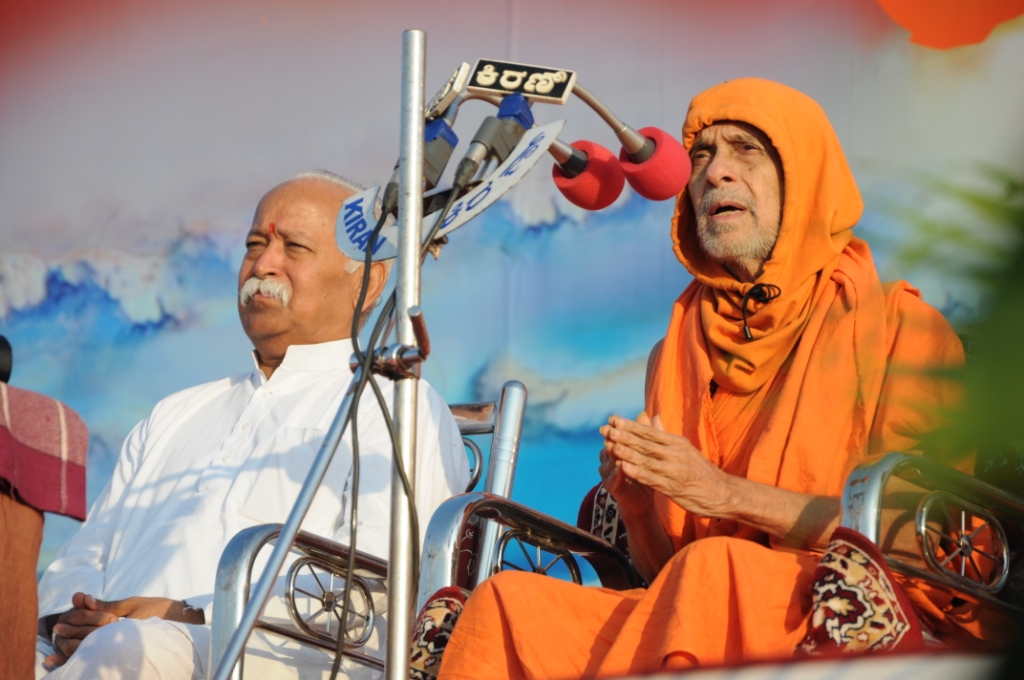 Hubli Jan 28: "I can see a Vishwaroopa Darshanam in Hindu Shakti Sangama, the RSS convention in Hubli, just the way Arjuna experienced in the presence of Bhagavan Krishna", said Sri Sri Vishveshwara Teertha Sripadangal, of Pejavara Mutta, Udupi.  He was addressing the gathering of Swayamsevaks on the second day of Hindu Shakti Sangama Hubli, North Karnataka.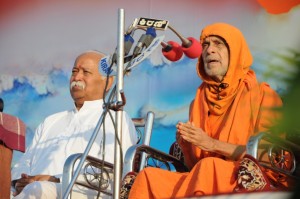 "Our country has glorious illustrations of mothers refusing to accept sons who have retraced from battlefields, in fear of facing the battle. In Bharat, mothers never accept cowards who do not fight for safeguarding the mother land. Bharat is our mother land, Bhumi Devi. And this mother land has been facing tormentous issues, both internally and externally. As children of the soil, it is our duty to stay united, to fight. The 'many' should become 'one' with unity. Along with the golden concepts of Matru Devo Bhava and Pitru Devo Bhava, we must ensure that we observe the notion of Desha Devo Bhava", he added.
RSS Sarasanghachalak Mohan Bhagwat, RSS General Secretary Bhaiyyaji Suresh Joshi were present.