106th anniversary of Vande Mataram celebrated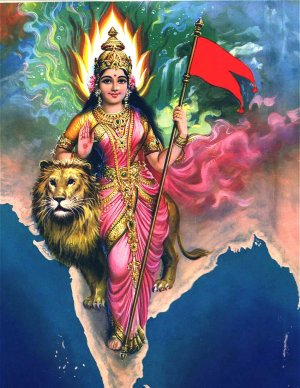 Nagpur: THE sky over Yashwant Stadium in Nagpur was filled with Vande Mataram recited by 60,000 students coming from 210 schools of the city on September 6, braving heavy showers and unfriendly weather. It was indeed an eye-catching event to be seen to be believed.
The programme was jointly organised by Nagpur Municipal Corporation (NMC), Maitree Parivar, and School Education Department to commemorate the 106th anniversary of Vande Mataram, the legendry song that inspired thousands of patriotic Indians to sacrifice their lives at the altar of Bharatmata during the freedom struggle. Vande Mataram again became a war cry of Anna Hazare's 'second freedom movement' against corruption recently.
This is the seventh year for Maitree Parivar to take lead in organising this event in Nagpur involving school students in such a huge conclave.
Around 4000 students were standing on the dais in colourful attire of tricolour flag with Shabri Puranik dressed as Bharat Mata in the midst of them. Shrivallabh Fadanvis and Sarjerao Galpat posed as Netaji Subhas Chandra Bose and Prakash Prabhalwar and VP Saxena were dressed in the attire of Mahatma Gandhi.
Addressing the students and others gathered at the Stadium Shri Nitin Gadkari, national president of Bharatiya Janata Party said that recitation of such patriotic songs always inspire the individual. Music and words of such songs help a person develop his or her personality. Vande Mataram is an inspirational and patriotic song. This should be recited daily in schools, he added.
Shri Gadkari congratulated NMC and Maitree Parivar for organising such a grand event in the history of Nagpur, which has emerged as a centre of social transformation in modern India.
Nagpur Mayor Archana Dehankar, MLAs Krishna Khopde, Vikas Kumbhare, RTM Nagpur University Vice-Chancellor Dr Vilas Sapkal, NMC Comissioner, president of Maitree Parivar Prof Sanjay Bhende, secertary Prof Pramod Pendke, and a number of officials and others were present to witness this historic event.
Earlier, after the inauguration, school teachers presented a number of patriotic songs under the guidance of Shyam Deshpande. Maitree Parivar presented awards to schools participating in Vandan Krantikariyon ko programme organised earlier. Band troupes from Prahar School and Gajanan Vidyalaya presented different patriotic tunes.
Source: From Virag Pachpore, Organiser