ABVP's anti-Corruption Human Chain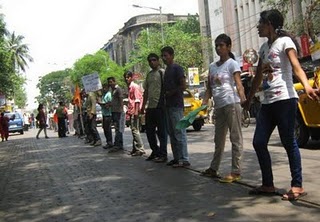 MUMBAI: August 27-: Yesterday on 26th August student all over country manifested their enthusiasm in support to anti-corruption human chain by ABVP. Students showed their commitment to uproot corruption from country by forming human chain in more than 350 districts, 800 places in which more than 4 lac students participated. There were big congregations in the cities like Nagpur, Bangalore, Patna, Lucknow, Ghuwahati, Ranchi. Since last few months outrage is seen in the society all over the country against corruption especially in student community.
ABVP is organising various activities under the anti-corruption agitation to explicit outrage of students across the country. From last few days under the leadership of ABVP on many campuses students are agitating symbolically against corruption by tying black ribbons. ABVP's National General Secretary Shri Umesh Dutt thanked students for giving spontaneous support to ABVP's human chain appeal. He expects from students and youth to participate in large number in ongoing agitation against corruption to make this battle strong and effective. He told that in coming days ABVP will intensify this agitation more actively.
ABVP demanded that considering the number associated with this movement and agitated sentiments of people Central Government should come out with a viable solution and take immediate initiative to control corruption.
(This press release is issued by Central Office Secretary Laveen Kotian)