RSS leader Indresh Kumar tells Rahul Gandhi "First pass Jan Lokpal bill, then give lecture"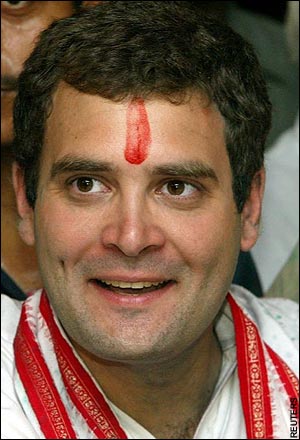 First pass Jan Lokpal bill, then give lecture: RSS to Rahul
Press Trust Of India
Indore, August 27, 2011: Terming Congress General Secretary Rahul Gandhi's speech on the Lokpal Bill in Lok Sabha as a "lecture", Rashtriya Swayamsevak Sangh (RSS) on Saturday said that Parliament should first pass the Jan Lokpal bill to control corruption. Addressing a press conference here, RSS National Executive Member Indresh Kumar said, "Let the Parliament first pass the Jan Lokpal bill and then any formula or a constitutional body be set up to take up the gigantic task."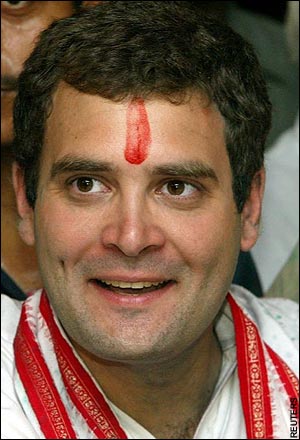 Alleging that the UPA government has no will power to end corruption, bring back black money from foreign banks or bring down inflation, Kumar said, "There is a need to frame the law to contain corruption on a priority than to deliver a lecture."
He also claimed that issues of corruption, black money and inflation were first raised by the BJP, and social activist Anna Hazare has given momentum to these issues.
The RSS leader, also demanded that the investigation of five terror attacks –Samjhauta Express blast, Malegaon blast, 26/11 Mumbai blast, Mecca Masjid blast in Hyderabad and Ajmer blast — be handed over to the National Investigation Agency (NIA) for further probe."
In 2009-10 a unanimous resolution was passed in the United Nations Security Council (UNSC) on the basis of Indian and American findings that LeT and Huji were responsible and accused of Samjhauta Express blast and Ilyas Kashmiri led the operation. Why this report is not a part of NIA investigation?," he asked.
On a question on his alleged involvement in the Ajmer blast, he said he was ready for an open debate with the Union Home Minister, investigating agencies like CBI, ATS, NIA officers and former Chief Minister of Madhya Pradesh Digvijay Singh on the issue.
Kumar pointed out that Digvijay Singh claimed to have evidence to prove the charges against the 'saffron brigade'.
"It means either he (Digvijay) runs the investigating agencies or is in constant touch with such agencies. He has given a clean chit to Pakistan while releasing the book written by Aziz Burney on Mumbai (26/11) blast. He openly visits the houses of terrorists and pays respects to Osama Bin Laden," Kumar alleged.
"When has NIA kept Digivijay out of the purview of investigation?.. Based on the turn of events, it seems, rather it is sure that Digvijay is in the clutches of ISI," Kumar alleged.
Source: http://www.hindustantimes.com/First-pass-Jan-Lokpal-bill-then-give-lecture-RSS-to-Rahul/Article1-738683.aspx