ABVP National Council meet Resolutions: Corruption Reigning Supreme in the Educational Sphere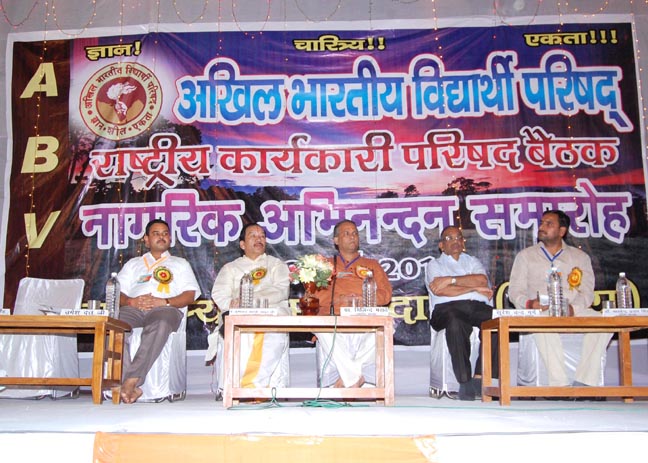 AKHIL BHARATIYA VIDYARTHI PARISHAD National Executive Council meeting
26-29 May 2011, Vrindavan, Mathura
Resolution No.-1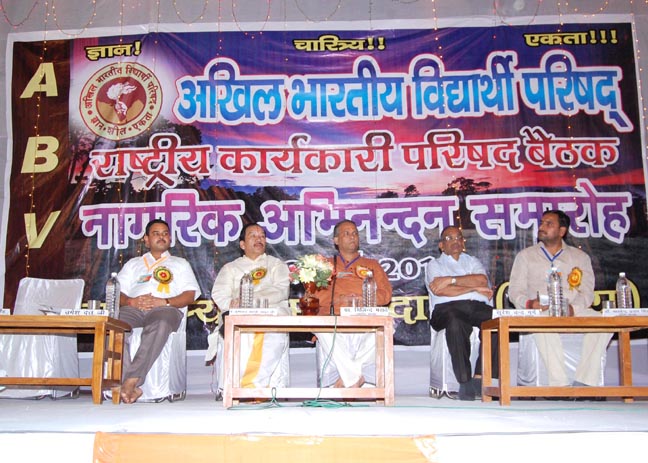 Corruption Reigning Supreme in the Educational Sphere
Akhil Bharatiya Vidyarthi Parishad considers the two years of UPA-2 as anti-student and destroying the educational system as well as marking the highest watermark of corruption in education. The promise of HRD Minister Kapil Sibbal on assuming office that he would start educational reforms within 100 days has been shown as a hoax two years later. On one hand continuous increase in corruption and commercialization and on the other hand talk of change in the educational field through various bills have thrown up various new contradictions. The National Executive Council of ABVP considers the tenure of the HRD Minister to be marked by adhocism, confusion over issues as well as corruption and commercialization in the educational sphere.
The NEC of ABVP expresses its deep concern over the frightening extent of corruption all over the country in the educational sphere. Throughout the country private educational institutions and universities have been engulfed by corruption as well as various forms of commercialization. On one hand affiliation to colleges is being granted on the basis of exchange of heavy sums of money. On the other hand these educational institutions are wallowing in black money by collecting huge sums of money as donation. The arrest of the former President of MCI along with seizure of huge ill-gotten wealth of crores for granting affiliation to medical colleges has exposed the frightening state of the educational sector. The exchange of huge sums for affiliation of B.Ed colleges is another example of this syndrome. Along with this we have the huge wealth which is being used to start such institutions almost overnight. There are various questions among the people of the country on this issue. There are plenty of doubts in the minds of students and educationists of this country whether the recent Prohibition of Unfair Practices Act 2010 brought by the Govt. in order to check corruption and unfair practices in the educational sector will really be able to put an end to corruption and commercialisation. Therefore the govt. should initiate a country-wide debate and discussion on this bill.
This NEC of ABVP views the recent incident of some Vice Chancellors all over the country being found guilty of corruption, the accusations against them being found correct and some being dismissed on the charge of corruption as a matter of deep concern for the higher educational system of the country. The VC of Visvesvarayya Technical University, Karnataka, Dr. Maheshappa had submitted fake postgraduate degree certificate and after appointment was found involved in huge corruption. Dr. Saiyyad Akhtar, former VC of Women's University, Bijapur was found involved in corruption in the appointment of 92 teachers and staff and also in the use of university funds for personal use. Allegations of a scam of rupees 12 crores against Gopal Reddy, the VC of Palmur University in Andhra Pradesh, Kamla Shankar Singh, the former VC of Bhoj Open University in MP, being found involved in heavy corruption as well as his own PhD degree being found to be fake and its cancellation by Barkatullah University which registered a case against him under Section 420, as well as  ongoing cases against dozens of VCs found involved in corruption, from Odisha, Andhra Pradesh, Gujarat, Madhya Pradesh, Chhattisgarh, Assam, Bihar, Uttar Pradesh, Rajasthan  etc. point to the higher education sector being engulfed in a huge crisis. The NEC of ABVP considers the involvement of VCs in corruption as a huge loss for education in the country and demands immediate legal action against such corrupt VCs and incorporation of new provisions in the University ordinances relating to probe against VCs and strict action against those found corrupt. Apart from VCs, the involvement of other university officials in corruption as well as corruption in the School Siksha Boards of various states is extremely condemnable.
Vidyarthi Parishad expresses its concern over the incidents of immoral conduct and physical exploitation of girl students by VCs and other educational officers in return for good results in examinations. The incident in Jabalpur Medical College involving physical exploitation in return for increase in marks in review shames the entire educational sector. ABVP demands strict punishment for such corrupt VCs and officers so that such incidents are not repeated. Along with this Parishad demands efficiency in the arrangements for conducting examinations and also demands immediate implementation of external evaluation in examinations.
This NEC of ABVP considers that the land mafia as well as black money is being used to make land available to private educational institutions and universities. Governments are making public land available to such educational institutions promoting commercialization at a throwaway price. This is equivalent to patronizing commercialization of education and corruption. The Odisha government distributing 6000 acres of land to Vedanta University and its striking down by the Odisha High Court is a living example of misuse of public land. Such giving away of land is being done in various states of the country without regard to rules. This NEC of ABVP demands that steps be taken to stop the misuse of government land by enacting a strict law regarding allotment of land to such commercial institutions.
This NEC of ABVP expresses its deep concern over the prevailing lack of regulations and corruption in the Distance Education sector. Today distance education is moving further away from its real purpose. Starting from fake entrance procedure to manipulations in examinations and results and huge corruption can be seen in the distance education institutions. Opening of illegal study centres by such institutions, conducting of courses which are not allowed to be offered through distance education and awarding PhD degree through illegal means are very common in this sector. This NEC of Akhil Bharatiya Vidyarthi Parishad demands that a wide- ranging survey be conducted regarding the distance education mode and fake distance education institutions should be banned.
This NEC of ABVP demands that strict laws be enacted by the central as well as state governments to stop corruption and commercialization and enunciates its determination to give a broad dimension to the ongoing movement against corruption and commercialization in the educational field and also appeals to the students to strengthen this agitation.