Bangalore: Economist Vaidyanathan & RSS's Datta Hosabale inaugurated of new branch of TJSB Bank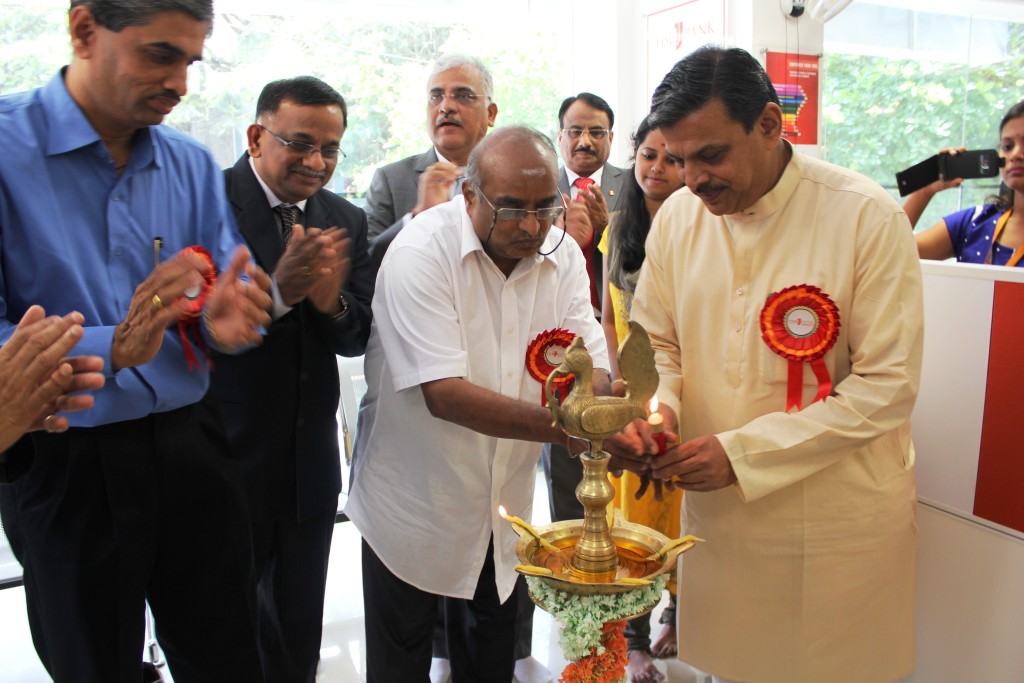 Bangalore, May 7, 2013: Eminent economist Dr R Vaidyanathan of IIM Bangalore and RSS Sah-sarakaryavah Dattatreya Hosabale jointly inaugurated 82nd branch of TJSB Bank at Jayanagar, Bangalore on Tuesday morning.
Inspired by RSS initiative in Cooperative Sectors, The Thane Janata Sahakari Bank, (TJSB) has launched its 82nd branch today, being second in Karnataka and First in Bangalore.
In his inaugural address, Prof Vaidyanathan said, 'A Multi State Cooperative bank' like TJSB serves for a large community. Far greater than stock market business, the reach and network of a Cooperative bank is highly valuable in contributing national economy'. Vaidyanathan also added, said 'Indian women have high sense of economic management. The match the unmatchable income-expenditure ratios of a family. May be the gold or any other material, all will serve as a economic security for her and family' . Vaidyanathan also wished for TJSB Bank to have a successful days and to achieve 100th branch sooner.
Dattatreya Hosabale, RSS Sah-sarakaryavah addressed the gathering and expressed the wishes for the growth and prosperity of the Bank. Hosabale said 'Karnataka has given birth to great main stream Banks which are now nationalised. Banking has a history here. However successful cooperative banks emerged in Maharashtra and Gujarat. Rising above the barriers, people of Karnataka will support the Bank which serves the community with a social vision. The new branch in Bangalore will be a milestone in the economic red carpet of TJSB Bank. This TJSB Bank belongs a family (Sanghparivar ) where i am coming from'.
'I don't have any bank account in any part of the world. I stopped signing cheques also, since years. However i speak on behalf of customers', said Dattatreya Hosabale quoting Mahatma Gandhi's popular saying on Customers – Businessmen relations.
Chairman of TJSB Bank Vidyadhar Vaishampayan, Vice Chaiman BV Date, Chief Executive Officer Satish Utekar, Branch Manager Pramod Deshpande, RSS senior functionaries Du Gu Lakshman, Bhojaraj of Laghu Udyog Bharati, Educationist Dr MK Shridhar and other prominent personalities attended event.
New Branch Address: TJSB BANK, SLV Arcade, 9th Main, 40th Cross, Jayanagar 5th Block, Bengaluru-560041
About 82nd branch of TJSB:
The 82nd branch of TJSB Sahakari Bank, a Multi State Cooperative bank, is  inaugurated on Tuesday, 7th May 2013 at Bengaluru, Karnataka State. TJSB is one of the front runners amongst first 5 banks in Cooperative Sector.
The branch is getting operational at SLV Arcade, 5th Block, 9th Main, 48th Cross, Jaynagar, Bengaluru. On this occasion, bank's Chairman, Vidyadhar Vaishyampayan, informed that TJSB is committed and equipped to give speedy and courteous services to the people of Bengaluru.
TJSB is established in 1972 with spread of 81 branches in Thane, Mumbai, Navi Mumbai, Nasik, Pune and branches at Goa, Belgaum of Karnataka and Gujarat.
Mr. Vaishyampayan further briefed that, on the backdrop of global showdown, TJSB Sahakari bank has posted 25 % increase in its net profit,  by offering customer centric services through effective use of technology. Total business mix of the bank at the end of current financial year has reached to Rs. 8709 Crores. The deposits of the bank are for Rs. 5309 Crores and advances are for Rs. 3400 Crores. The gross profit of the bank has reached to Rs. 112 Crores and net profit of Rs. 75 crores. The performance of the bank underlines its uniqueness.
The net owned funds of the bank has crossed Rs. 500 Crores. The CRAR of the bank stood 14.25 % as against regulatory requirement of 12 %, which shows financial soundness of the bank. Mr. Vidyadhar Vaishyampayan, further added that TJSB is the only bank to declare its audited financial results consistently for 3 years, before 10th April.
Bank's vice Chairman Mr. B.V. Date said that glorious journey of progress by the bank for last 41 years is possible due to its principle based working. TJSB is the FIRST bank in cooperative sector to open ADHAR enabled accounts. So far bank has opened more than 40000 ADHAR enabled accounts. TJSB's IT services has been awarded with ISO Certification recently, which caters IT enabled services to28 cooperative banks in Maharashtra and Goa.
Satish Utekar, CEO of the bank further added that bank has recently entered in the state of Gujrat, by opening branches in Surat, Vadodara and Ahmedabad. The total net work of the bank has reached to 81. Bank has 3 branches in Goa, 1 in Kanataka and 3 in Gujrat.
In the ensuing financial year bank plans to open 24 branches to offer comprehensive services to its customers. TJSB is the only bank in Cooperative sector to have CRISIL rating. Cash Deposits, Cheque Deposit and Pass book printing machines installed at branches has proved to be cost and time saving for customer. Bank's VISA debit card has gained popularity in a very short time.
Sensing the dynamics of economy and banking in general, TJSB has devised its processes Customer Friendly. On the backdrop of excellent professional performance, TJSB owes the social responsibility right from its inception. Bank donates some portion of its profits to the social institutions. Since last five years, TJSB is closely working with organisations active in environmental preservation.
On the strength of professional and expert Board, experienced and committed human resources, TJSB is aiming for new horizons in banking. On the strong financial base created by founders, along with the faith of shareholders and customers bank is on its progress path constantly. Bank's CEO Shri Satish Utekar further added that bank's overall progress and financial strength is an indicator of its human centric and professional business policies.
TJSB is able to offer customer friendly services with the help of its ability to sense with precision the changing trends in financial sector and banking in general.