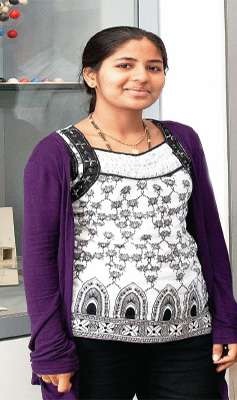 In the mornings, her mother worked as a cook. In the afternoons, both her mother and father went to work in a cashew nut factory. In the evenings, they made papadams (spicy crackers served with meals) and sold them on the street. They did these multiple jobs that Brahmins in their coastal Karnataka neighbourhood didn't do because they had a mission: send their daughter to school.
Nagaratna Hegde, 26, says her parents were semi-literate, but they wanted their children — she and her brother — to excel in studies like others in their agraharam (Brahmin ghetto) at Karki in the Uttara Kannada district of the state. "Ours was the poorest family among some 50-odd ones in that agraharam, but my parents wanted us [children] to become 'prosperous' like the educated, 'Americatravelling' neighbours," she says.
A few months ago, Hegde authored a PhD report at Cambridge University which found that thiostrepton, a naturally occurring molecule, can stop the spread of breast cancer. Which meant, breast cancer could soon be treated with potent, selectively targeting drugs without surgical removal of the affected part. The report, published in Nature Chemistry, has received wide acclaim.
"Her parents wouldn't have been able to send her to college had she not won scholarship after scholarship for academic excellence," says a senior IAS officer who has known the family for long; he didn't wish to be named. Hegde went on to top the Karnataka Board exam in her 10th standard. "It was then that people started noticing her, and offering her financial aid to pursue her studies," says the IAS officer.
Scholarships, Scholarships
After completing her pre-university course (12th standard equivalent) from Karnataka University, Dharwad, magna cum laude in 2002, Hegde enrolled for bachelors in mathematics in which she won the gold medal. She had already secured UGC and several other scholarships for rank holders. Then she did her MSc in organic chemistry from the same university. During summer, after completing her post-graduation, she assisted G Mugesh, associate professor at IISc, Bangalore, in a research on anti-thyroid drugs. "I had applied to several universities, and it was my work at IISc that Cambridge guys found attractive," says Hegde.
"She is a very very bright girl. She came to work in my lab in the summer of 2006 on anti-thyroid drugs. It was after she did her summer workshop here that Shankar Balasubramanian called me to enquire about her," says Mugesh, referring to her would-be guide at the department of chemistry at Cambridge University. After securing the S Siddapa Endowment Scholarship and VV Badiger Scholarship (for securing 1st rank in MSc chemistry), more scholarships came her way, including Cambridge Commonwealth Trust fellowship.
Culture Shock & Alienation
"She is a very modest, quiet and shy person," says Balasubramanian, a highly respected Indian-origin professor at Cambridge. "I think she was in a bit of culture shock initially. I think it wasn't easy for her," says he. For her part, Hegde, whose first overseas travel was to join Cambridge University, found it difficult to adjust to the "parties-infested" campus.
None of her close relatives drank alcohol, which she thought was "a dreaded evil". Her "vegetarian ways" didn't find much acceptance among the rest of the team either, initially.
Notes Balasubramanian: "My team is quite international in nature. Though it wasn't easy for her in the beginning, she found it interesting."
"She used to call up home every night and complain. She wanted to return. She didn't like it in the UK in the whole of first year of her research," says Hegde's 30-year-old husband Vishnu Hebbar, who, interestingly, is an astrologer.
Faith in Astrology
In fact, it was astrology that brought Hegde and Hebbar together. She had come to seek his guidance on whether to take up a job or continue studies after her MSc. She was under pressure from close relatives to start earning to take care of her younger brother and cousins.
And when Hegde sought advice from her spiritual guru, Shri Raghaveshwara Swamiji of Shri Ramachandrapura Mutt, Hosanagara, on the issue, he suggested that she meet Hebbar. "I advised her to focus on studies. It was then that she rushed to obtain a passport and a visa so that she could travel to the UK," recalls Hebbar. "We met and the rest is history," says he, about how Cupid struck, ending in a marriage.
A die-hard believer in astrology, Hegde says she chose to research on thiostrepton after consulting with her astrologer-husband. In fact, Balasubramanian had other "options" for her. "She took a big risk … I credit her with a lot of enthusiasm to identify an interesting research problem," says Balasubramanian, adding that Hegde's research reveals new insights into the mechanism of the molecule. Maybe one day someone could make a derivative of this molecule to treat breast cancer, he notes.
Source: http://articles.economictimes.indiatimes.com/2011-12-04/news/30472116_1_ias-officer-breast-cancer-scholarships