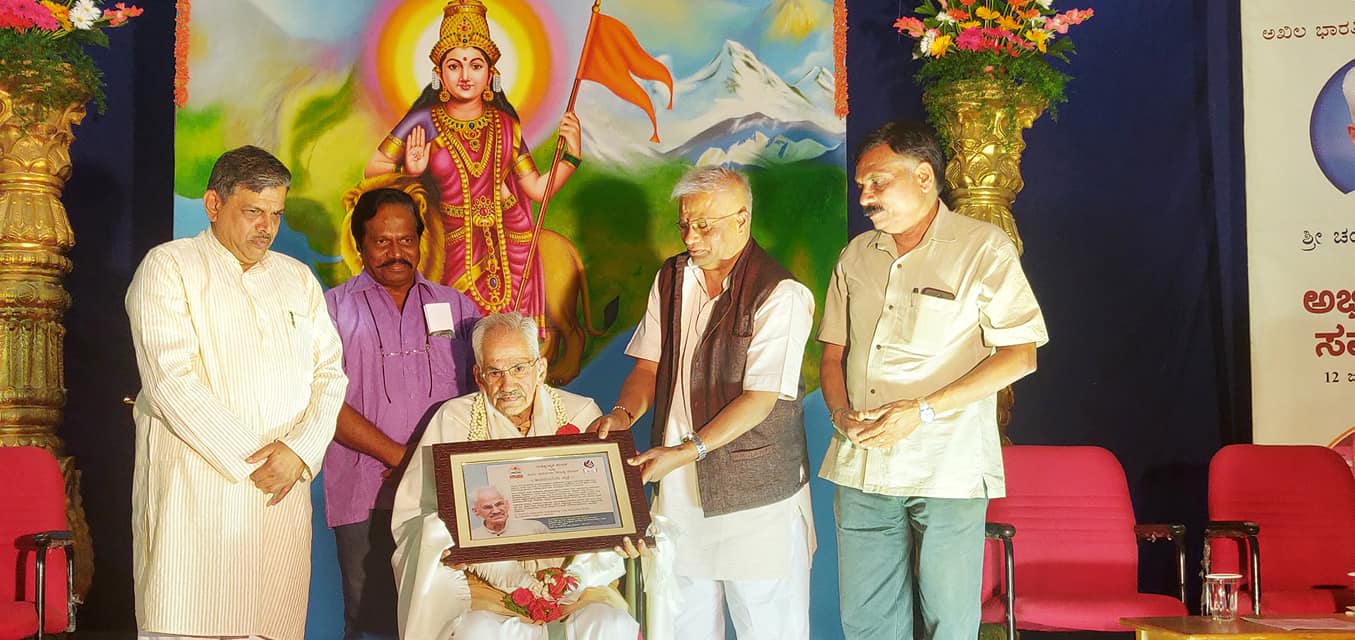 "Chandrashekar Bhandary ji's literature will continue to guides us in nation building" – TS Nagabharana, Film Director
12th Jan 2019, Bengaluru: 'Sanghajeeviya Sahityayaana', An event commemorating the lifetime works of senior RSS Pracharak Shri Chandrashekar Bhandary organised by Foundation for Indic Research Studies (FIRST) and Akhil Bharatiya Sahitya Parishat was held today at Rastrothanna Parishat in Bengaluru. Chandrashekar Bhandary has received numerous awards and recognition for his various works. A Pracharak for more than 50 years, Chandru ji, as he is affectionately called, has been a prolific writer throughout his life. He has written more than 35 books, numerous translations and many have been translated to other languages too.
A Documentary on the life and works of Shri Chandrashekar Bhandary was played before the start of the felicitation event. Saha Sarkaryavaha of RSS Shri Dattatreya Hosabale, Veteran Film director and actor Shri TS Nagabharana, President of Rashtrotthana Parishat Shri Dinesh Kamat, and Senior Journalist Shri. Raghunandan Bhat were the chief guests on the occasion.Shri KS Narayana introduced Chandru ji and the chief guests to the audience. The event began on a customary note with an invocation song.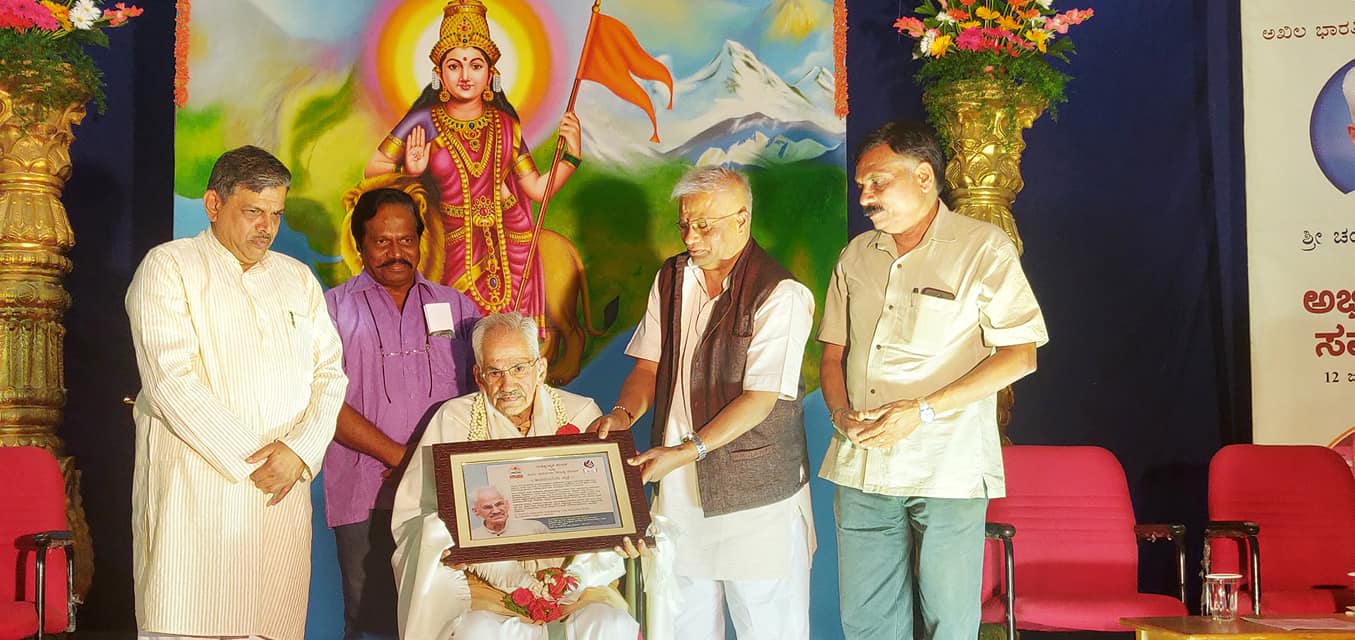 Shri Dattatreya Hosabale spoke on the occasion and extolled life and work of Chandru ji. Below are the excerpts of his speech.
It is rare to have an event commemorating the life of a Sangh Pracharak. I consider this commemoration as a 'abhivadana'(salutations) rather than a 'abhinandana' (felicitations) This is because we have a lot to learn from our elders like Chandru ji : Sri Dattatreya Hosabale, Sahsarkaryavah, RSS
"In Sangh, we have come across Pracharaks who have adapted themselves in the society they have worked with even though it was far away from their home states. They have given their entire life for the sake of society. True to his name, Chandru ji has emitted light like that of a bright moon and his works too have radiated immense knowledge in the society. His works are a reflection of his work and concern for the society. His work as a Pracharak too has been equally important as his literature if not more. Any society should have examples of those who have dedicated their entire lives for the betterment of the society. Just as they say 'Salt of the Earth', people like Chandru ji are the salt of the earth who enrich our lives.
He has translated many works and he considers himself as a documenter. He has translated works from English, Marathi, Hindi to Kannada. Most of those who have worked with Chandru ji, opine that he believes in simple living and in hard work. He is a disciplinarian and has always stuck to Sangh principles. He always laid stress on order and practiced the same.
Chandru ji's work reflected the genuine concern he had for the society. Even when he was actively involved in Sangh work, he strove for harmony and classless society. His concern and work for the downtrodden is well known. Most elders who have lived a life worth emulating have always lived a life that is a beacon for everyone. Worthy examples of individual lives are most important in man making. Chandru ji has lived such a life and has been and example of a life lived for the sake of the society. He has been working for the same cause even at this ripe age. We wish that he continues his work for a long time to come and continue to guide us all through his words and deeds."
Shri Chandrashekar Bhandary was felicitated by all the guests by garlanding and offering of a bouquet. A memento and a plaque by Rashtrotthana Parishat and Akhil Bharatiya Sahitya Parishat was presented to Chandru ji on the occasion.
Chandru ji addressed the gathering after the felicitation and laid light on his works and inspiration for the same. Excerpts from his speech:
"I am reminded of the victory of the allied forces in the 2nd world war. Winston Churchill was the PM of England. When asked about his opinion of the war, Churchill had said 'Unnecessary Bore'! I feel the same about this day long event.
A Sangh Pracharak is like the household wife who is aware of every on goings in the house but need not participate in all of them. Today's seminar showcased many facts about me that I wasn't aware. The duty of a Sangh Pracharak is to bear the burden of Sangh and whatever is expected from him. This is what I have attempted to do. The importance of today's events are for the ideals espoused and not the person. The ideals provided by Sangh is paramount and takes precedence over personal glory or felicitation : Sri Chandrashekhar Bhandary

Our Literature should reflect the national ideals espoused by Sangh and its work all these years. There have been no songs or films about Sangh itself but songs sung in Sangh have become part of our lives. Songs and its literature have played a major role in Sangh's nation building exercise. We have to go in this direction as shown through Sangh work through these years"
Ace director TS Nagabharana spoke next and said that those who are his inspiration are on stage with him and extolled the ideals of Chandru ji. Below are the excerpts of his speech.
"I recall Chandru ji from the days of my youth where we used to read his articles in periodicals like Vikrama. A poet or a playwright express their ideas through their work. Modern literature has witnessed several genres like Navya, Navodaya, Bandaya or Dalita literature. But beyond all such genres is that literature which expresses humanity in it. Chandru ji's literature come under this category which is the root of all literature. We wonder if a writer should have some responsibility or not. There are many works being released every week but what is that which we should consider as literature is important. It is through the literature that is humane which we must identify ourselves and Chandru ji's literature has adhered to it. I wish that the literature that comes out of Chandru ji's stables guides us and continues to contribute in nation building."
Shri Raghunandan Bhat delivered the vote of thanks. Shri Dinesh Kamat, Daattatreya Hosabale and TS Nagabharana felicitated Chandru ji. Shri GR Santhosh from FIRST conducted the entire event at Rashtrothanna Parishat.
Seminar on the works of Chandrashekar Bhandary
A half day seminar on the works of Shri Chandrashekar Bhandary was held earlier in the day. The seminar which was held in 4 sessions had experts speakers and literary giants analyse the works of Chandru ji and deliberated on the same.
The seminar was held in four sessions. Translated literature of Chandrashekar Bhandary, works on History, Biographical works, and Sangh Prachar related work. Dr. Harshavardhan Sheelavant, Smt. Chaya Bhagavati, Sri Manjunath Ajjampura, Sri Divakar Hegde, Sri Du Gu Laxman, Dr. G B Harisha participated and delivered talks in the seminar held.
Report Courtesy : Prashanth Vaidyaraj, Organiser weekly,