Anant Pai Mangalore, popularly known as Uncle Pai, was an Indian educationalist and creator of Indian comics, in particular the Amar Chitra Katha series in 1967 passed away on February 24th, 2011. Along with the India Book House publishers, and which retold traditional Indian folk tales, mythological stories, and biographies of historical characters. In 1980, he launched Tinkle, a children's anthology, which was started under Rang Rekha Features, India's first comic and cartoon syndicate, that lasted till 1998, with him as the Managing Director.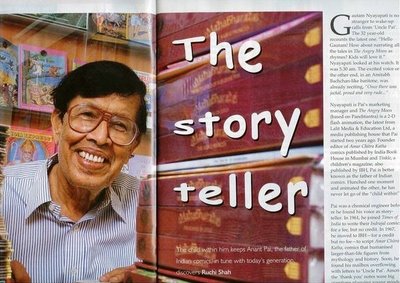 Anant Pai suffered a heart attack and passed away on 24 February 2011 at 5 pm.
Today, Amar Chitra Katha, sells about three million comic books a year, in English and more than 20 Indian languages, and has sold about 100 million copies since it inception in 1967 by Anant Pai, and in 2007 was taken over by ACK Media
Early life and education
Born on 17 September 1929, in Karkala, Karnataka to Venkataraya and Susheela Pai, he lost his parents at the age of two. At the age of twelve, he came to Mumbai, where he studied in Orient School, Mahim. He studied chemistry, physics and chemical technology at the University of Bombay Department of Chemical Technology (UDCT now UICT) and was a dual degree holder from the University of Bombay.
Early career
Endowed with a passion for publishing and comics, his failed attempt at creating a children's magazine (Manav, 1954) was followed by a career as a junior executive in the Times of India books division, putting him in the thick of affairs when Indrajal comics was launched by the Times Group.
Amar Chitra Katha years
The idea behind starting a comicbook series devoted to Indian culture and history came to Pai from a quiz contest aired on Doordarshan in February 1967, in which participants could easily answer questions pertaining to Greek mythology, but were unable to reply to the question "In the Ramayana, who was Rama's mother?"
He left his job and started Amar Chitra Katha the same year, with the help of late G. L. Mirchandani of India Book House, when most other publishers from Allied Publishers to Jaico had rejected the concept. Later, he took on the role of writer, editor and publisher. The series went on to become a publishing milestone for the Indian comic book scene, selling over 86 million copies of about 440 titles.
In 1969, Anant Pai founded Rang Rekha Features, India's first comic and cartoon syndicate, and started the children's magazine Tinkle in 1980. His involvement with the above, and the rapport he shared with his readers earned him the title "Uncle Pai".
Other works
Ramu and Shamu, Kapish, Little Raji, Rekha, Fact Fantasy, Funland and Funtime are some of the comic strips created by Pai, most of which continue to appear in newspapers and magazines. He has written and produced two video films, Ekam Sat (the Vedic Concept of God) and The Secret of Success, in English and Hindi.
Pai's other works include a number of books on personality development for children and teenagers, ("How To Develop Self-confidence", "How to Achieve Success", "How To Develop A Super Memory", UBS Publishers) and a series of audio book versions of Amar Chitra Katha stories, "Storytime with Uncle Pai" (Universal Music India, Dec 2001), where he plays the role of narrator-storyteller.