'Cultural nationalism- The Indian perspective': Excerpts from speech by Datta Hosabale at Bangalore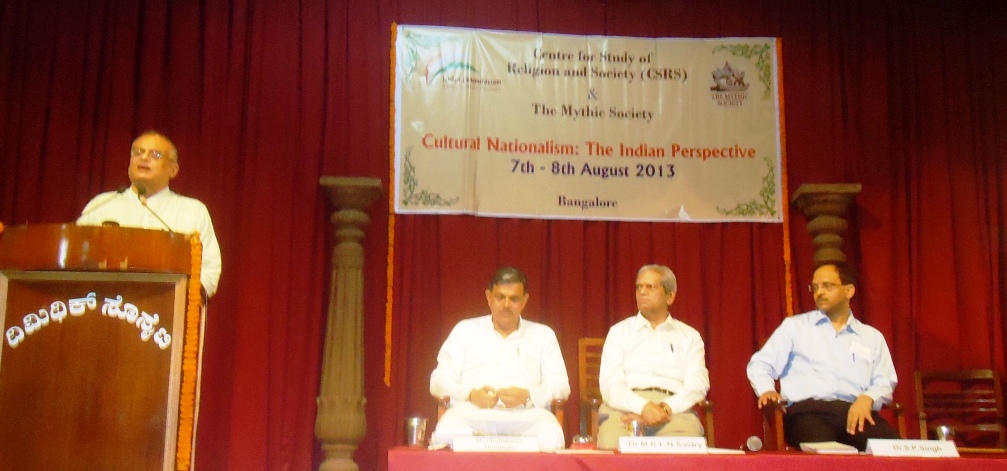 Bangalore August 08: A 2 day National Seminar organised byIndia Foundation and Center for Study of Religion and Society (CSRS), New Delhi along with The Mythic Society, Bangalore on Cultural Nationalism : The Indian Perspective  was held on   7th  and  8thAugust, 2013 at The Daly Memorial Hall, The Mythic Society Bangalore.
Cultural nationalism : the Indian perspective: Valedictory event
The seminar was inaugurated by Prf MGS Narayanan, Former Chairman ICHR, New Delhi on Wednesday morning.
At the Valedectory on Thursday evening, Dr. S.P.Singh of Delhi University updated the audience about the 2 day seminar. He highlighted the salient points of the papers presented during the two day seminar. Dr. M.K.L.N Sastry presided on the occasion. Shri. Nagaraj of Mythic society introduced Shri. Dattareya Hosabale to the audience. Ram Madhav, Director of India Foundation New Delhi was also present for the 2-day seminar.
Shri. Dattareya Hosabale of India Policy Foundation, New Delhi delivered the valedictory address at the event. Following is the excerpts from his speech:
"I am grateful to the organizers to have invited me to the event. I had the opportunity to have sat  through the various sessions in the seminar over the past two days and each of them were brilliant. I thank the organizers to have organized a seminar on the subject of cultural nationalism,  which is usually dubbed as obsolete in this era of globalization. But due to the turn of events all over the world nationalism is gaining ground again. I like to congratulate the organizers to have given an opportunity to the young scholars to present their views.
The Indian diaspora has retained their cultural identity. Including them in this endeavor is important for cultural nationalism. In the time of today's identity politics, cultural nationalism should answer the questions of the people and should lead to inclusive nationalism. If those in the remote places, downtrodden and neglected people don't feel the same about nationalism like you and me, then it will be rendered useless.
It is false to say that the concept of nationalism is a new. Saying so would be contradictory to the idea of India. The concept of nation state has been discussed in this seminar. In Europe, people speaking same language have fought each other. Each tribe had grown into it's own country. They may be one nation but different states as in case of USSR. Hence understanding of nationalism in Europe is different from our experience. Roman's ruled beyond their nation. They had their state beyond their nation. A nation is made by people, their culture and feeling of oneness. Emergence of nation in our experience is not the same as European experience. Nation is not same as 'Rashtra'. When we say nation, tree when concept of nation come to mind.
The 'Vedic Rashtra' was not born out of wars and clashes but was born out of similar cultures. In European concept of nation, language plays a major role. In India, the Vedas, our rishis and people came together to form a nation. This is also corroborated in many Sanskrit slokas. Rashtra may have a geographical boundary but it also has a spiritual and ethical connotation to it. The meaning of Rashtra may encompass the whole world. Our idea of a Rashtra is for spiritual emancipation whereas nation is for a political purposT
India was one before 1947 but now it has been divided into three states. USSR was one earlier now it's divided into many states. I had once met a Bangladeshi citizen who when born was an Indian. He belonged to the Indian nation. After 1947, East Pakistan was formed and he became a citizen of Pakistan. Again in 1971 Bangladesh was formed and he became a Bangladeshi Citizen. What we may observe here is that his state had changed but not his nationality. Nation is a Socio-Political concept whereas 'Rashtra'  is a Socio-Cultural concept. As an example let us see as to who are the American nationals. As Samuel Huntington in his work titled 'Who Are We' categorically says that the Anglo-Saxon Christians are American nationals. I had once asked a Jewish diplomat that since the Jews were spread all over the world for about 2000 years and in the meanwhile they would have intermingled and married across other cultures and religions and yet how could they claim that they are one nation still and what formed the basis of their nationalism even after these 2000 years. He said two things formed the basis of their nation even after these 2000 years of disparate existence. They are culture and religion. He said wherever we Jews lived, we followed our Culture and religion. At a conscious level we always felt as one nation. Common history, common traditions, common feelings form a nation.  As one writer said, nation is a soul. IN our nation, the national consciousnesses has been carried over various generations. Once Annadurai, former CM of Tamilnadu, in the Lok Sabha spoke of protecting our Himalayas during China war. Later many asked him as to why was he concerned about protecting the Himalayas which had no border with his state and was separated by thousands on kilometers. Annadurai answered that they belonged to one culture and shared the same history. This is cultural consciousness. Achyut Menon though he belonged to the CPI, had written about how Adi Shankaracharya toured the entire country and thus united this nation. Even Dr. Ram Manohar Lohia, a staunch socialist used to organize Ram Leelas every year. He wrote about things that makes us a nation and unites us as a nation.
We also need to look into the role of proverbs in our nation. Where ever we go to any part of our nation, we get to hear the same proverb albeit in different languages. For e.g when a person whom we were talking about arrives, we wish him a hundred years. Even while I was at a remotest place like Demchuk, a local man quoted the same proverb when met with similar situation. Even today every Chief Minister of Karnataka presents offerings to river Kaveri every year when the dam fills up. One more example is 'Namaste'. 'Namaste' is the same all over our nation. Even 'Tilak' on the forehead is a common symbol.
Cultural nationalism is something we are living but has been forgotten due to current political discourses. We need to understand it in right perspective. A MP from Ladakh who is also a goo friend of mine, is a Buddhist. He always says that the nation is paramount to any other identity. Cultural nationalism is not just a subject for the academia." Kennedy once said "Geography has made us neighbors. History has made us friends. Economics has made us partners, and necessity has made us allies". Similarly, Geography has made us a country, our history has made us a nation. Cultural nationalism is part and parcel of our life and we live it in our daily lives."
A Report by Prashanth Vaidyaraj for VSK – Karnataka.