Day-100: Inspiring the coastal Villages on Gram Vikas; Bharat Parikrama Yatra completes 100 days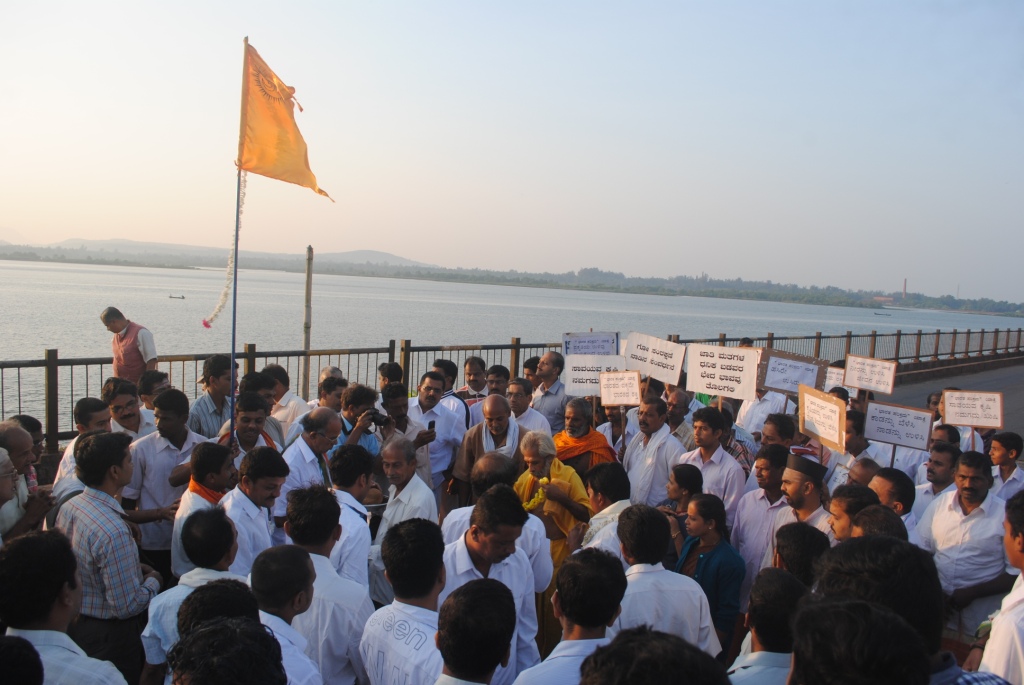 Karki, Uttara Kannda District, November 16, 2012: 100 days! RSS Pracharak Sitarama Kedilaya lead Bharat Parikrama Yatra has successfully completed the first 100 days, on Friday, the yatra has reached a coastal village Karki of Northern Karnataka. Senior RSS Functionaries, well wishers, villagers received Bharat Parikrama Yatra at Karki Village this morning which arrived from Kasarakode Village where Kedilaya stayed yesterday.
Launched on August 9 at Kanyakumari, BHARAT PARIKRAMA YATRA is aimed to uplift the rural Indian Life. The Yatra has a scheduled duration of 5 years, covering 15000km, reaching almost all districts of India. SITARAMA KEDILAYA, held the position of Akhil Bharatiya Seva Pramukh last year. Hailing from Salmara village of Puttur of Karnataka, Sitaram Kedilaya has rendered his service as an RSS Pracharak since 1970.
Elaborating on the yatra, Sitarama Kedilaya said that a span of about 10 kilo metres will be covered on a daily basis by foot, after which he will take rest in the village that falls in the vicinity. The primary task he has to undertake will be to get in touch with the youth and the prominent members of the village and discuss important issues like care of sick. This will include the handicapped, blind etc. Other activities like taking a round of the entire village and engaging in a collective session of prayer at the village temple. This will help create a bond of great depth with the people, which will help the villagers realize that villages were, once upon a time, a single encompassing family. However, this feeling has taken a back seat now, which has led to a whole lot of problems everywhere. This has now escalated to national and international levels. The feeling of unity, along with creation of family bonds, if brought back to villages will ensure restoration of harmony to a great extent. This could be instrumental in the rekindling of the concept of 'Vasudha Eva Kudumbakam'. And then, the journey will resume to the next village.
65 year old Sitarama Kedilaya has been, for a long time, strictly adhered to having a single meal a day. During the course of the journey, he will have no possessions or belongings with him. When asked what inspired him to undertake the endeavor at this age, that too all alone, he replied, "What makes you feel that I am alone? I have the thoughts and ideas of as many as 121 crore people with me. After all the very deed is for an all encompassing nation."
Kedilaya has dedicated a slogan for the purpose. "Know Bharat, be Bharat and Make Bharat Vishwaguru". The reason for the yatra is clear. The current trends that prevail are businesslike and commercial , where life is being seen only in terms of trade and profit. This unfortunately has given rise to poverty, unemployment and corruption everywhere. Another trend that prevails is that the world is now a battlefield, with life being nothing but constant strife. This thought stream has led to violence, terrorism and an existence hand with deadly weapons everywhere. This has led to deep turbulence and instability, with people all over the world making a mad scramble for any straw that will provide them with peace. And then this makes them realize that the road to solitude, ultimately happens to be Bharat. It is here that the relevance of the third and most important trend comes into being: "The world is a family and life is a revelation".
Bharat has gifted this very concept to the entire world. This perception has no violence or strife. All it has is the message to live life filled with universal love, spirituality and compassion. Only this is required to pervade the entire world with harmony. The best place to initiate this is the villages. And so the endeavour is being undertaken for safeguarding villages, the country and the entire world.
BHARAT PARIKRAMA YATRA-:
November 16: Karki
November 17:  Handigona
November 18:  Deevagi
November 19:  Kodkani
November 20:  Betkuly
November 21:  Madanakeri
November 22: Chandumata 
November 23:  Alagery
November 24:  Avarsa
November 25: Amadally
November 26: Beenaga
November 27:  Devabagh
November 28: to GOA state. (Konkan Pranth)
The Previous Posts:
Day-99: Kasarakode Villagers welcomes Bharat Parikrama Yatra
Day-98: Manki-Banasale village receives Bharat Parikrama Yatra, Kedilaya inspires Villagers
Day-96: Bharat Parikrama Yatra at Theranamakki
Day-93: Top RSS functionaries walks with Kedilaya, Shiroor receives Bharat Parikrama Yatra
Day-90: Ganguli villagers welcome Bharat Parikrama Yatra, Kedilaya met Muslim-Christian leaders
RSS Pracharak Sitarama Kedilaya met Muslim leaders N Shabbeer Saheb at his house at Gangolly, November 06, 2012
Day-88: Bharat Parikrama Yatra at Vadeyara Hobli
Day-87: Thekkatte Village welcomes Bharat Parikrama Yatra
Day-86: Bharat Parikrama Yatra reaches Kodikanyana
Day-85: Matapady villagers welcomes Bharat Parikrama Yatra
Day-84: Puttige Seer joins Kedialya for Bharat Parikrama Yatra at Upporu Village of Udupi
Day-83: Land of Dvaita Philosophy, Madhwanagar of Udupi welcomes Bharat Parikrama Yatra
Day-82: Pejawar Seer joins Bharat Parikram Yatra, walks with Kedilaya aiming Gram Vikas
Pangaaala, Udupi District October 29, 2012: Pejawar Seer Sri Vishwsha Theertha Swamiji joined RSS Pracharak Sitaram Kedilaya lead Bharat Parikrama Yatra on its way from Ucchila Village to Paangala of Udupi district in Karnataka on its 82nd day.
Day-81 Ucchila Villagers welcome Bharat Parikrama Yatra
Day-80: Udupi's Hejamady welcomes Bharat Parikrama Yatra, Kedilaya visits Mosque
Day-79: Bharat Parikrama Yatra reaches Haleyangadi
Day 78: Villagers of Sasihitlu receives Bharat Parikrama Yatra
Day-77: Bharat Parikrama Yatra reaches Tadambail near Suratkal
Day-76: Coastal Village Baikampady receives Bharat Parikrama Yatra
Day-75: Bharat Parikrama Yatra reaches Mangalore, Sangh leaders welcome Kedilaya
Day-74: Bharat Parikrama Yatra reached Kuttar Padavu
Day-73: Farmers greet Kedilaya, Organic welcome for Bharat Parikrama Yatra at Mudipu-Konaje
Day-72: Bharat Parikrama Yatra enters Karnataka, welcome at Bakrebailu Border Village
Day-71: Bharat Parikrama Yatra reached Bedagudda Village, to enter Karnataka State tomorrow
Day 70: Bayaru Village welcomes BHARAT PARIKRAMA YATRA, Kedilaya keen on Gram Vikas
Day 69: Bharat Parikrama Yatra reaches remote Village Dharmatthadka of Kasaragod
Puttige Villagers welcome Bharat Parikrama Yatra, Kedilaya met village heads during Gram Sampark
Photos: Bharat Parikrama Yatra at Kasaragod
BHARAT PARIKRAMA YATRA enters Karnataka Dakshin Pranth, top RSS leaders welcome Kedilaya
Crossing Chandragiri, BHARAT PARIKRAM YATRA enters Kannada Soil, at Kasaragod on 66th day
October 19: RSS Pracharak lead Bharat Parikrama Yatra to reach Karnataka, Oct 22 at Mangalore
Bharat Parikrama Yatra reaches North Kerala, gets warm welcome at Communist dominant Kannur
Day 50: BHARAT PARIKRAMA Yatra motivates Kerala Villages, to reach Karnataka on Nov 5
Muslims welcome RSS Pracharak's Bharat Parikrama Yatra at Netoor Village, Kerala
Day-30: An unique venture uplift Indian Villages, BHARAT PARIKRAM Yatra reaches Kochi in Kerala
RSS Pracharak launched 'Bharat Parikrama' Completes 21 days
RSS Pracharak Sitaram Kedilaya begins 'Bharath Parikrama' Yatra from Kanyakumari