Day-101: Socio-religious leaders walks with Kedilaya, Bharat Parikrama Yatra reaches Handigona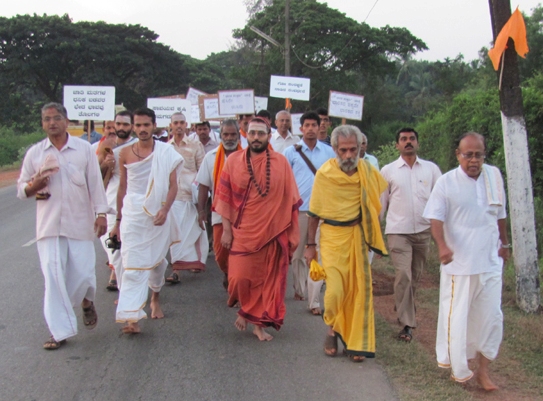 Handigona Uttara Kannada District November 17, 2012:  After completing successful first 100 days of Bharat Parikrama Yatra, for RSS Pracharak Sitarama Kedilaya it was just another day. Kedilaya reached Handigona, a semi-urban village on its 101st day, inspiring the villagers on his motto of Gram Vikas, the rural upliftment.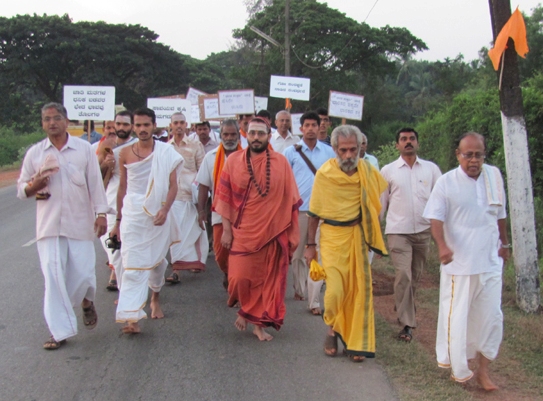 Shri Sacchhidanand Bharati Swamiji of Daivejna Samaj joined Bharat Parikrama Yatra this morning, walked with Kedilaya chanting the slogan 'Jai Jai Mata Bharat Mata'. Swamiji discussed several socio-religious issues with Sitaram Kedilaya during their interaction while Parikrama Yatra.
In Mid-way, Anticipating the arrival of Bharat Parikrama Yatra, a 95 year old woman was waiting with floral garland to receive Bharat Parikrama Yatra. She was so keen on the aim of the Yatra on Gram Vikas which specially focuses upon the cattle conservation (Gou Samrakshan). She happily greeted Kedilaya and wished him on his endeavor which he undertook since August 9, 2012.

95year old village woman greets Sitaram Kedilaya during Bharat Parikrama Yatra Handigona November-17-2012
RSS Kshthreeya Seva Pramukh Gopal Chetttiyar, local RSS-sanghparivar functionaries, Villagers welcomed Bharat Parikrama Yatra at Handigona which arrived in this morning from Karki, where Kedilaya stayed last night which marked the 100th day of Bharat Parikrama Yatra.
Launched on August 9 at Kanyakumari, BHARAT PARIKRAMA YATRA is aimed to uplift the rural Indian Life. The Yatra has a scheduled duration of 5 years, covering 15000km, reaching almost all districts of India. SITARAMA KEDILAYA, held the position of Akhil Bharatiya Seva Pramukh last year. Hailing from Salmara village of Puttur of Karnataka, Sitaram Kedilaya has rendered his service as an RSS Pracharak since 1970.
BHARAT PARIKRAMA YATRA-:
November 17:  Handigona
November 18:  Deevagi
November 19:  Kodkani
November 20:  Betkuly
November 21:  Madanakeri
November 22: Chandumata 
November 23:  Alagery
November 24:  Avarsa
November 25: Amadally
November 26: Beenaga
November 27:  Devabagh
November 28: to GOA state. (Konkan Pranth)
The Previous Posts:
Day-100: Inspiring the coastal Villages on Gram Vikas; Bharat Parikrama Yatra completes 100 days
Day-98: Manki-Banasale village receives Bharat Parikrama Yatra, Kedilaya inspires Villagers
Day-96: Bharat Parikrama Yatra at Theranamakki
Day-93: Top RSS functionaries walks with Kedilaya, Shiroor receives Bharat Parikrama Yatra
Day-90: Ganguli villagers welcome Bharat Parikrama Yatra, Kedilaya met Muslim-Christian leaders
RSS Pracharak Sitarama Kedilaya met Muslim leaders N Shabbeer Saheb at his house at Gangolly, November 06, 2012
Day-88: Bharat Parikrama Yatra at Vadeyara Hobli
Day-87: Thekkatte Village welcomes Bharat Parikrama Yatra
Day-86: Bharat Parikrama Yatra reaches Kodikanyana
Day-85: Matapady villagers welcomes Bharat Parikrama Yatra
Day-84: Puttige Seer joins Kedialya for Bharat Parikrama Yatra at Upporu Village of Udupi
Day-83: Land of Dvaita Philosophy, Madhwanagar of Udupi welcomes Bharat Parikrama Yatra
Day-82: Pejawar Seer joins Bharat Parikram Yatra, walks with Kedilaya aiming Gram Vikas
Pangaaala, Udupi District October 29, 2012: Pejawar Seer Sri Vishwsha Theertha Swamiji joined RSS Pracharak Sitaram Kedilaya lead Bharat Parikrama Yatra on its way from Ucchila Village to Paangala of Udupi district in Karnataka on its 82nd day.
Day-81 Ucchila Villagers welcome Bharat Parikrama Yatra
Day-80: Udupi's Hejamady welcomes Bharat Parikrama Yatra, Kedilaya visits Mosque
Day-79: Bharat Parikrama Yatra reaches Haleyangadi
Day 78: Villagers of Sasihitlu receives Bharat Parikrama Yatra
Day-77: Bharat Parikrama Yatra reaches Tadambail near Suratkal
Day-76: Coastal Village Baikampady receives Bharat Parikrama Yatra
Day-75: Bharat Parikrama Yatra reaches Mangalore, Sangh leaders welcome Kedilaya
Day-74: Bharat Parikrama Yatra reached Kuttar Padavu
Day-73: Farmers greet Kedilaya, Organic welcome for Bharat Parikrama Yatra at Mudipu-Konaje
Day-72: Bharat Parikrama Yatra enters Karnataka, welcome at Bakrebailu Border Village
Day-71: Bharat Parikrama Yatra reached Bedagudda Village, to enter Karnataka State tomorrow
Day 70: Bayaru Village welcomes BHARAT PARIKRAMA YATRA, Kedilaya keen on Gram Vikas
Day 69: Bharat Parikrama Yatra reaches remote Village Dharmatthadka of Kasaragod
Puttige Villagers welcome Bharat Parikrama Yatra, Kedilaya met village heads during Gram Sampark
Photos: Bharat Parikrama Yatra at Kasaragod
BHARAT PARIKRAMA YATRA enters Karnataka Dakshin Pranth, top RSS leaders welcome Kedilaya
Crossing Chandragiri, BHARAT PARIKRAM YATRA enters Kannada Soil, at Kasaragod on 66th day
October 19: RSS Pracharak lead Bharat Parikrama Yatra to reach Karnataka, Oct 22 at Mangalore
Bharat Parikrama Yatra reaches North Kerala, gets warm welcome at Communist dominant Kannur
Day 50: BHARAT PARIKRAMA Yatra motivates Kerala Villages, to reach Karnataka on Nov 5
Muslims welcome RSS Pracharak's Bharat Parikrama Yatra at Netoor Village, Kerala
Day-30: An unique venture uplift Indian Villages, BHARAT PARIKRAM Yatra reaches Kochi in Kerala
RSS Pracharak launched 'Bharat Parikrama' Completes 21 days
RSS Pracharak Sitaram Kedilaya begins 'Bharath Parikrama' Yatra from Kanyakumari