Every generation has responsibility to lead the society forward, says RSS Chief Mohan Bhagawat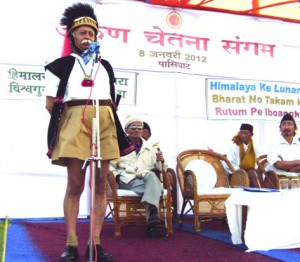 ITANAGAR, Jan 16: Speaking at the Arun Chetana Sangam organized at the school field of Daying Ering Memorial Govt. Hr Sec School, Pasighat on January 8 last, Dr. Mohan Bhagwat, the Sarsangha-chalak of Rashtriya Sway-amsevak Sangh (RSS) said that Arunachal Pradesh is an  integral part of India and does not belong to anybody else and added that Arunachalis too uphold this truth and always stand by the nation.
While complementing the Arunachali communities for it, the Sarsanghachalak briefly explained the efforts and service projects of the RSS in the remote and border areas to upkeep the national spirit alive in the people.
The RSS chief said that regular and perennial development of any society is possible only on a strong foundation of its own identity.
Every generation has the responsibility to lead the society forward and it has to be materialized by up-keeping the special feature, customs and traditions of the society, he said. The people of Arunachal Pradesh are the worshippers of nature and they should stand up upholding their values and virtues. The Rashtriya Swayam-sevak Sangh would always stand by the efforts of the Arunachalis in this regard, he said.
While delivering the presidential address Oshong Ering IAS (Retd) president,  Nagarik Swagat Samiti  categorically stated that the people Arunachal Pradesh had been neither under the Chinese territory nor Chinese administration in its past. He added that Arunachal Pradesh would always remain to be an integral part of India. Highlighting the pivotal role of the Kebang system in the Adi society, Ering stated that the Arunachali society is democratic in its blood and veins.
The RSS Chief also attended the 3 days Arun Chetana Shivir in Pasighat which started from January 6. Nearly 500 trained and active swayamsevaks from 77 places across all the 16 districts of Arunachal Pradesh participated in the Shivir and interacted with the RSS chief.
Source: http://www.arunachaltimes.in/2012/01/15/arunachal-an-integral-part-of-india-rss-chief/