Justice Santhosh Hegde says 'nation needs leaders with clean image' in Manthana Prog at Bangalore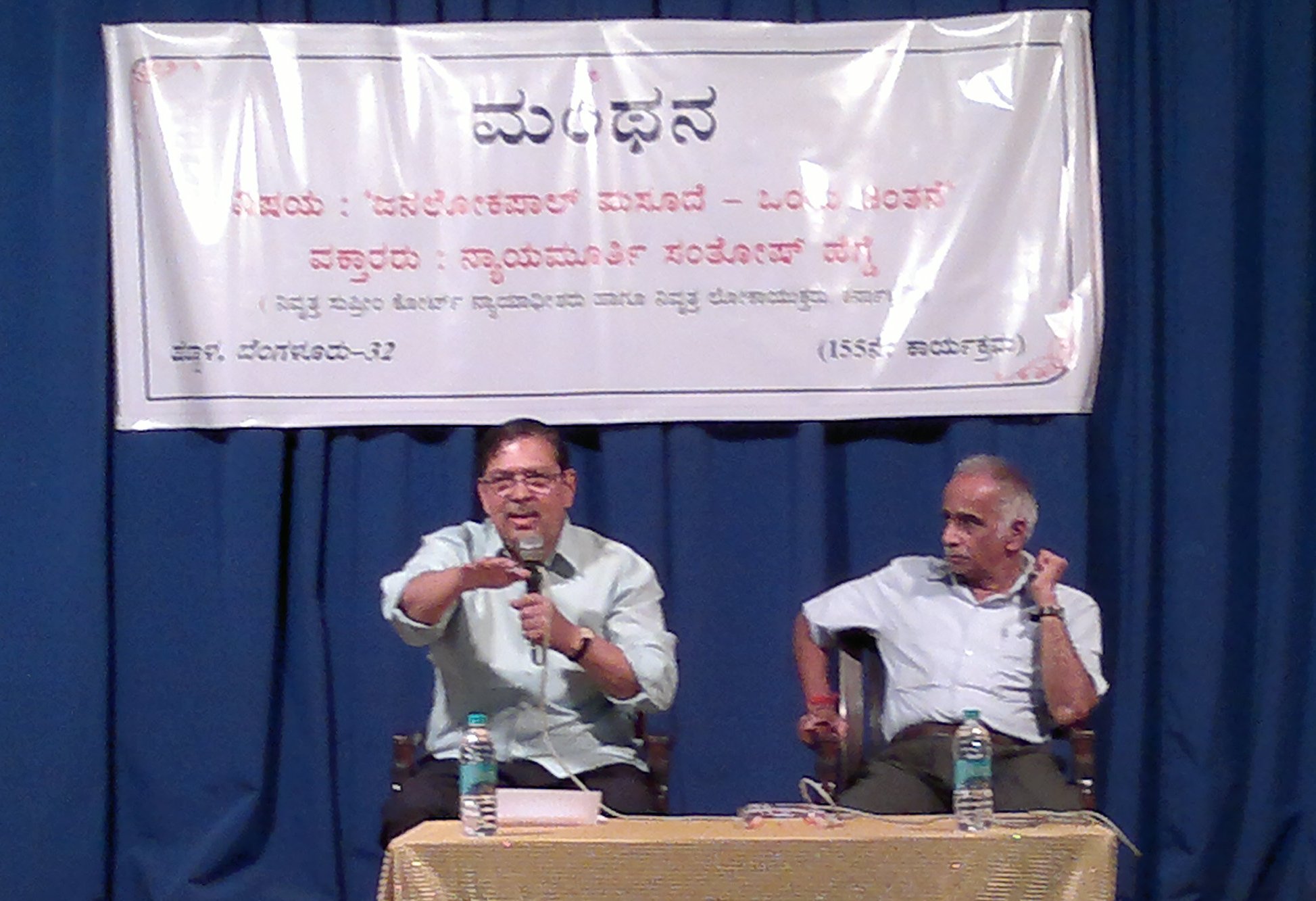 Bangalore September 18:  'The nation needs leaders with clean image and a  non-corrupt governance at all levels. Fortunately the anti-corruption movement aroused at right time  with the Lokpal Bill debate parliament.  People are aware of updated facts, we need to keep the momentum of the recent fight held against corruption, each countrymen has to contribute' said Sri Santhosh Hegde at Bangalore.
Former Lokayukta of Karnataka, Justice Santhosh Hegde was speaking on "Lokpal Bill-a debate" in an intellectual gathering organised by MANTHANA Hebbal unit at Bangalore today.
Justice Hegde opinioned that Prime Minister and Judiciary should not come under Lokpal inquiry. in democracy the citizens are supreme, and are above all says India's constitution. For us, our constitution is final which begins with  a sentence 'We the people of India…'  symbolising the supremacy of the citizens.
Hegde further added, the leaders of clean image should occupy higher seats. No one with a suspected profile should continue or occupy the any seat of governance at any scale.
Few elected representative feel a superiority over many socio-economic issues, even though their percentage of vote share just around 25%.  The elected representatives should feel that they are meant for serving the needy, not that they are above criticism.', Justice Hegde said.
In reply to a question on media pointing out the exclusion of a former Chief Minister of Karnataka in the final Lokayukta report on Mining, justice Hegde clarified this way. 'The media analysis is not correct. Actually it is not final report and neither there was exclusion of any names. Since the report was too lengthier and took much duration, it was submitted in 2 phases. In first report the name of ex-CM was mentioned. The second report submitted on July 28 is not a separate one but continuation. Hence both first and second report should be considered to be a combined single report. '
Commenting on reservation based on caste , Justice Hegde told debate is needed on the same, however, there is no reservation for corruption!.
The programme was held on Sunday, September 18,  at 4.30pm, at Sri Vinayaka Ganesh Temple Hall, near RT Nagar postoffice, Bangalore.
Manthana, is an intellectual forum of  Hebbal, Bangalore.
Dr Devadas Baliga, President of Manthana Hebbal was also present on dias. Nearly 200 select intellectuals participated in this event.