By Veena Tayalur  in Kannada Prabha/ (Kiran KS to English)
Today is Lal Bahadur Shastri's 47th death anniversary. Veena Tayalur's writeup in Kannada Prabha reveals what a stellar personality Shastri ji was..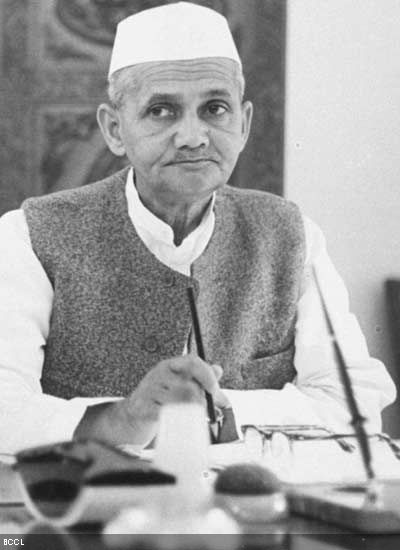 Here are some key English excerpts from that article. We strongly request everyone to read and share with friends and family. We really know very little about this amazing little giant of India!
1) Gulzarilal with another industrialist visited Shastri as PM. Shastri said, please wait till I finish the Janata Darshan (1 hour each day) with public. They go away and Sunil (son) becomes angry with dad. Shastri shows his son the waiting public. That old man sold his property to come meet me as PM. This lady sold jewelry to get money to come here. And you want me to ignore them and meet a rich industrialist, who can come whenever he wants?
2) After 1962 war, India's economy, farmer's condition and army's morale were very low. Then Pakistan attacked in 1965. Shastri said "Force shall be met with Force". Gave modern arms to soldiers. Gave priority to farmers (started National Diary Development Board, with Kurian as chairman). Jai Jawan and Jai Kisan were implemented 100%.
3) When LB Shastri died mysteriously in USSR, he had NO own home, even as a PM. He had an old car, bought on installment payments.
4) When SL Bhyrappa (famous Kannada writer) went to a bank in Dilli, the accountant was late. After 10 minutes he he came, apologized and said bus problem. When Bhyrappa found that he was Sunil Shastri, son of former PM, he asked, do you travel in bus? Why not buy a scooter? Sunil said, I have applied for loan, but I am used to bus travel as my father always encouraged us to travel in bus! Imagine today's politicians and their kids..
5) While folding cloths Sunil saw his father had a couple of torn kurtas. When asked, Shastri says: "These Kurtas are Khadi ones. They have efforts of patriots. Don't throw them away. Anyway it is winter. I wear a coat. Who observes if the kurta is torn inside?". This was a Prime Minister speaking to his son! He also turned old kurtas into kerchiefs to make max usage.
6) During war, Shastri was told by army not to visit a front (Ichukki canal) where one side is manned by Pakistanis. He said, if my soldiers can take risk, why should not I, as a PM? He went there!
7) Major Bhupinder Singh was badly injured. Shastri ji met him. Major had tears. "Sir, I am a proud army officer. I am not worried about my impending death in a few days. But I am deeply sad that I can't stand up and salute the PM of my nation, when he came to meet me". What a respect this PM had in the eyes of army officers!
8) After meeting Major, young son Sunil came back to car and turned on a small fan. When Shastri ji returned, he asked his son. Do you really want to use a fan, when our soldiers are not having in that camp?
9) Shastri as railway minister was in first class train. They kept ice cubes to get colder air from windows to him. When he inquired if 3rd class passengers also have the same, they said no. He immediately asked to take away that ice. Soon all compartments of trains got fans in India!
10) Lastly, when late Shastri ji's house was given to the new PM Indira Gandhi, she refused that house citing it as "middle class". Conveys everything about that man, his standard and his humility!