Mumbai: 16 Muslims, 2 Christians returns to Hinduism.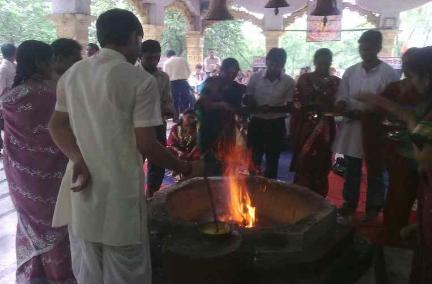 17th July,2011 Mumbai :   In yet another conversion drive by  Vishwa Hindu Parishad  (VHP) in total 16 Muslims & 2 Christians converted to Hinduism here  on Sunday. The programme was organized at Hanuman Temple in Sardar Nagar Colony no.2 at Sion in Mumbai. The programme was organized by theVHP Unit of Kurla District . According to the VHP sources the local VHP activists were working over these people through various service projects launched through out Mumbai. This was the third reconversion programme by the VHP  in just a span of 3 months in Mumbai , on May 25th this year about 18 Christians from 6 Families returned to Hinduism  at Kaju Pada in Borivili East & followed by  the programme on 26th June were 30 Christians from 8 Families reconverted to Hindu religion in Filmcity ,Goregaon East. As per the VHP Sources all the participants in this programme had been Christians & Muslims since the  Birth hence it was not a reconversion.
As per the VHP Sources all of the participants who embraced Hinduism here today have already applied for the change of name in the Maharashtra state gazette & also have filed affidavits in the local courts declaring the consent to conversion to Hinduism. The programme started with Ganpathy pooja  after which all of the converts to Hinduism were given gangajal & panchagap. Post which a Yagna was performed by all the participants. While commenting  Shri .Sachin T More (VHP Kurla Chief secretary) said that " We are already in touch with  several families who are willing to come  back to Hinduism & will hold a grand function by end of this year in a more massive scale "
The programme was also attended by Shri Rishi Goswami (VHP Sahar District Joint Chief secretary) ; Shri Venkatesh Boddul (Bajrang Dal Area Co-ordinator) ; Shri Umesh Gaikwad (VHP Division Chief); Shri Mohan Shinde & Shri Vivek Bhoir  from Hindu Janjagruti Samiti  & other local VHP & Bajrang Dal Cadres.
Source: http://www.haindavakeralam.com/HKPage.aspx?PageID=14303&SKIN=D