NAGPUR: With heavy waves of emotions, Funeral of Sudarshanji held, brother performs last rites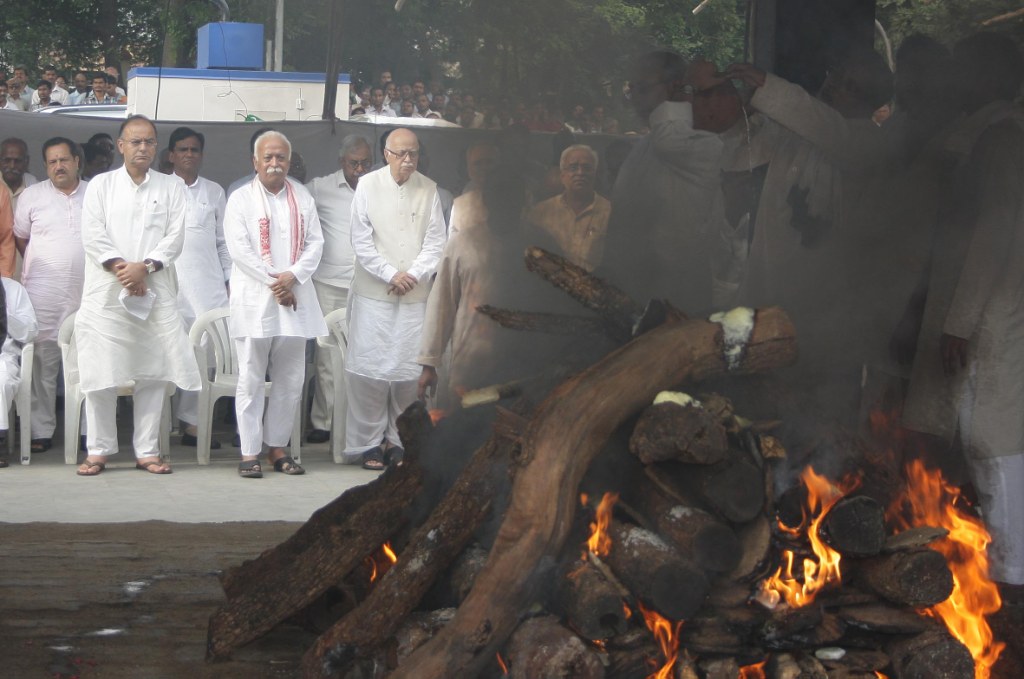 Nagpur September 16: With the heavy waves of emotions, RSS senior leaders, Sangh Parivar-BJP leaders offered their last tribute to Former RSS Chief KS Sudarshanji at Reshimbhag, at Nagpur RSS Headquarters. The Funeral was held at 3pm at Nagpur in which Ramesh, Younger brother of Sudarshan ji performed the last rites.
Top RSS leaders including Sarasanghachalak Mohan Bhagwat, RSS Sahsarakaryavah Bhaiyaji Joshi, RSS leaders MG Vidya, Dattatreya Hosabale, Suresh Sony, Dr Manmohan Vaidya, Ram Madhav and several other offered their final tributes to the great leader. VHP leader Ashok Singhal, Rashtra Sevika Samiti's Shanthakka and Pramila Tayi Medhe,  BJP leaders LK Advani, Sushma Swaraj, Arun Jaitley, Nitin Gadkari, Rajnath Sing, Ananth Kumar, Gopinath Mundhe, Chief Ministers of different states, Narendra Modi, Shivaraj Sing Chouhan, Jagadish Shettar were also offered last tributes and remembered the contributions of KS Sudarshanji. The mortal remains were on Sunday taken in a chariot, which was pulled by several RSS workers, from Reshimbagh to Ganga Bai Ghat (crematorium) in a procession.
Sudarshanji's brother K Ramesh performed the last rituals at the Gangabai ghat in eastern part of the city, along with the Vedic Chantings. The body of the former RSS chief Sudarshan ji,  which was brought from Raipur in Chhattisgarh last evening by a special flight, had been kept for public viewing at Maharshi Vyas hall in 'Smruti Mandir', the memorial of RSS founder Keshav Baliram Hedgewar. Yesterday, a large number of RSS functionaries and volunteers were present at the city airport to receive the body that was flown in a wooden box by a special aircraft sent by the Chhattisgarh state government at 6.45 pm. Later, a silent procession led by two wheelers took his body to 'Smruti Mandir', the memorial of RSS founder Keshav Baliram Hedgewar.

The eyes of  Sudarshanji has been donated to Madhav Netra Pidhi (Eye Bank), run by an RSS-affiliated organization, at Raipur. His corneas were removed post-death, which would be grafted in the eyes of a needy person, RSS functionary Ravindra Joshi told.

Pramila Tayi Medhe, former Chief of Rashtra Sevika Samiti offering tributes to Sudarshanji

BJP leader LK Advani offering tributes to Sudarshanji

The Antima Yatra- SUDARSHAN JI Funeral at Nagpur

Ram Madhav, Dr Manmohan Vaidya, offering tributes to Sudarshan ji

The Shraddhanjali Prarthana- Tribute to Sudarshan ji at Funeral, Nagpur

Sarasanghachalak Mohan Bhagwat, LK Advani and others at Sudarshan ji Funeral at Nagpur

Public gathered at Sudarshan ji Funeral at Nagpur

Muslim leaders offered their last tributes to RSS former Chief Sudarshan ji at his Funeral at Nagpur on Sunday, September 16-2012

Tibetan leaders offered their last tributes to RSS former Chief Sudarshan ji at his Funeral at Nagpur on Sunday, September 16-2012
See also:
RSS former Sarasanghachalak KS Sudarshanji expired at Raipur, Funeral at Nagpur tomorrow
http://samvada.org/2012/news/rss-former-sarasanghachalak-sudarshanji-no-more/
पूर्व सरसंघचालक सुदर्शनजी को अंतिम श्रद्धांजली
http://samvada.org/2012/news-digest/funeral-sudarshanji-nagpur/
Vajapeyi and Others national leaders on Sudarshanji
http://samvada.org/2012/news-digest/vajapeyi-and-others-national-leaders-on-sudarshanji/
Condolence Message by RSS General Secretary Bhayyaji Joshi on the Demise of KS Sudershan ji
http://samvada.org/2012/news-digest/condolence-message-by-rss-general-secretary-bhayyaji-joshi-on-the-demise-of-ks-sudershan-ji/
Funeral Photos: KS Sudarshan ji's last rites
http://samvada.org/2012/news-digest/funeral-photos-ks-sudarshan-jis-last-rites/