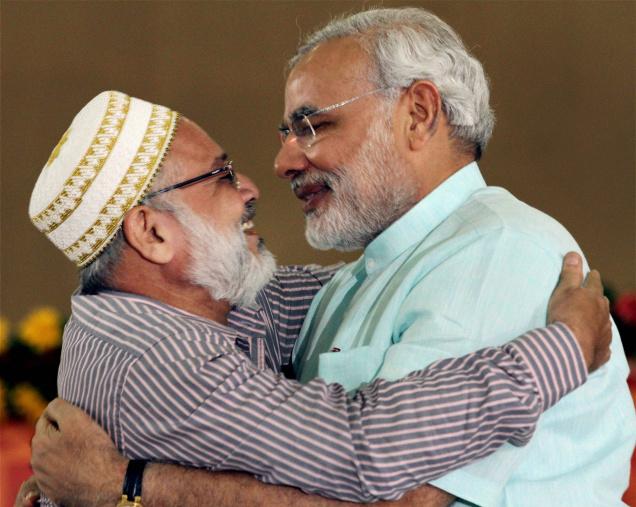 Ahmedabad sept 19: The 3 day Sadhbhavana Fast by Gujarat Chief Minister Narendra Modi came to an end today. Modi broke his fast today evening in the presence of his supporters, party workers and senior officers of state govt.
The fast which began on Saturday dedicated  for peace, harmony and unity, was on national headlines, got an unprecedented positive media coverage for Narendra Modi since 2002 riots.
Today senior BJP leaders Sushma Swaraj, Venkaiah Naydu,  Shiva Sena supremo Bal thackrey, Raj Thackeray of MNS and several others were present at fast venue and extended their support for Modi.
Raj Thackeray supports  Narendra Modi as PM
AHMEDABAD: Maharashtra Navnirman Sena (MNS) chief Raj Thackeray today said here that Gujarat Chief Minister Narendra Modi could become a good Prime Minister, and MNS would be happy to support him.
"I have come to convey my good wishes to Modiji. I had called him after the Supreme Court's order (in Gulberg Society riot case). After the certificate from the Supreme Court, Modi does not need anybody else's certificate," Thackeray told reporters after meeting Modi.
"Modi could become a good Prime Minister and my party will support him. In fact, anybody who wants to work hard for the people of the country can become a good PM," he said, when asked if he considered Modi to be a Prime Minister material.
Modi's party, BJP, is in alliance with Shiv Sena in Maharashtra. MNS is considered to be Sena's rival in the state politics, as both eye the Marathi vote.
Raj said there was a need for `Sadbhavna' (goodwill), but the felling had to be mutual. "Otherwise it is useless," he said