Senior Kannada Writer Dr Chandrashekhara Kambara gets Jnanpith Award, 8th for Kannada Language.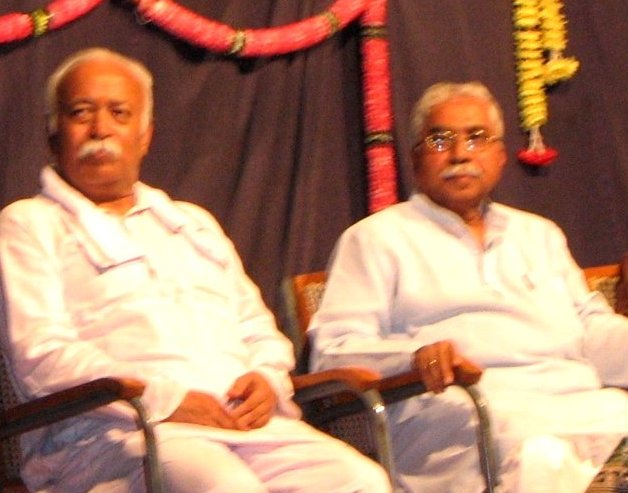 Dr  Chandrashekhara Kambara, Veteran Kannada Writer and the founder vice chancellor of Kannada University in Hampi now gets India's highest literary Award, Jnanapith for the year 2009.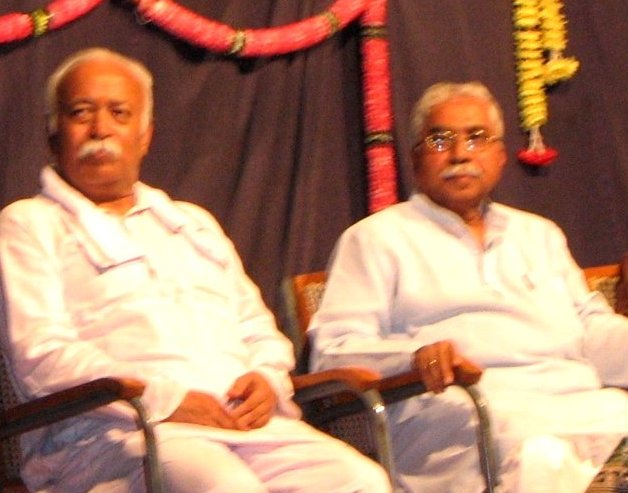 Dr Kambara born January 2, 1937, was running RSS Shakha at his native Shivapura at Belgaum district during his student days. On Ausgust 8, 2007 Dr Kamabara shared Stage along with the then RSS General Secretary Mohan Bhagwat during  'DHYEYAYATRI 'book release ceremony at National College Jayanagar, Bangalore. Dhyeyayatri,  a book on Late. HV Sheshadri, senior RSS Pracharak and a known writer in Kannada and English. Dr Kambara had a good relationship with  H V Sheshadri, hence Dr Kambara himself released the book 'Dhyeyayatri ' on HV Sheshadri in Bangalore 
Dr Kambara is known for his effective usage of North Karnataka dialect of Kannada language in his plays and poems and is often compared with D.R. Bendre. Dr. Kambara has been conferred with many prestigious awards including the Jnanpith Award, the Padma Shri by Government of India, Kabir Samman, Kalidas Samman and Pampa Award.
Some of Kambara's popular plays include Aramane, Jokumaraswamy, Singaravva and Harakeya Kuri. He was conferred with the Sahitya Akademi Award in 1991 for another popular play Sirisampige.
Besides being a littérateur, Kambara has also been involved in film-making. He has directed a number of movies based on the plays written by him. Karimayi, Sangeeta and Kadu Kudure are some of his major films as a director. He has also adopted his play Jeeke Maastara Pranaya Prasanga for television. Kambara has produced several documentaries for the state and central governments.
Poetry
Mugulau – 1958
Helatena Kela – 1964
Takararinavaru – 1971
Saacvirada Neralu – 1979
Aayda Kavanagalu – 1980
Belli Meenu – 1989
Akkakku haadugale – 1993
EE Varegina Helatena Kela – 1993
Chakori (Epic) – 1996


Play

Bembattida Kannu- 1961
Narcissus -1969
Rishyashringa (Filmed)1970
Jokumarawwamy 1972
Sangya balya Anabeko Naadolaga -1975
Kittiya Kathe 1974
Jasisidanayaka- 1975
Alibaba (Tanslated and Published in Indian Literature , Sahitya Academy – 1980
Kaadu Kudure (Filmed and got National Award) 1979
Naayi Kathe (Filmed as Sangeeta" and bagged 5 State Awards)- 1980
Kharokhara – 1977
Mathanthara – 1978
Harakeya Kuri (Filmed and awarded National Award) – 1983
Kambara Avara Natakagalu – 1984
Sambasiva Prahasana – 1987
Siri Sampige (Sahitya Academy Award, New Delhi, 1991)
Huliya Neralu (Filmed) – 1980
Boleshankara – 1991
Pushpa Rani – 1990
Tirukana Kanasu – 1989
Mahamayi – 1999

Novels and stories

Anna Tangi – 1956
Karimaayi (Filmed)1975
G.K.Mastarara Pranaya Prasanga- 1986
Singarevva mattu Aramane- 1982
Research
Uttara Karnataka Janapada Rangabhumi -1965
Sangya Balya – 1966
Bannisi Hadavva Nana Balaga – 1968
Bayalatagalu – 1973
Matado Lingave – 1973
Namma Janapada -1980
Bandire Nanna Jaeyolage -1981
Kannada Folkore Dicitionary (2 Vols) 1985
Bedara Huduga Mattu Gilli – 1989 (State Academy of Literature Award)
Lakshapathi Rahana Kathe – 1986
Kasigondu Seru – 1989
Nelada Mareya Nidhana -1993
Brihaddesiya Chintana – 2001
An Anthology of Modern India Plays for National School of Drama – -2000