India's most debated Terrorist, Parliament attack convict Afzal Guru hanged in Tihar Jail this morning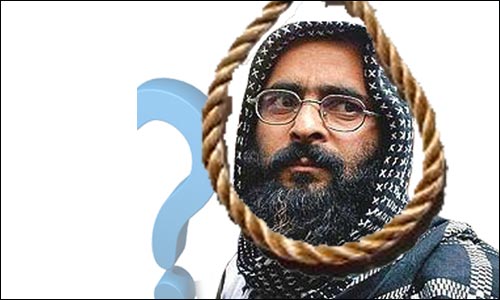 NEW DELHI February 09, 2013: The Jaish-e-Mohammad terrorist Parliament attack convict Afzal Guru has been hanged in Delhi's Tihar jail at 8am on Saturday morning, Union home secretary said.
A recommendation to hang Afzal Guru had been sent to the President on January 23. The President gave it his assent on January 26. Earlier the reports said that his mercy plea had been rejected by President Pranab Mukherjee. He was convicted for his role in the attack on Parliament in 2001.
A curfew has been clamped in parts of Jammu and Kashmir.
Afzal was awarded death sentence by a Delhi court on December 18, 2002 after being convicted of conspiracy to attack Parliament on December 13, 2001. The death sentence was upheld by Delhi High Court on October 29, 2003 and finally his appeal was rejected by the Supreme Court two years later on August 4, 2005.Sources say that the President informed the home ministry that he had rejected the mercy petition on January 23. The MHA sent his mercy plea recommendation in August, 2011. On December 10, 2012, Home Minister Sushil Kumar Shinde said that he would examine Afzal Guru's file after Parliament's winter session concluded on December 22.
In December 2001, five heavily-armed terrorists drove into the Parliament complex and opened fire.
Nine people were killed, most of them members of the security forces. The terrorists were shot dead.
Both houses of Parliament had just been adjourned and several MPs were still inside.
A few days later, Afzal Guru was arrested.
The main opposition party, the BJP, has repeatedly questioned the delay in the execution of Afzal Guru, and its leaders last questioned the government in Parliament on the 11th anniversary of the attack last month.
In November last year, Ajmal Kasab, the terrorist from Pakistan who was caught during the 26/11 attacks in Mumbai, was executed in a Pune jail in a top-secret operation.