'I have no Official Information about the So Called Case Against Me', says Dr Togadia from Prayag Kumbhmela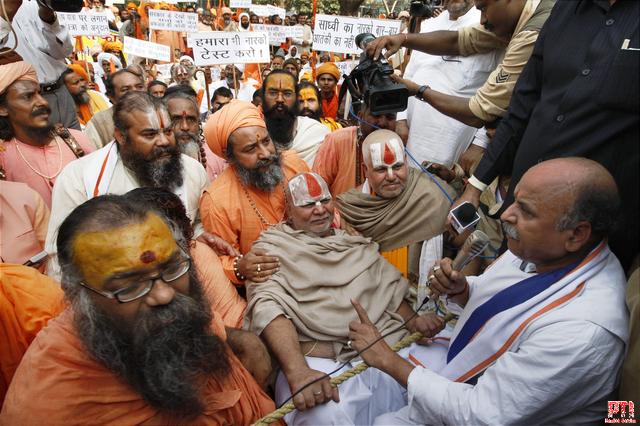 by Dr Pravin Togadia, VHP International President

Prayag, February 8, 2013: Since past 36 hours, exactly from the day before the grand Saints & VHP Dharma Samsad at Mahakumbh on February 6 & 7, where over 10000 Saints along with the RashtreeyA Swayamsevak Sangh Sarsanghchaalak ji Ma. Shri Mohanji Bhagwat & VHP the grand Bhagwan Ram Temple movement has been announced, there are concentrated & orchestrated media & political efforts to 'fix' me in malicious criminal cases. This is a deliberate effort by the anti-Hindu forces to distract the nation from the core issues of Hindus & also from the grand Bhagwan Ram temple.
I have yet not got any official or authentic information about the so called case against me as the select media has been pushing the Govts to file against me at Bhokar near Nanded (which also happens to be the electoral constituency of the Ex Maharashtra CM Shri Ashok ji Chavan). Whatever information I have is only from the media, its venomous abusive words against me- including one channel debate where the anchor, siding the other religious community, instigated the panelists & one of the panelists from the said community even went to the extent of appealing to the public at large, "Shoot Togadia". Obviously, this has endangered my life; it is 'Bhadkaau' by all means & also divisive. But no Govt has yet filed any FIR against such speeches.
In Bhokar on January 22, 2013, in my speech in front of a very large gathering, emphasized on the right to Education, Jobs, Bank Loans & land for Hindu youth. I also demanded the Hindu Youth development on the lines of Minority Finance & Development Corporation. I do not find anything instigative in it; neither did the large gathering found any. I did not name anyone. I did not name any other community other than my own that is Hindu & Hindus there are not hurt by my speech. There has been no social unrest or riots immediately after my speech there & therefore it was not instigating. In fact, now BECAUSE of the Govt's so called case there on me as a Hindu, the social fabric there has been disturbed & in socio-legal terms, the Govt's own action tantamount to 'instigation' & 'being divisive' that is also 'Bhadkaau' for which the Govt is solely responsible.
Those who do not wish Hindus to progress along the lines of others in the nation have filed such cases against me with a specific design to 'fix' me at one place & get hassled in the legal tangles exactly before the many elections in many states & then at the center so that there is no effort later on by me or anyone else to make Hindus in the nation aware of the injustice they have been facing at the hands of vote-greedy political people.
The said case is not only against me but I consider it as against all Hindus who respect their culture, history & at the same time have aspirations to grow with better Education, Jobs, Businesses, Loans & Lands. Therefore, if & when in the said Bhokar case if & when any Govt will try to arrest me or jail me to deprive Hindus of their rights, crores / millions of Hindus in Bharat will join me democratically & peacefully as 'I am Hindu' 'Main Hindu' wearing 'Main Hindu' cap, 'Main Hindu' T-Shirts, 'Main Hindu' scarves & holding 'Main Hindu' flags. Wherever the Govt takes me, they will be there. In their own towns, they will be there with 'Main Hindu' cap, T-Shirts & flags. Democracy is not only for the minorities; it is for ALL including majority.
I was also told by some local media at the place where the so called case has been filed as has been said again by the media, that Bhokar & surrounding villages are spontaneously 'Band' today in protest of such a malicious case against me as a Hindu. I appeal to all Hindus there to be peaceful & democratic. Many anti-Hindu elements will surely try to do anti-social activities & then Govts & media will again blame Hindus for the unrest for which Hindus would not have been responsible.
Yes, I AM HINDU. Main Bhi Hindu, Aap Bhi Hindu.
 -Dr Pravin Togadia, VHP.