Press Conference of Sri Milind Parande, General Secretary of VHP, in Bengaluru on 27.08.2020
A Press conference was organised at Bengaluru chaired by VHP's All India General Secretary, Sri Milind Parande today at Rashtrotthana Parishat. Dr. Vijayalaxmi Deshmane, a renowned oncologist and All India Vice President of the VHP, Sri Koteshwar Sharma, Joint Gen Secy of VHP were present.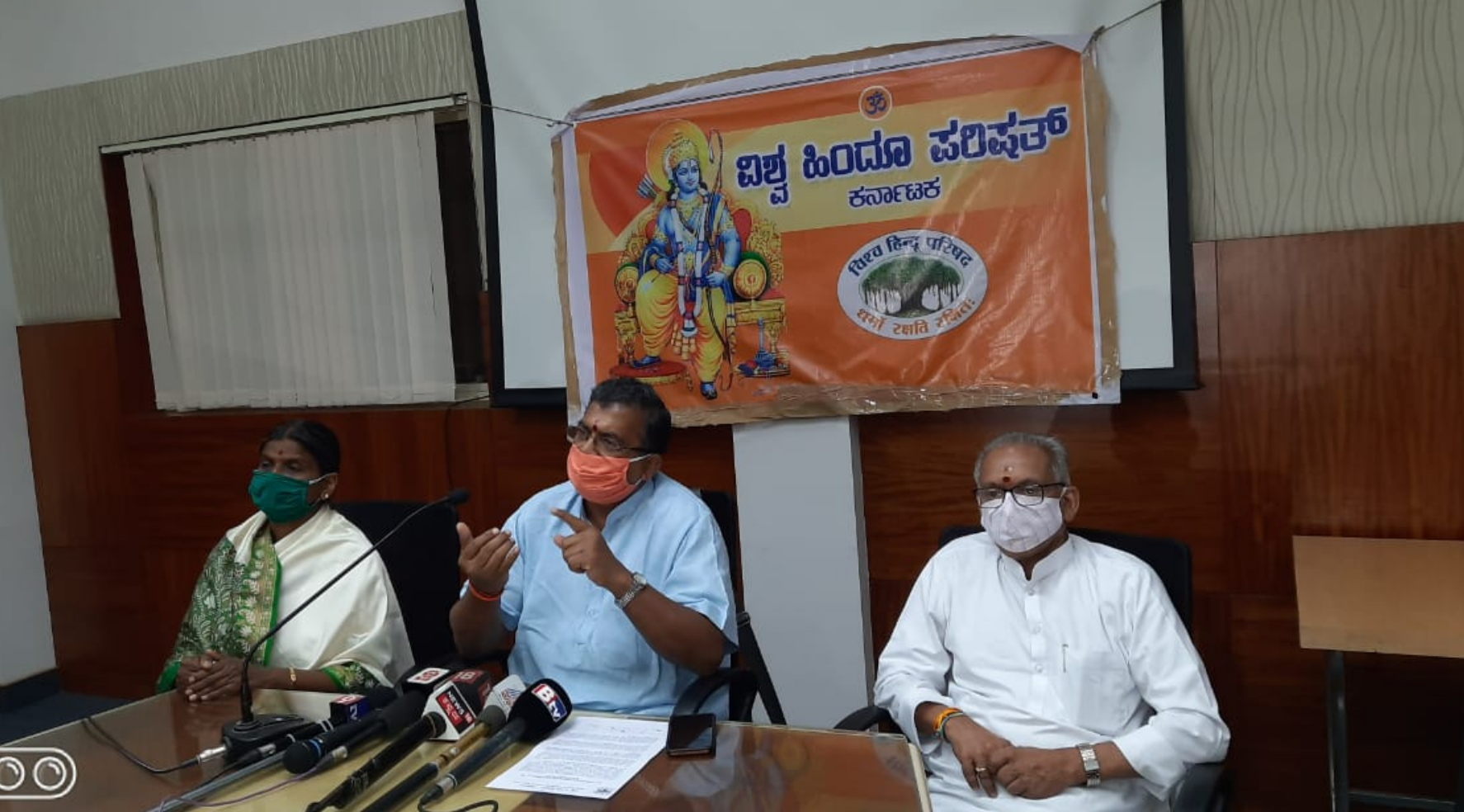 VHP feels that it is a good thing that the state government of Karnataka has taken strict action against the rioters in the recent Bengaluru riots. As many vehicles, many houses and national property was destroyed by fire during the riots by a section of Muslim society, we feel that the damages for the same must be paid by the rioters. As in Delhi and many other places in the country, such senseless violence against the Hindu society has been orchestrated by a section of Muslim society deliberately on flimsiest of excuses. And thus, such violent tendencies and actions must be punished harshly. Forces and people inciting such violence and supporting must also be dealt with harshly.
VHP has served the whole society in the country during this corona pandemic.  Over 1,74,00,000 people have been fed with prepared food and over 40 Lakh families have been given dry rations that will last them for minimum of 15 days. Over 40 Lakh face masks have been supplied to people. Over 2 Lakh cows and her progeny have been supplied with water and gross during corona pandemic time.
Now in the state of Bihar, a very severe flood situation is faced by the people. VHP is supplying food, medicines, solar light and plastic or tarpaulin to thousands of flood affected people in Bihar in the districts of Muzaffarpur, Madhubani, Begusarai, Gopalganj etc.
When Indian soldiers were attacked by the Chinese army in eastern Ladakh, 20 Indian Soldiers and officers were martyred. In the ensuing battle, 43 Chinese soldiers were also killed by the valiant Indian soldiers. Thus VHP has appealed to the society to boycott all Chinese goods, as buying the Chinese goods is as good as strengthening the hands of the enemy.
VHP expects that Bhagavan Shri Ram Lalla will sit in the sanctum sanctorum of Shri Ram Janmabhoomi temple in next 2 to 3 years. If in the next 3-4 months, an appeal is made to make donations for building of the Shri Ram Janmabhoomi temple by Shri Ram Janmabhoomi Tirtha kshetra Nyas, VHP is committed to support it wholeheartedly with all the strength at it's disposal.
Sri Keshava Hegde, VHP's Kshetriya Sanghatana Karyadarshi, Sri Suryanarayana of the Bajarang Dal, VHP's Sri Basavaraj, Sanghatana Karyadarshi of Karnataka Dakshina Pranth were also present.