Pune: Hindu Help Line announces Medical & Legal Aid Schemes for the Poor, all over the nation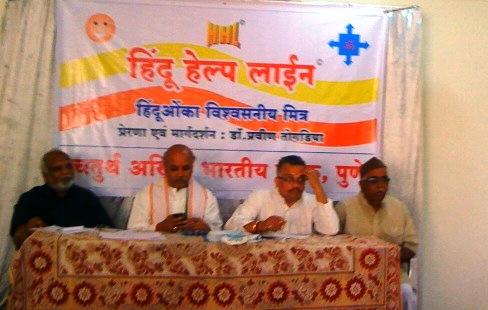 Pune, November 25, 2012: Conveners, Coordinators & Representatives of Hindu Help Line from over 25 states & many districts of Bharat including the HHL Call Center gathered
in Pune for a one day meeting in Ashwamedh Hall at Kothrud Pune. The meeting was presided over by VHP International Working President Dr Pravin Togadia & organized by HHL National President Ranjeet Natu.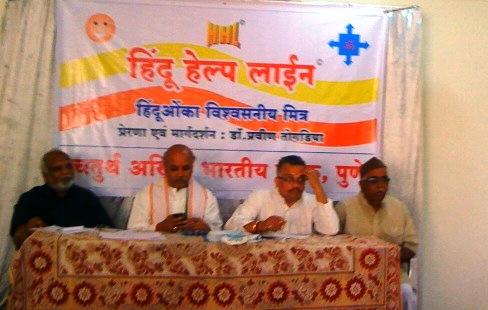 While reviewing the Hindu Help Line (HHL) work since the launch in 2010 & announcing effective schemes for helping patients & their relatives in Govt hospitals all over Bharat, Dr Togadia said, "Health sector remains ignored when it comes to actual help to patients as well as their relatives. If a patient is admitted in a hospital in a town or a city away from the village / home, then at least one or two of his / her relatives have to accompany the patient. It becomes difficult for them to manage their own stay & food while the patient is being taken care of by the hospital. Hindu Help Line in its meeting in Indore recently had announced the Annapoorna Tiffin Service for the relatives of the patients. As a follow up of it, now the total Dhanvantari Hospital Scheme has been introduced."
The salient features of Dhanvantari Hospital Scheme :
Under the DHS, in Govt Dist hospitals Hindu Help Line will arrange for the Tiffin for the relatives of the patients as well as fruits for the patients. This will be done with the help of kind Hindus in Bharat.
Every 6 Months Hindu Help Line in the districts all Bharat will hold Dhanvantari Medical Camps followed by proper treatment plan.
Dadhichi Blood Donation Camps scheme which started last year has got excellent response & since then over 33,000 needy patients were given blood all over Bharat.
HHL Legal Aid:
Apart from the medical help by Hindu Help Line, there has been a growing demand for the Legal Help. Considering this, Hindu Help Line has set up the Hindu Advocates Forum. The HAF will look into the legal aid to the poor. The set up for this will be daily 1 Hour free legal aid center initially at every district & later in as many towns & villages possible. This way, Hindus will get legal help from the best legal brains nationally wherever the case may be."
Ajit ji Gadgil & Sudhir ji Gadgil from Sangli (Maharashtra) – both known for their business acumen as well as philanthropic commitment were present in the meeting.